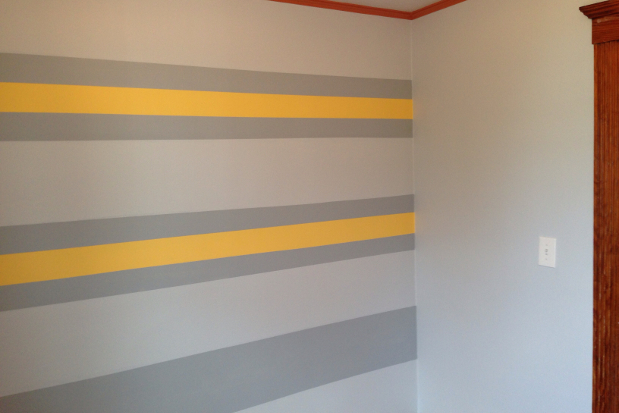 Ready to paint the interior of your home but have no clue as to what kind of preparation, paint or tools you need to do a quality job? This step-by-step painting guide can help.
Paint Finishes and Gloss
With all the paint manufacturers and dealers out there offering so many different grades of products, it's no wonder many consumers have no idea which products to buy.
The vast majority of paint finishes used today are water-based latex. Oil-based paints are rarely used for finishes anymore because the Environmental Protection Agency (EPA) has put a limit on the amount of volatile chemicals that can be used.
The first thing to understand is that paints have different gloss ratings, or sheens: flat, low-sheen, eggshell, semi-gloss and gloss.
Flat paint has little or no sheen and is used primarily for walls and ceilings. The remaining are considered enamels and can range from a five to 85 percent sheen rating–the higher the rating, the higher the shine. These are used for trim, cabinets and walls in kitchens, bathrooms and laundry rooms.
Many homeowners use enamels on all their walls because they are more durable and easier to clean, but low-sheen is recommended because it is more attractive than shinier enamels.
Ready to start your
Painting Project

?Find Pros
How Much Paint Should You Buy?
You'll need to measure the square footage of your walls and ceilings to determine how much paint you'll need. Most paint will cover from 300 to 400 square feet per gallon. It's best top double that and apply two coats on all surfaces to insure good coverage and maximum durability.
Don't buy the cheapest paint because it probably won't give you the coverage or durability you need. But, you don't necessarily need the most expensive paint, either.
Painting Tools
Be sure to have the following tools on hand before you begin painting:
At least one good two-and-one-half- to three-inch paint brush
A nine-inch roller frame
A nine-inch screen
A nine-inch roller cover with a one-half to one-inch nap. Lambs' wool is best.
A two-gallon bucket
A five-gallon bucket
A four- to eight-foot rolling pole (which could double as a handle for a broom or other implement) to save time and your back
Foam brushes and rollers for a smoother finish on trim and cabinets are optional, but work well
Paint Preparation
Resist the temptation to take short cuts in this step of a painting project to save time and effort because proper prep work can make the difference between a good paint job and a great paint job.
1. Remove everything from walls.
Take down window coverings, and remove the switch-plates and hardware from doors (and cabinets, if you'll be painting them).
2. Protect furnishings and floors.
Move all the furniture to the middle of the room and cover it with plastic. Use drop cloths and/or plastic to cover floors as well. You can buy disposable plastic drop cloths that absorb paint that work quite well.
3. Sand trim.
Enamel paint on trim needs to be dulled using either sandpaper (be sure to wear a dust mask) or a liquid deglosser. (Be sure to follow directions on the label.) Sandpaper is good because it enables you to sand out old brush marks and roughness.
4. Spackle over cracks and holes.
Next, fill cracks with a paintable latex caulk, fill nicks and dings with spackle or bondo and spot prime these areas. Wall prep usually isn't as time consuming.
5. Remove all grease and dirt.
Clean any grease, wax or dirt with Tri Sodium Phosphate (TSP) or another degreaser, then rinse.
6. Apply primer.
Walls which were previously painted with an oil-based enamel (most likely in older kitchens, bathrooms or laundry rooms) should be primed with an oil-based primer. If there is oil-based enamel on the trim or cabinets, you'll need to apply a prime coat there, as well. A slower-drying oil-based primer with good hiding ability is recommended. However, you'll probably need paint thinner to clean up.
8. Cover stains.
Smoke stains should be primed with a stain blocking primer.
9. Tape off the area.
Cover baseboards with two-inch masking tape.
Start Painting
Make just one final appraisal of your prep work to make sure it is complete. Remember, no short cuts! Read the labels on the paint cans for any special instructions and familiarize yourself with what you are using. Now you should be ready to go.
Put your nine-inch screen in your five-gallon bucket (eliminating any need for a roller tray) and pour three to four gallons of paint in the bucket.
Attach your rolling pole to the roller frame, slide on the roller cover and dunk it into the bucket.
Roll only three feet at a time to spread the paint evenly over the wall, using the roller to get as close to the corners as possible.
After rolling, pour some paint into the two-gallon bucket, dip your new brush and start "cutting in" around the trim and corners.
Make sure the paint is completely dry before applying the second coat.
No Comments Yet