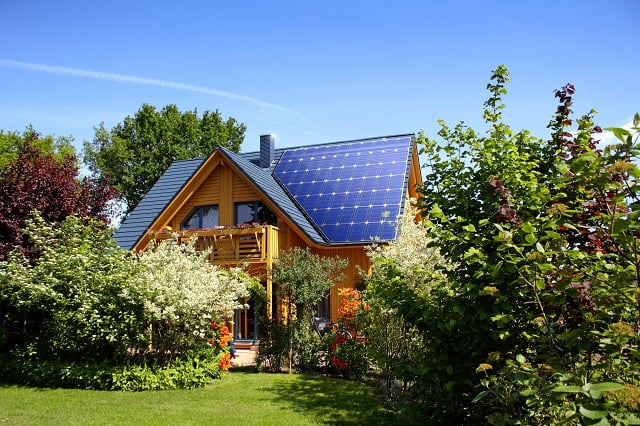 Green building and sustainable homes are quickly growing industries. Green home renovations conserve natural resources by using sustainable materials and making your home energy efficient and water conserving. They can also save you a lot of money. From lowered costs on utilities to income tax credits, sustainable renovations are better for the Earth and good for your bank account.
If you're not sure where to begin, a home energy audit is a good place to start. A professional will inspect several parts of your home, including the:
Heating and cooling (HVAC) system(s),
Foundation,
Walls and roof,
Ductwork,
Water heating system,
Doors and windows,
Appliances.
Install solar panels
Cut down on fossil fuel consumption using solar panels. Thanks to advances in technology, the cost to install solar panels is more affordable than ever. Integrating solar panels will shave dollars off your electrical bill and possibly give you a credit on your income taxes.
Solar panels can be used in a variety of ways:
A grid-connected system converts energy you make but don't need to the utility grid in your area.
An off-grid system that stores energy in batteries for you to use when the sun isn't shining.
Supplemental energy space to power low-demand needs like outdoor lighting, electric fences or to provide power during electrical outages.
To get started, consult a solar panel professional. If you don't want to put solar panels on your roof, consider installing new garage doors equipped with built-in solar panels or a freestanding system.
Go geothermal
A geothermal heating and cooling system will reduce your fossil fuel use by using relatively constant underground temperature to climate control your home. The system is made up of an exchanger and a loop that pull heat away from your home in the summer and bring heat into your home in the winter.
Geothermal systems use no electricity so the amount of greenhouse gases the systems emit decreases by 90 percent when compared to traditional electrical-based systems. The cost to install a geothermal system, averages around $7,500. It requires a high level of expertise, so plan to hire a geothermal specialist to do the job.
Reinsulate your home
You won't see your new insulation every day, but you'll feel it keep your home cooler in summer and warmer in the winter without adjusting the thermostat. The average cost of blown-in insulation is $1,380. However, you'll quickly recoup that amount in utility costs and you'll cut down on your energy use in the process. You can even find recycled cellulose insulation made from old newspapers.
Insulation is a huge factor in making a home more energy efficient. Better insulation means less heat transfer. Less heat transfer means less energy consumed to make your home comfortable, no matter the time of year or where you live.
Get new windows
Old, drafty windows result in a loss of 25 to 30 percent of your home's heating and cooling energy. The average cost of new windows is around $5,000. The upgrade will make your home more energy efficient, saving between $30 and $465 each year. Not only will you save money on utility costs, but you'll lower your carbon footprint.
Upgrade your appliances
Appliances made before the early 1990s use much more energy and water than models manufactured today. For example, front-loading washing machines use half the water of a traditional top-loader. An Energy Star-rated refrigerator will save $270 in utility costs over five years. You can also expect an income-tax credit by installing Energy Star appliances.
The government's Energy Star program makes spotting energy efficient appliances easy, and the Energy Star label can be found on devices of all sizes, from microwaves to hot water heaters.
The Energy Star label doesn't stop with appliances, either. Energy Star rates computer products, including desktop and notebook (or laptop) computers, game consoles, integrated computer systems, and desktop-derived servers. These electronics could prevent greenhouse gas emissions equal to the annual emissions of 2.7 million vehicles.
Replace your toilet
Replace traditional toilets with dual-flush or low-flow models and reduce water use by 67 percent. A dual-flush toilet uses different amounts of water for solid waste or liquid waste. Low-flow styles use less than half the water of an old-fashioned toilet. Changing to a low-flow model could save 25 gallons of water per day or 9,000 gallons per year.
If you don't want to install a new toilet, repair the one you have. With continued use, the flapper valve can corrode, causing leaks and increasing water consumption.
Making energy-efficient home renovations will cut your natural resources consumption while also decreasing your utility costs and potentially offering income tax credits. If you're not sure how to get started, consult a professional home energy auditor for assistance.
Install a water barrel
In areas where rain is scarce, rain barrels are a terrific way to cut down on the amount of public water you use. Installing a rain barrel allows you to collect water that rolls off your roof during a rain event. Even in very dry climates, an inch of rainfall on a 1,000-square-foot roof can fill a barrel. Use the collected water to irrigate your yard or plants. During the growing season, this can cut down on your water footprint and utility bill by 30 percent.
However, be aware, laws regarding water collection vary. Some states limit the amount of water you can harvest, while others offer tax credits for installing rain barrels.
Small but Mighty Projects
While solar panels and geothermal heat pumps might be the green home improvements of choice for those with the funds to buy them, several smaller, cheaper sustainable home improvements exist. If you're looking for some quick and easy ways to save energy at home, here are a few things to consider.
One of the cheapest green improvement you can make is to replace all your old light bulbs with Energy Star-qualified, LED bulbs. The effort is minimal, but the results are astounding! If you replace every bulb in the house with high-efficiency ones, you could save 75 percent on your energy bill. You'll also reduce the frequency of replacing them since they last up to 10 times longer.
While switching light bulbs might be the easiest sustainable home improvement, these projects aren't far behind:
Replace your showerheads and faucets with low-flow models to to conserve water.
Install ceiling fans to cool off living spaces without running an energy-hogging cooling system.
Maintain your HVAC and plumbing systems, keeping them running well to save on both energy and utility bills!
Use home automation, like smart thermostats, to effectively control the temperature or electronics in your home.
Green Home Improvements During Major Remodels
There are dozens of eco-friendly remodeling tips you can use in the planning and execution of your next big project. For instance, responsibly dispose of reno debris throughout demolition, but also make sure finishing touches, like paint, are properly disposed of.
Another sustainable home improvement practice is recycling or reusing materials that people would otherwise discard.
Reclaimed lumber, sometimes called barn wood, and salvaged fixtures can each be used in a new setting. Some of these items are not only beautiful and structurally sound, but carry a history with them that will bring a sense of authenticity to a new remodel.
Used brick pavers and salvaged chunks of concrete from road construction are used for residential driveways, walks, and landscaping. Using these materials in your remodeling project can sometimes save you money (good news for you!), but in every case, their use will waste less energy.
No Comments Yet