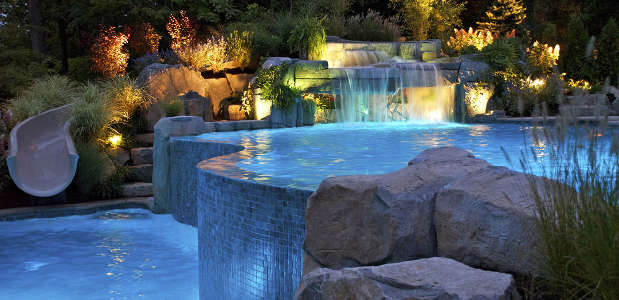 Swimming pools remain all the rage in the home improvement market. They offer the perfect mix of relaxation and good old-fashioned fun. Summer isn't the same without a pool where you can cool off. Like any popular home improvement project, companies have spent money developing different designs and options to meet the preferences and budget of any homeowner. Knowing what's available will enable you to choose the pool that's right for you.
The Basics: In Ground vs. Above Ground
The first decision in swimming pool design is a pretty basic one. You may already have an inground pool or above ground pool in mind, but you may find reasons to change your mind. While most people know that in-ground pools are typically more high end, there may also be a simple supply issue. In some places, you may be wait-listed for the pool you want. This probably also means you're paying a premium price that could be better spent on a different kind of pool.
If you have a slanted yard, for example, you may be able to install an above ground pool that looks and works very much like an inground model. You can then use the money you save on a deck that will serve as an extra recreational area.
In Ground Pool Design
Inground pools are usually made from concrete, vinyl, or fiberglass. Each material has distinct advantages and disadvantages:
Concrete is the most versatile and durable, making it the most popular pool. Concrete pools are also the most difficult and time-consuming to install.
Vinyl uses a vinyl lining on top of a steel frame. It is nearly as versatile as concrete, but greater care is needed to prevent the lining from getting punctured. It is generally cheaper and easier to install than concrete.
Fiberglass is a prefabricated shell. It is the cheapest and easiest to install. It is more durable than the vinyl, but less versatile.
Ready to start your
Pool Installation

?Find Pros
Regional differences can play a large role in pool design and cost. Concrete may be similarly priced to vinyl in southern states, such as Florida, but considerably more expensive the further north you go. The hard shell of fiberglass is largely impervious to the harsher winter conditions of northern climates. Talking to a local contractor can be invaluable for learning about the performance of different swimming pools in local climates.
Above Ground Pool Design
The major choice for above ground pools is whether your pool should be soft-sided or hard-sided. Soft-sided pools are cheaper, but less durable. These pools are a better idea for homeowners who want to provide their kids with a pool and an occasional soak, but probably won't want to keep their pool installation after the kids have left the nest. Hard-sided pools can range in price and longevity to match a homeowner's need. With a quality deck installation, they can rival inground pools for luxury and appeal.
You may hear that an above ground model is harder to maintain. This is a fallacy. The problems most homeowners have are due to skimping on the filter and pump installations. Even the cheapest swimming pools deserve a quality filter and cleaning system to ensure the required maintenance and repair is kept to a minimum.
Custom Pool Design
High end swimming pools can be designed to meet any personal preference for luxury or backyard ambiance. The first step is to design an organic shape that is pleasing to the eye and blends into the dimensions of your yard. Pool and spa combinations can get pricey but will certainly streamline the cost of installing them separately. Waterfalls are the epitome of creating a backyard oasis and can be easily connected to a custom pool. Anything you can imagine that would be associated with a swimming pool or pond can typically be incorporated in the design.
No Comments Yet