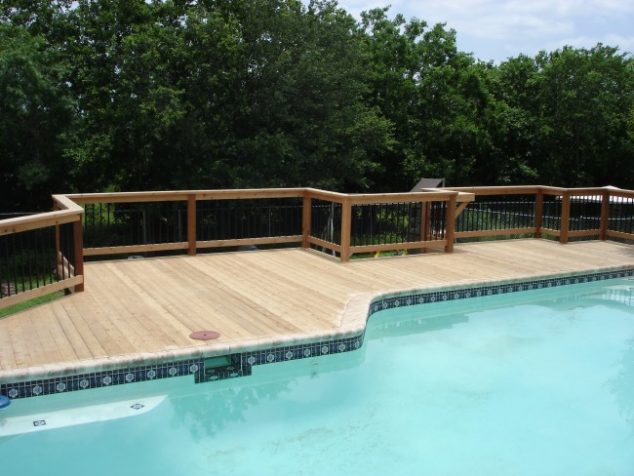 A swimming pool liner is a vinyl surface that is attached to the walls and floor of a pool in order to help keep in the water, improve the looks of a pool and to provide a more inviting surface for users. There are a lot of things to sort out when it comes to purchasing and installing the right swimming pool liner, so here's a few tips to help you choose which one is right for you.
Thicker is Better
Generally, when it comes to pool liners, the thicker you go the better, and for obvious reasons. That vinyl surface will be the first thing that swimmers and pool toys will come in contact with. Since the goal of a good swimming pool liner is to keep the water in, thicker liners will help prevent the inevitable tears that any well used liner is bound to experience.
Blue Is Boring
Before you purchase a swimming pool liner, consider what you want your pool to look like. Because they're made of vinyl, the surfaces of these liners can be decorated to look like just about everything. They can imitate expensive tile or sport beautiful images of an underwater reef if that's your thing. Of course, if you prefer the traditional blue liner, there's plenty of that available, too.
Check the Warranty and Supplier
Since uninstalled liners are so easily torn, especially prior to installation, make sure your supplier inspects the liners before they send them out. Also, check to make sure they are shipped in quality packaging to prevent damage during transit. Finally, be sure to ask about the warranty and know its terms inside and out. Any reputable dealer will guarantee that your liner will arrive and function as advertised. If the company you're dealing with dodges the question, move onto another one to ensure your purchase is protected and your new liner is a quality one.
Contact a Professional
The installation of these pool accessories is tricky business, and if not properly done can lead to the quick demise of your new investment. Improperly installed swimming pool liners are much more likely to tear, bulge and fail, and so it's a good idea to hire a professional to do the work for you so you won't experience any headaches down the road. The idea is to enhance the quality of your pool for years to come. Hiring a professional is the best way to ensure your new liner does exactly that.
Need to find a pro for your vinyl pool liner?
Find Pros
---
1 Comments