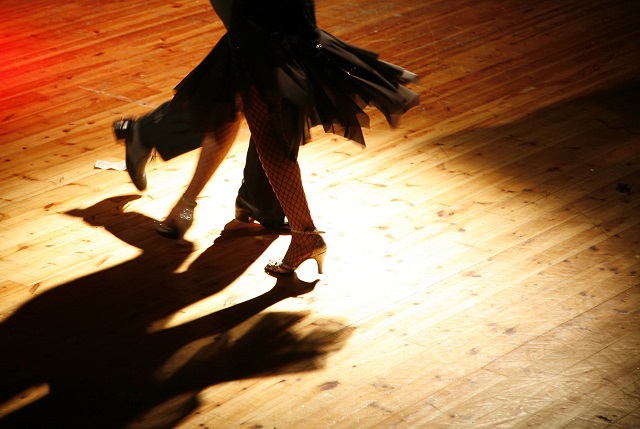 The tango has been an entertainment staple for people of all walks of life from all around the world for hundreds of years. The captivating dance steps, combined with the soulful music and magnetic ambiance, have seduced the minds and hearts of countless dancers, prompting them to seek out opportunities to perfect their craft in spacious dance halls, intimate night clubs, and private classrooms alike.
In other words, if you love to dance the tango, you want to do it all the time, everywhere. So, what better way to satisfy your urge to groove than to create a custom dance space in your own home that embodies the rich culture of the tango?
Hit the Dance Floor
When you're transforming a spare bedroom, dining room, or garage into a DIY dance hall, you always start at the bottom. The dance floor is easily the most important part of the space, and it should be as close to perfect as possible. Otherwise, you risk an uneasy — and even dangerous — dancing experience.
The right floors are a must for the space, but whether you choose exotic Brazilian walnut or affordable engineered boards will affect the cost to install your hardwood floors. If you'd rather hire a wood floor installer near you, expect to spend a more and save some time. Make sure your investment is worthwhile and look out for the following features.
Install a Subfloor
Just because you can't see it doesn't mean it isn't important. The subfloor keeps your hardwood even, prevents creaking, and eliminates gaps. For a dance floor specifically, choose a subfloor made of plywood or oriented strand board (OSB). If you're unfamiliar, check out our guide on subfloor costs.
Assuming your concrete is level and in good condition, you can begin installation immediately. Lay down a moisture barrier first, then install the subfloor directly on top. If you must repair damage or level the concrete, ensure the newly-poured surface is completely dry. Moisture can warp your wood and ruin your new surface.
Should You Elevate It?
Elevated, or sprung, flooring has its perks and its drawbacks. Sprung floors provide less impact and are easier on your knees and hips, a common problem area for dancers. However, they may be noisier, and they won't match the floor height in the rest of your home. It's really a matter of personal preference.
An elevated floor requires a lattice structure between the concrete and the subfloor, which will increase your material and labor costs. The 2"x4" boards that make up the lattice can run parallel to the walls, like a checkerboard, or they can run diagonally, at a 45-degree angle. Either way, they should be spaced 12 inches apart and attached to the concrete with fasteners.
A dance floor without elevation still needs some extra spring. Add an extra layer of subfloor, either of ½ or ¾-inch pine slab or foam, to provide extra cushioning and protect it from the added wear and tear that tangoing on the surface will inevitably bring.
The Top Level
For the dance surface, you have choices. Most dancers prefer hardwood for its beauty and longevity, but the price may not be right. If you need a less expensive option, laminate flooring is an acceptable substitute. When it comes to style, any pattern, size, or shape of board will do. Just be sure to leave ½ to ¾ inch of space between the floor and the wall to allow for give.
Regardless of the aesthetic, it's important to choose a material that offers interlocking boards or tiles, as opposed to the type you have to nail to the subfloor. This will help ensure the seams are invisible to your feet, allowing you to glide across the floor safely and gracefully.
Get Ready to Dance
The tango is about more than just the way you move. When setting up your dance space, you should also pay close attention to the way the room feels. Setting the mood is about controlling the lighting, sound, and temperature.
Dim the Lights
Unlike shagging in the sun or ballet under stage lighting, tango dancers typically prefer a softer, dimmer light. If you don't already have dimmable lighting in your space, there are several solutions. First, you could hire a local electrician to install them for you. Your exact lighting installation costs will vary, depending on your current wiring and the type of fixtures you choose, but this type of project averages about $460 nationwide.
If you're looking for a more budget-friendly or less permanent option, consider replacing your existing bulbs with smart bulbs. Using an app on your phone, you can dim the lights, schedule them to turn on and off, and even change the color to reflect your current mood.
Cue the Music
Chances are that your home wasn't built with acoustics in mind. However, there are plenty of ways to ensure you can hear — and feel — the music as you dance. Streaming music is gaining popularity because it's inexpensive and easy to use. Moreover, for about $100, you can purchase a high-quality Bluetooth speaker that connects directly to your smartphone, tablet, computer, or television. Of course, if you're interested in a more sophisticated sound system, a professional home audio installer can set you up with surround sound that fills your space with the spicy sounds of Latin music.
Keep it Comfortable
One of the main advantages of tango at home is that you are in control of everything about your environment. So, instead of sweating your way across the crowded dance floor in the basement of a dance club, you can turn on the fans and set the thermostat to keep you, your partner, and your guests cool and comfortable.
If you plan to use your basement or garage, your current air conditioning system may need an upgrade. Commonly, these spaces are not heated and cooled. Before you start building, call in an HVAC pro in your area to assess how effective your current system will be and suggest modifications. If required, these projects may significantly increase your budget.
In reality, most tango enthusiasts will tell you that you don't need anything special to practice the dance you so dearly love. They're not wrong. However, they would almost all jump at the opportunity to have a beautifully-designed dance space in their own home, too. Luckily, using the steps above, just about anyone can create a space where they can do what they love safely and comfortably.
No Comments Yet