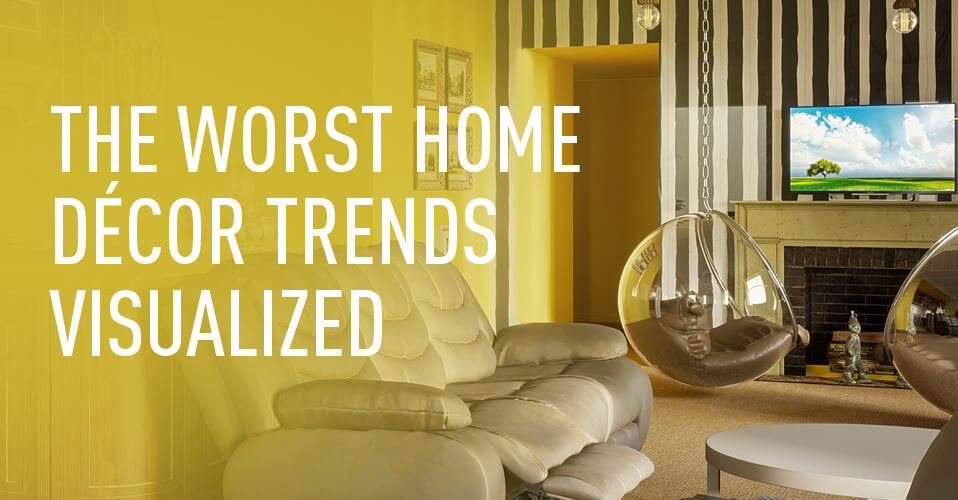 Jumping onto the latest fashion trend always seems like a good idea at the time, but hindsight can be brutal. This is especially the case when looking back at photos of the style crimes we've inflicted on our own homes. With the help of home décor and interiors content consultant Pat McNulty, we've assembled these images to show the very worst of home décor in recent years. How many do you recognize?
1990's Open plan living room kitchen
Yes, people really did have living rooms like this in the 1990s. Don't believe us? Look at Monica's apartment in the first series of Friends. Ninety's interior design was often a mesh of styles and colors. You could say the floral sofa was shabby chic, but it makes no sense in the context of the rest of the room. The combination of black and white floor tiles and yellow pine cabinets in the kitchen needs to stay in the '90s with plastic fruit and M.C. Hammer.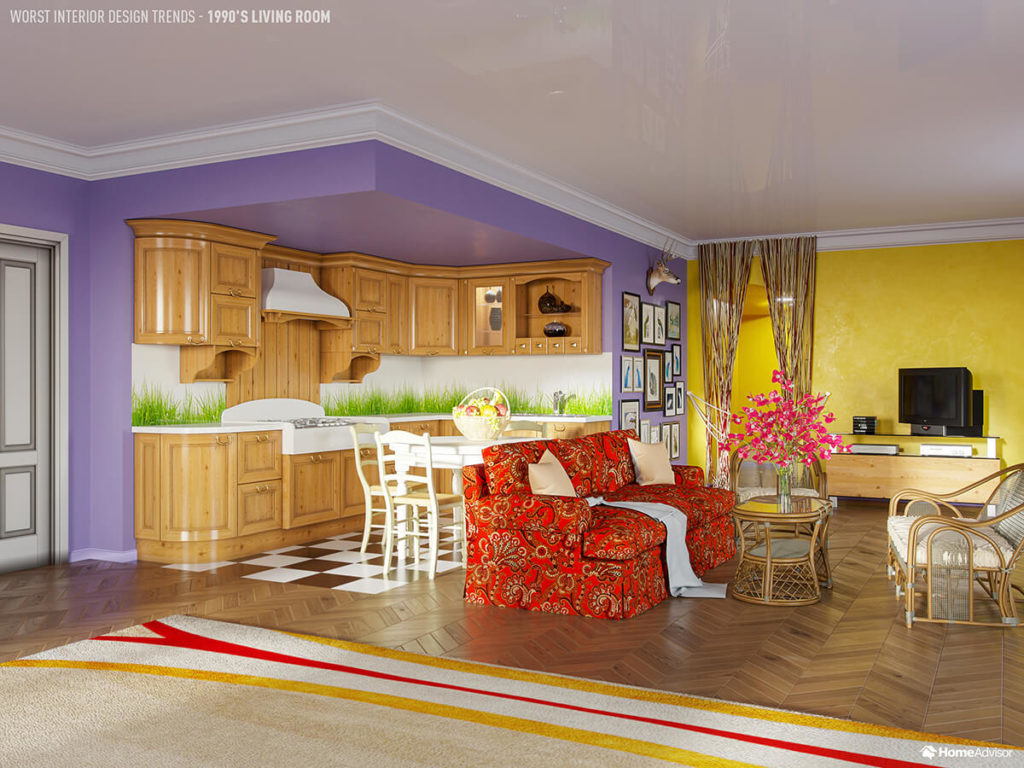 1990's Bedroom with en suite
Chintz, frills and canopies were a big hit in the '90s. But then so were plastic beads, colored blinds and wall stenciling. The '90s were an 'eclectic' time, to put it kindly. And whether it was your bedroom, bathroom or beyond, putting up border wallpaper — a thin strip of wallpaper that ran around a room — was considered fashionable. Overall, we can forgive the '90s for many things, but inflatable furniture really was the worst.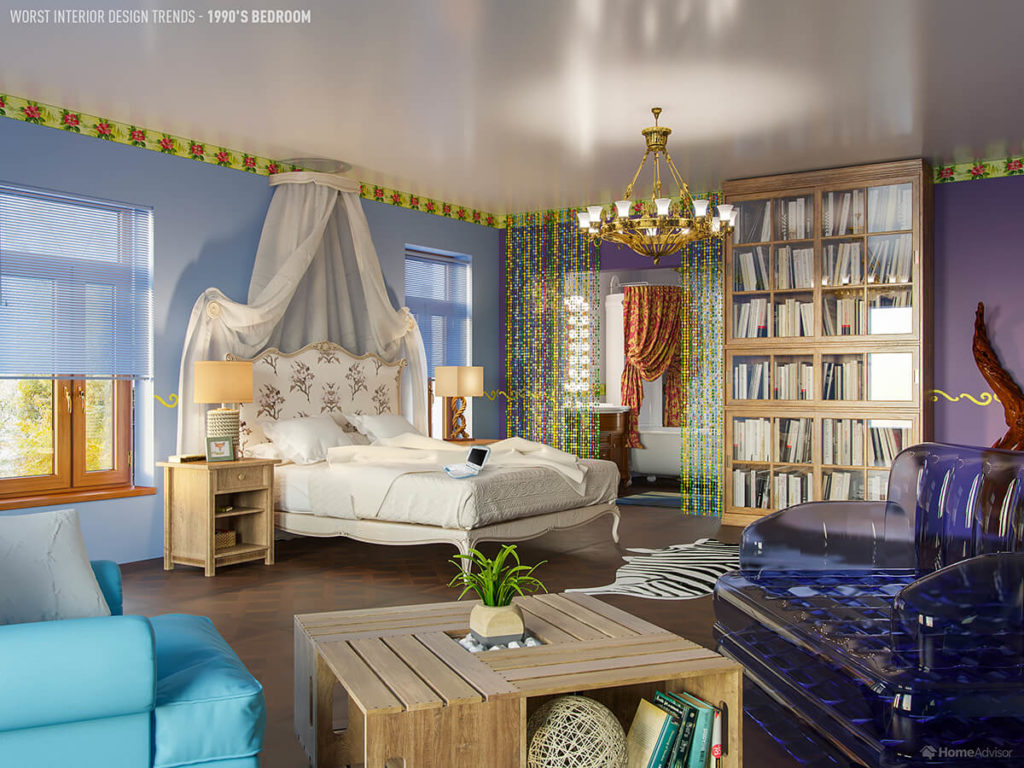 2000's Open plan living room kitchen
'Have a feature wall,' they said. 'It'll look great'. Well, as this living room shows, the turn of the Millennium saw some questionable choices. How, for example, can one watch TV when it lives on such an attention-grabbing feature wall? At least it might distract them from the confusing and intimidating array of lights and furniture hanging from the ceiling.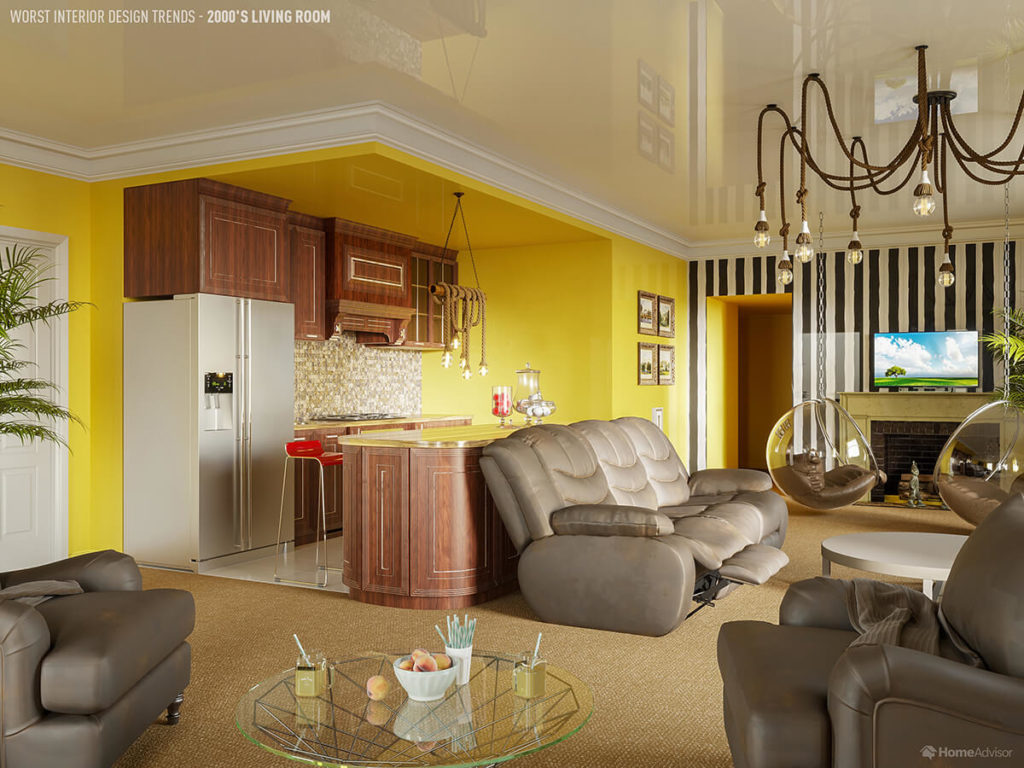 2000's Bedroom with en suite
There are hanging glass ball chairs in the bedroom as well; great news for anyone who can actually sit comfortably in them. Lime green and polka dots were huge in the early 2000's. If you're concerned that they might be too garish, every shade of brown imaginable is present to dampen their impact.
Meanwhile, the bath has been replaced with a big shower spraying water at you from all directions. Which is actually helpful as you'll need to be thoroughly scrubbed clean after witnessing this design disaster.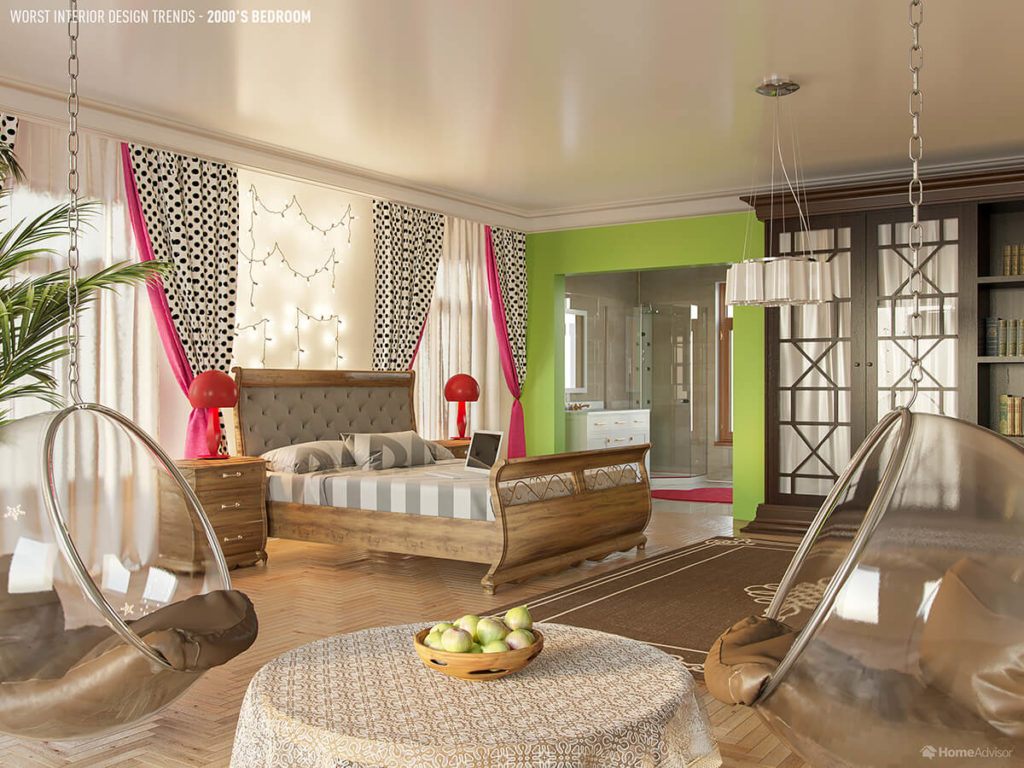 2010's Open plan living room kitchen
Overcomplication is the name of the game in this living room and kitchen. Apparently, our lives are now too simple, so we need cupboards we can only reach with a ladder and doors that slide rather than swing open. We also secretly aspire to live in a factory, so industrial-style fridges are in, along with chalkboards to remind us how much we enjoyed being at school. And as for colors? Forget them, everything's neutral now.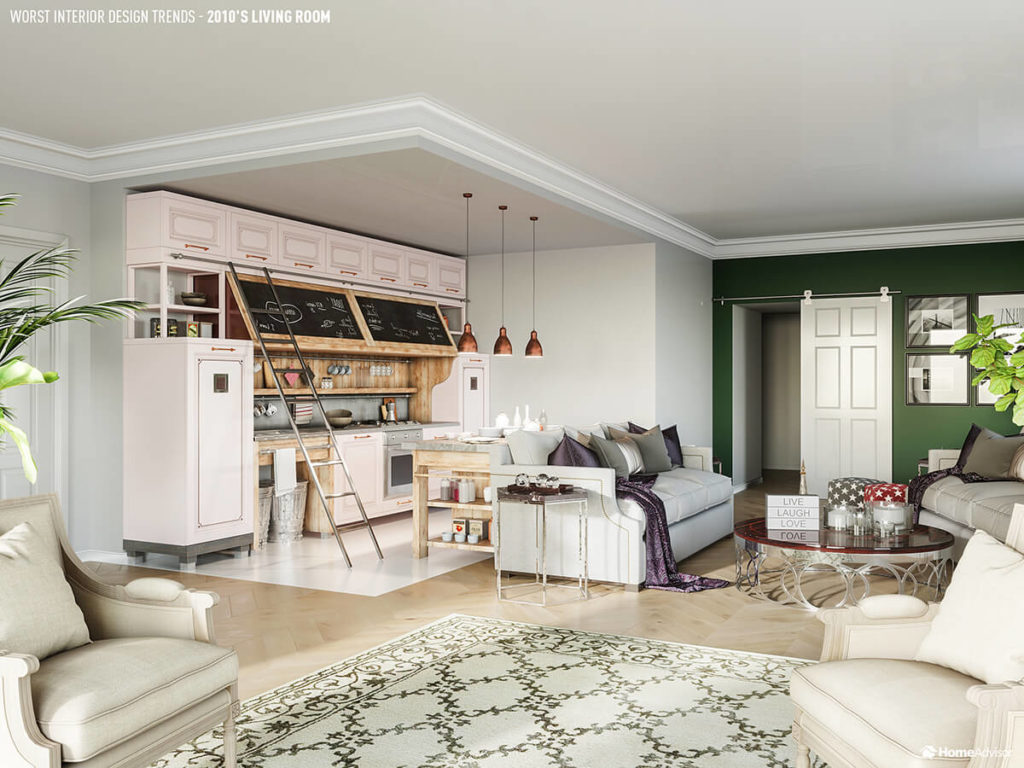 2010's Bedroom with en suite
If you have trouble motivating yourself to get out of the bed in the morning, then the 2010's bedroom may be just for you. The room comes adorned with a variety of 'tasteful' motivational slogans. We see a selection of neutral colors that mirror the color scheme in the kitchen. But this time there's a splash of millennial pink as well, particularly on the pointless poufs. Over the bed is a gallery wall; a collection of dozens of photos all crammed into the smallest space possible. Nobody's really sure why.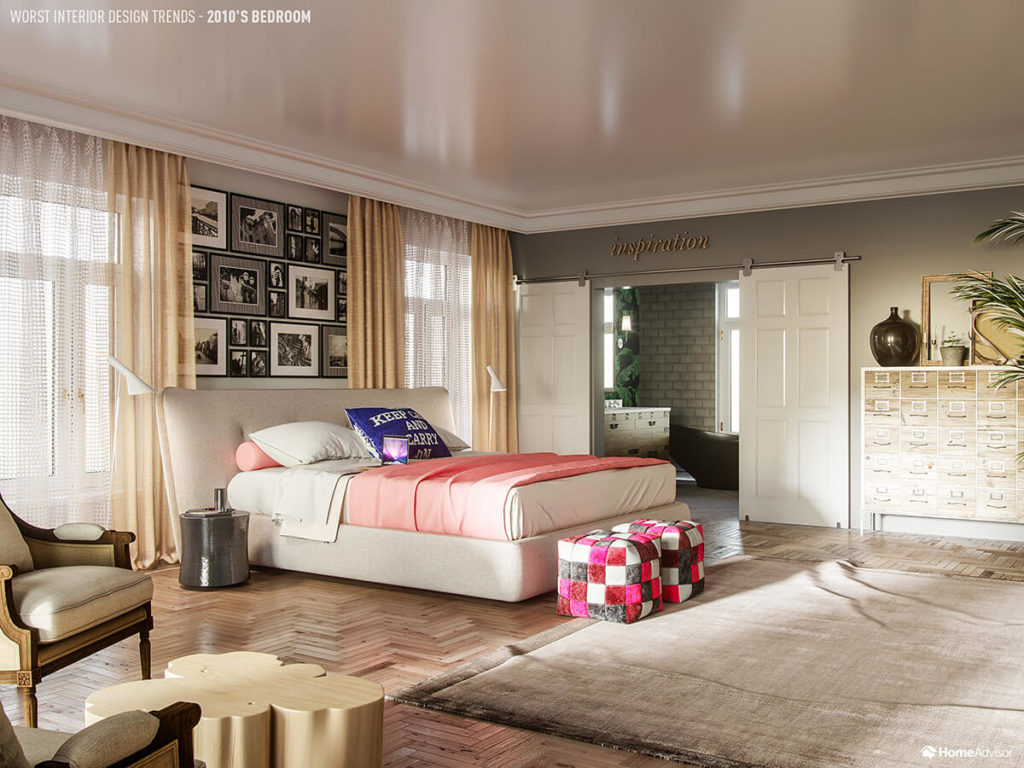 There you have it. The worst of home décor of the '90s, '00s and '10s. Of course, we can't afford to be too smug when looking back at these style disasters. Soon, it will be our homes that are judged. Which of our current style trends do you think will be embarrassing in years to come?
Sources:
Avance, R. (2019) Bathroom remodeling trends to avoid. consumeraffairs.com
Barnes, A. (2018) 9 home trends from the early 2000s that you forgot existed.domain.com
Basile, L. (2016) '90s home décor you forgot you were obsessed with. reviewed.com
BestLife. (2018). 30 Home Decorations No One Over 30 Should Own. Bestlife.com
BestLife. (2018). Worst home decorating trends. Bestlife.com
Calucchia, C. (2018) It's 2018—Time to Move on From These Outdated Décor Trends. mydomaine.com
Ebert, J. (2017) 7 decorating ideas that only worked in the 90s. idealhome.com
ElleDécor. (2019) Design Trends 2019. elledecor.com
ElleDécor. (2019) Outdated home décor trends. elledecor.com
Goeres, K. (2017) The Worst Decorating Mistakes You're Making in Your Master Bedroom. cheatsheet.com
Harding, A. (2018) Hideous '90s Home Decorating Trends That Should Never Come Back. cheatsheet.com
Harding, A. (2018) The 15 Most Hated Home Decorating Trends That Need to Die. cheatsheet.com
Heidenry, M. (2016) Worst Home Décor Ideas From the 1990s. realtor.com
Heidenry, M. (2016) Worst Home Décor Ideas From the 2000s. realtor.com
Hunt, G. (2017) The Best (and Worst) Home Décor Trends from Every Decade. purewow.com
Idealhome.(2019) The worst interior design trends. idealhome.com
Juicebox Interactive. From Harvest Gold to Millennial Pink: colors that defined the decades.juiceboxinteractive.com
Leavitt, E. (2018) The Décor Trends We Hope Never Make a Comeback. domino.com
Lonny. (2019). The Worst Décor Trend From The Year You Were Born. lonny.com
Mead, T. (2018) Poll: Which '90s Home Trends Do You Wish Would Never Come Back?. housebeautiful.com
Merrill, L. (2010) 10 Worst Home Trends of the Decade. care2.com
Moor, J. (2018) The Worst Home Decorating Trend the Year You Were Born. bestlifeonline.com
Morgan, B. (2018) Signs Your Home Is Stuck In The '90s. Housebeautiful.com
Murphy, C. (2018). 9 Trends Designers are Ready to Say Goodbye to. apartmenttherapy.com
Reynolds, K. (2018). The Best and Worst Home Trends of the 2000s. housemethod.com
Silver, L. (2013) 15 Interior Design Trends From the '90s That You'll Never See Again. complex.com
Strebe, S. (2018) Sorry, These 14 Home Décor Trends Are Out (and What's In). mydomaine.com
Thorn, K. (2016). The Best and Worst Home Décor Trends of 2016. brit.co
Wiebe, J. (2018) 12 Décor Trends From the 2000s That You Totally Forgot About. hunker.com
No Comments Yet