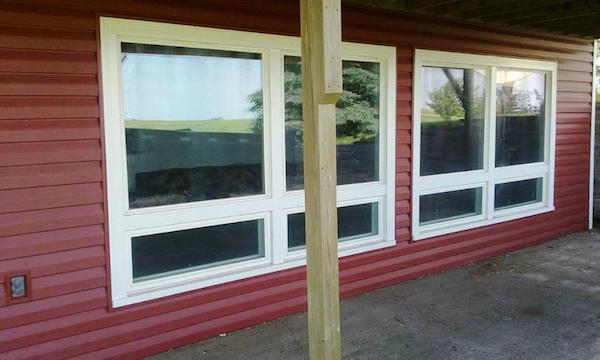 Manufactured to look similar to traditional aluminum or vinyl siding, thermal siding provides your home with an extra layer of thermal insulation where your home needs it most. Add to the fact it's tougher, longer lasting, and better looking than other materials, it's easy to see why this new siding product is winning over contractors and homeowners alike.
How Thermal Siding Works
The science behind thermally insulated siding is pretty straightforward. Where other siding materials leave an empty space between the siding material and exterior wall of your home, thermal vinyl siding fills that gap with a permanent insulation backing attached to the siding panels themselves. It might seem trivial at first glance, but installing thermal vinyl siding provides four times the level of insulation traditional vinyl siding offers. Translate those benefits to dollars and cents and the initial cost of thermal siding installation pays back in around 20% on your annual energy bill. In these times of high energy costs and raised environmental awareness, those numbers are hard to ignore.
Thermal Siding Is Tougher, Too
Besides being a more energy efficient siding solution, most thermal vinyl siding benefits from superior manufacturing in other areas. For example, some brands claim to be 500% stronger than traditional vinyl siding when it comes to resisting cracks and damage from impacts by foreign objects. Furthermore, their wider planks, seamless joints and better installation methods make them fit to withstand winds of 170 to 235 mph by most accounts. In fact, even the vinyl veneer is superior than other siding, with infrared resistant polymers and weather resistant shields that help the siding to retain color and structural integrity long after other siding materials fail.
Thermal Siding Insulates You from More than Heat and Cold
While improved energy efficiency is the main reason homeowners choose to install this innovative siding material, it's not the only benefit of going thermal. This siding is also an excellent insulator against unwanted noise, reducing noise pollution in your home by up to 45%! Not only will your siding save you money, it will make your home a quieter, more relaxing environment as well.
Talk to a Siding Contractor
Since this material is new to the market, and since it requires proper installation to ensure you maximize its energy saving effects, it's best to talk to a professional siding installer about installing thermal vinyl siding on your home. Knowing that your siding has been installed correctly means you'll be able to rest easy with the knowledge that your new thermal siding is providing your home with maximum protection and your pocket book with maximum energy savings, all at the same time.
No Comments Yet