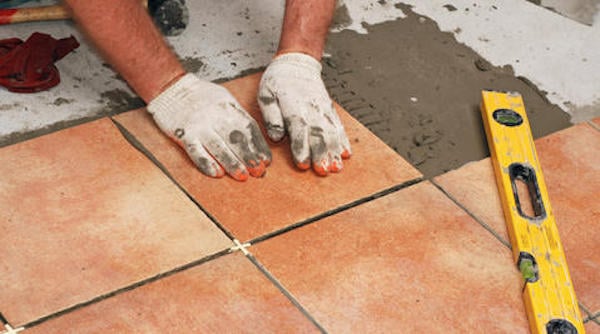 Tile installation is fast becoming one of the most popular solutions for a variety of home improvement needs and for good reason. On a purely practical level, it is versatile and can be used on any one of a number of home improvement projects, including kitchens, bathrooms, flooring projects, and more decorative applications to walls and furniture. As a material it is tough, stain and water resistant, easy to clean, and also heat resistant. Add to that the plethora of possibilities when it comes to design options, limited only by your budget and imagination, and you'll quickly come to understand why so many homeowners are finding their home improvement answers in this age-old method for creating functional, eye catching surfaces.
Which Tile is Right for You?
There are many factors to consider when choosing the right tile for your project, including price, durability, and which material is best suited for your particular application.
| Material | Expense | Durability | Features |
| --- | --- | --- | --- |
| Terrazzo | $$$$$ | **** | Made from a collection of other materials like glass and marble, bound with cement. Low-maintenance. |
| Glass | $$$-$$$$ | *** | Many colors available. Doesn't absorb water. Stain resistant. Used on walls and in mosaics. |
| Marble | $$$-$$$$ | *** | Some marble is porous and soft but there are durable varieties available for high-traffic areas. Must be regularly sealed to resist staining. |
| Granite | $$$ | **** | Dense and available in many colors. Scratch-resistant. Good for high traffic. |
| Concrete | $$$ | **** | Very durable. Can be finished smooth or rough. Popular flooring material, inside and outside. Prone to staining unless sealed. |
| Limestone | $$-$$$ | *** | Available in options from very soft to durable and hard. Not stain or scratch resistant but can be sealed for greater resistance. |
| Travertine | $$-$$$ | *** | Porous and soft with pitted texture. Not scratch or stain resistant. |
| Slate | $$ | **** | Dense with a textured surface, unless finished smooth. |
| Porcelain | $$ | *** | Made from very fine clay. Durable and stain-resistant. Doesn't easily absorb water. Can be found glazed or unglazed. |
| Ceramic | $-$$ | ** | Made from quarried clay. Very economical. Can be found glazed or unglazed. |
Consider Tile Prices
Price is an important thing to consider when choosing materials for a tile installation project. Remember, tile is generally sold by the square, and what may initially seem to be a manageable cost can add up when you realistically look at the amount of surface you need to cover. Generally ceramic tile provides the most bang for your buck, and considering it's also one of the easiest to maintain and offers far and away the most design possibilities, going ceramic is an easy choice for many homeowners.
If your budget is a little higher you might consider stone for your tiling needs. It costs more, but you won't have to deal with the chipping that can sometimes occur with ceramic materials. It will literally last a lifetime. The one downside to stone is that it's not always stain resistant. Most stone applications will need to be sealed to prevent spills and exposure to water from seeping in and staining the materials.
If you're looking for something even more unique, glass and metal tiles are possibilities as well. These materials are primarily used for decorative purposes, and like stone, have a higher price tag than ceramic varieties.
For a full look at the cost of purchasing and installing tiles by type, check out our guide on Tile Installation Costs.
Other Considerations
It's important when choosing materials to also think about what these choices will mean from both an aesthetic and a maintenance standpoint.
The texture of the tile you choose will make a huge difference as to how much upkeep the tile will need to retain its original look. While smooth tiles are striking to look at, they require almost constant maintenance to keep dirt and grit from scratching and dulling the surface, especially with flooring. The same goes for color choice. A polished white or black marble floor will need a lot more daily upkeep than an earth toned, rougher ceramic tile to keep it looking its best. Think about your lifestyle and other factors, such as kids and pets, to make sure you're choosing the right tile for you and your family.
Considering Porcelain or Ceramic? Review the pros and cons of each in our Porcelain vs Ceramic Tile Guide.
Ready to start your
tile installation

?Find Pros
Tile Size
The other thing to keep in mind when you're choosing the design for your tile installation is the size of the tile you're purchasing. Large tile in a small room, such as a bath, can work wonders in making the room feel larger than it really is, while small tiles in a sprawling kitchen will appear busy and overwhelming in such a large space. It's important that you take into account these practical considerations when choosing tile, and not just your first impressions in the showroom, to ensure you'll be happy with the final product.
Hiring a Tiler
In order to be certain you're making the right decisions during the planning phases, regardless of the nature of your venture, it's best to contact a professional tile installer to help you plan and implement your project. With their wealth of experience in tile installation and design, a good tile installer is your best resource for searching out advice on choosing the optimal material and designs for the space you have to work with.
For tips and questions to ask potential professionals, check our our Certified Tile Installer Hiring Guide.
Ready to start your
tile installation

?Find Pros
No Comments Yet