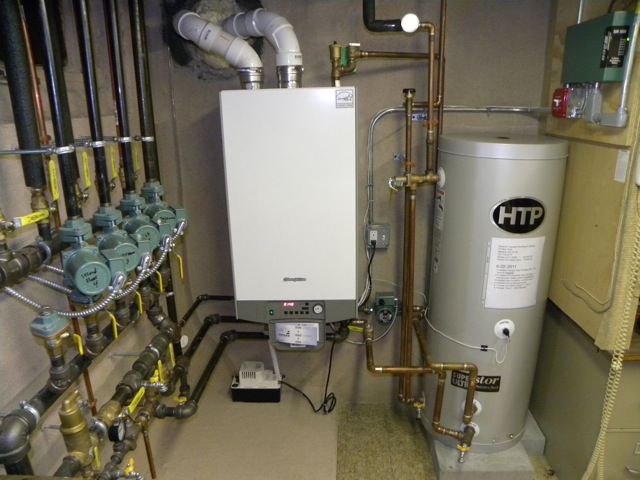 Water heaters that use hot water tanks usually last about ten years. Naturally, this is only an average. If you get lucky and maintain your tank, it might last you almost twice as long. On the other hand, it's not unheard of for a water tank to fail after only two or three years. Tankless water heaters last considerably longer. In fact, some companies offer lifetime no-leak warranties with their systems. If it's time to replace your water heater and you don't have huge water demands, a tankless system may be the way to go.
Water Heater Repair
Water heaters can fall into disrepair for any number of reasons. Sediment deposits can form at the bottom of your tank causing popping sounds when the burners ignite. Thermostats can malfunction or fail entirely. A broken dip tube can mix incoming cold water with the outgoing hot water. Uncontrolled thermal expansion can cause dangerous pressure levels and burst pipes. These and other less common problems can result in a loss of hot water, excessively hot water, or plumbing damage.
Water heater repair is a job best left to the professionals, but be sure to take an active role when deciding whether to have your system repaired or replaced. Ask how much the repair will cost, how much it would cost to replace the water heater, and how much longer your system can be expected to last once the repair is complete.
Replacing Water Heaters
If you do need to replace your water heater, you have several decisions to make. The most basic decision is whether or not you want a tankless system. Not only do tankless systems last longer, they are more energy-efficient. They are often cheaper, depending on the size and number of units you buy. The drawbacks usually involve performance.
With hot water tanks, the key to performance is how much hot water is being stored and how efficiently the tank is being insulated. With tankless systems, flow rate is the critical factor. If your system doesn't have an adequate flow rate, you might have wildly varying water temperatures. It's hard enough for these systems to provide reliably hot water. If you then start turning on faucets or flushing toilets with someone in the shower, you may end up hearing them cry out from the rapidly fluctuating water temperature.
Other decisions involve which heat source to use (gas, oil, electric, or solar), the size and shape of the tank, what type of insulation you need, whether to use thermal stores, whether your hot water heater is going to be part of your central heating. Many of these decisions may already be made for you, depending on your home and the climate where you live. Talking to a local contractor is the best way to determine what will work best for your particular situation and needs.
Energy-Efficient Water Heaters
Energy-efficiency standards for water heaters have been around for less than 20 years and minimum standards were increased as recently as 2004. Energy-efficiency is measured as a percentage of heat used, based on an average of 64 gallons used per day. The measurement is expressed as the energy factor (EF). An electric water heater can run as efficiently as .95 or .98 if it's a tankless system. A new gas-fired water heater may run as low as .63, and older ones may run even lower than that, making gas water heater prices worth the initial investment. Of course, energy-efficiency is only one small component of overall performance and doesn't take into account the relative cost of different fuels or the overall effect on either your utility bill or the environment.
2 Comments