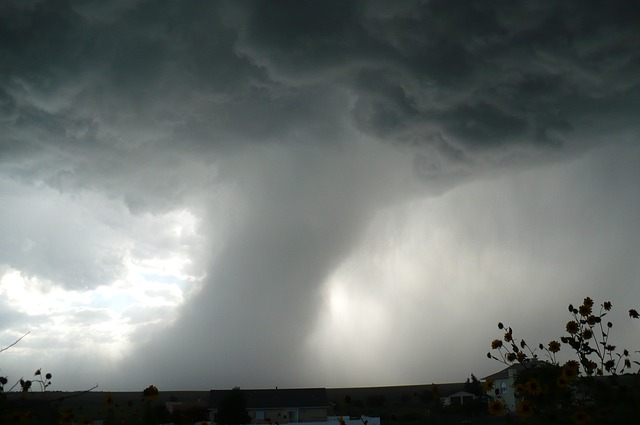 Most homeowners give at least some thought to the threat of dangerous weather. If you live in an area with a history of tornados, it's important to prepare your home before extreme weather hits. The following checklist will help keep your family (and home) safe during unruly weather.
☐ Install storm shutters: Storm shutters (also called hurricane shutters) keep water, high winds and debris from shattering your windows. Windows broken during a storm can result in flooding and let in damaging winds.
☐ Schedule a roof and gutter inspection: Your roof and gutters are your first line of defense against extreme weather. A faulty roof can cause leaking, flooding or — in serious cases — total collapse. Gutters funnel water away from your home and its foundation. Clogged gutters may allow standing water to collect around the base of your home, which can damage your foundation. Hire a pro to inspect your roof and gutters before storm season hits.
☐ Fix a leaky garage door: Make sure your garage door closes firmly. A loose-fitting door will allow water into the garage. Or, like broken windows, allow winds to damage your roof (and sometimes the door itself). Garage door sealing kits are inexpensive and available at most hardware stores. In extreme cases, hire a pro to weatherproof your garage door.
☐ Anchor your (mobile) home: Depending on the size of your home, strong winds can create lift. Tie-downs and other anchoring methods are available to secure your home.   
☐ Trim your trees: Dead limbs falling on your home will cause thousands of dollars in damage. Hire a tree-trimming service to inspect the trees around your home for dead or dying limbs. Also, completely remove any dead or dying trees from your property.
☐ Have an emergency kit: Canned goods, bottled water (or a water purifier), batteries, flashlights, radios, first-aid kits and blankets are imperative to staying safe during storms. If you have the resources, create several emergency kits and keep them in safe areas of your home.
No Comments Yet