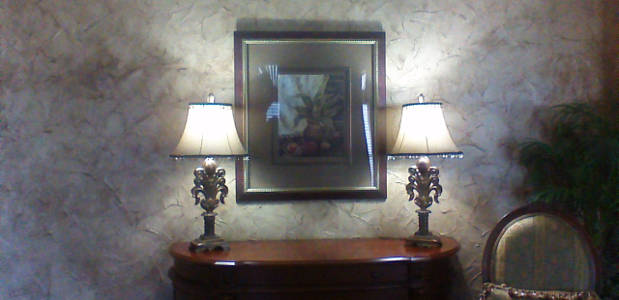 Interior designers know the quickest and most inexpensive way to dramatically change a room's style is to attack those boring white walls. Sure, you could try painting the room a bold new shade, but the newest design techniques go a step further with drywall, faux painting, and nontraditional wall coverings.
1. Drywall Textures
Once purely functional, drywall techniques are now a designer's trick. Using drywall techniques to add new architectural or design touches, or simply re-texturing ceilings and walls, can update the overall appearance of a home with a relatively small investment.
Walls and ceilings can be finished in many different ways. Re-texturing or smoothing walls can freshen and modernize older homes or even return the original character to period homes that may have been carelessly remodeled.
Changing up the old-fashioned styles of texture (such as skip & trowel or brushed) can significantly freshen and update a 30-year-old home.
On the other hand, covering those styles of texture with a new layer of hand-troweled joint compound to resemble plaster could restore the charm to a 1900 Victorian. Custom textures and treatments, such as combining textured walls with totally smooth ceilings, can give a home a unique look.
Try the Orange Peel Finish: Very popular right now, the orange peel finish is created by spraying texture compound onto a smooth wall and then letting it dry. Paint when ready for a brand new look.
2. Faux Painting
One of the most popular ways to create a change in your home today is through faux painting. Faux painting incorporates decorative and special paint finishes, as well as techniques that resemble wallpaper, such as glazing, sponging, ragging, wood graining and even freehand designs.
Although many illusions can be achieved with faux finishing techniques on flat surfaces, textured products can create three-dimensional effects. Products applied in layers to walls, fireplaces and ceilings can look and feel like real stone, crumbling masonry, or peeling paint for a European country look. Other popular finishes resemble linen, grass cloth or denim.
With a little skill, a great idea and a new color scheme your home's interior can resemble an ancient Tuscan building, a marble wall or even a cloudy day.
Try a suede finish: To warm up a formal room such as a dining room, library or office, consider a suede finish. Textured paints containing solid materials like silica can make walls look—and even feel—like suede.
Ready to start your
Textured Paint Project

?Find Pros
3. Non-traditional Wall Coverings
Wallpaper has always been a popular alternative to painting a room. But in addition to buying & installing traditional wallpaper, there are many types of wall coverings that will enliven a room. Bright fabrics, grass cloth, even cork are becoming popular as unique ways to dramatically change a room's appearance.
Some non-traditional wall covering options:
Unbacked fabric is one of the most difficult styles because you have to work carefully to smooth out the fabric as you apply it to the wall.
Foil (some people refer to it by the brand name "Mylar") can be difficult to work with because it shows imperfections in the wall surface and because it can get wrinkled easily. But the silver, reflective surface and the patterns on many foil wallpapers can be strikingly contemporary.
Cork-faced wall coverings are thicker because they have a surface of cork. They make for a cozy, dark and woodsy effect and can often be seen in family rooms or offices.
Paper-backed fabric shows the high-quality look of a fabric wall covering but can be installed with the ease of a vinyl-coated paper. The backing adds a stiffness that both hides defects in the wall and makes it easier to manage the fabric.
Try a grass cloth wall covering: Grass cloth is an exotic choice, evoking the faraway cultures of Asia, but it can be surprisingly easy to work with because it stays stiff while pasting on the wall. Grass cloth shouldn't be used in high-traffic areas or where there's high humidity, however, because it may not wear very well.
No Comments Yet