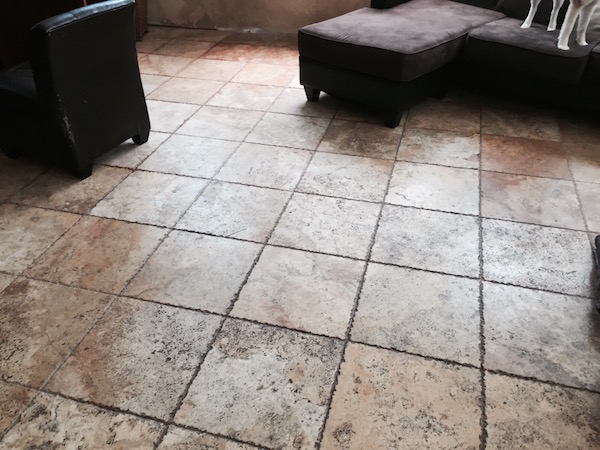 Travertine tiles are one of the most popular materials used today in stone floors, exteriors, countertops, backsplashes, bathrooms, and walls. Quarried from stone that is best described as a cross between marble and limestone, travertine has been a popular building material for thousands of years because of both its durability and the ability of masons to shape it to fit just about any purpose. Ever heard of the Roman Coliseum? Travertine. Need I say more?
What Does Travertine Look Like?
Travertine comes in a variety of colors and textures for you to choose from. Generally it ranges in color from an ivory shade to beige to a deep reddish brown. It can even be found in gold shades, depending on the level of naturally occurring iron in the stone.
As far as texture goes, it all depends on the level of finish you want for your tile. Polished travertine is smooth and closely resembles marble in appearance. Honed tiles are also smooth, but sport more of a matte finish. And for a more antiquated or natural appearance, travertine tile is also available in brushed or tumbled varieties that have more textural variations and do more to accent travertine's natural tendency to have pitted holes or troughs in the stone.
Where Can Travertine Be Used?
As mentioned before, travertine tile is a popular choice for just about any area of the home. Floors and countertops are the most popular choices, but travertine is also regularly used in showers, as backsplashes to countertops, as a wall covering, and on exterior walkways and patios. Because travertine is easier to cut and shape than some other stone materials, it can be cut to fit places where some of the less malleable stones are more difficult to install.
Ready to start your
travertine tile

?Find Pros
Travertine Benefits and Maintenance
As with any stone tile material, the benefits of travertine are durability and head turning aesthetic appeal. You won't find a more beautiful surface, regardless of the tile texture you settle on. Because travertine comes from the limestone family, however, it isn't quite as invincible as granite or marble to staining or wear, and there are a few things you'll want to watch out for.
The primary thing is to wipe up spills on travertine as soon as they happen because it is fairly porous and will absorb liquids if they are left to sit for an extended period of time. Also, never use vinegar or citric acid-based cleaners as they can erode and stain the surface. Because of travertine's susceptibility to staining, consider applying a sealant to any surfaces that will regularly be in contact water, and remember that a polished surface is naturally going to be more resistant to water damage than less finished ones.
While it may take a little diligence to keep your travertine tile looking like new, it's a small trade off for one of the most stunning and time tested tile materials on the market.
No Comments Yet