If you want to know where home design is headed in 2020 and beyond, the Kitchen & Bath Industry Show (KBIS), which took place January 21-23 at the Las Vegas Convention Center, was the place to be. More than 600 manufacturers, including legacy brands like GE Appliances and Whirlpool, alongside plucky startups looking to shake up the industry, wowed the 90,000-plus attendees with an impressive array of trailblazing products and materials.
With sentiment among home builders at its highest level since the 1990s, the mood was nothing short of exuberant. KBIS shared the convention hall with the International Builders' Show, or IBS. Though it was a lot to take in ("this is like drinking from a fire hose," one designer was overheard saying), several themes became apparent to the team of HomeAdvisor pros, who spent three days walking the floor. Here are the top five trends:  
Trend #1 Inexpensive materials that look anything but cheap
With remodeling costs on the rise, thanks to increasing material prices and a persistent labor shortage, the latest wave of homeowners has to be particularly budget-minded, but they're still intent on personalizing their homes.
That's driving interest to value-driven materials with high visual impact, including next-generation laminate countertops. "Laminate is definitely having a moment," said HGTV star Leanne Ford from the Formica booth, the brand that invented the material in the 1930s. The latest designs range from brushed metals to leathered veneers, cost as little as two dollars per square foot, and can be applied to countertops, cabinets, walk-in closets, fireplace surrounds, and more. Says Ford, "today's laminate can work on any surface in every style home."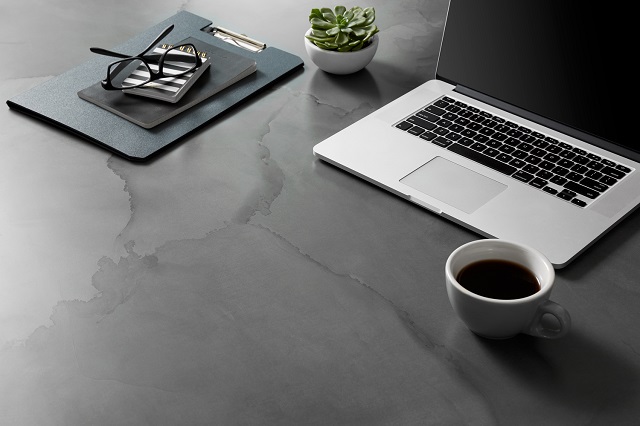 Another example of the high-end look for less is Daltile's new RevoTile, a porcelain floating floor system that installs twice as quickly as traditional tile, saving hundreds, if not thousands of dollars on labor for consumers. Available in twenty-six wood, stone, and concrete designs, RevoTile continues the porcelain-tile craze, just at a much more affordable price point for cost-conscious remodelers.
Trend #2 For voice control, it's everything and the kitchen sink
Remember when digital assistants like Alexa lived in those little speakers that sat on the countertop or side table? Voice-controlled assistants are now being integrated into virtually every object in the home.
Case in point: the U by Moen Smart Faucet, which took home the Best of KBIS award in the Smart Home Technology category. The sleek faucet lets you ask for a precise volume of water at a specific temperature, for example, eight ounces of water at 98.6 degrees Fahrenheit for the baby's bottle. A wave sensor at the front of the faucet turns the water on or off with a simple hand movement, for added touch-free convenience.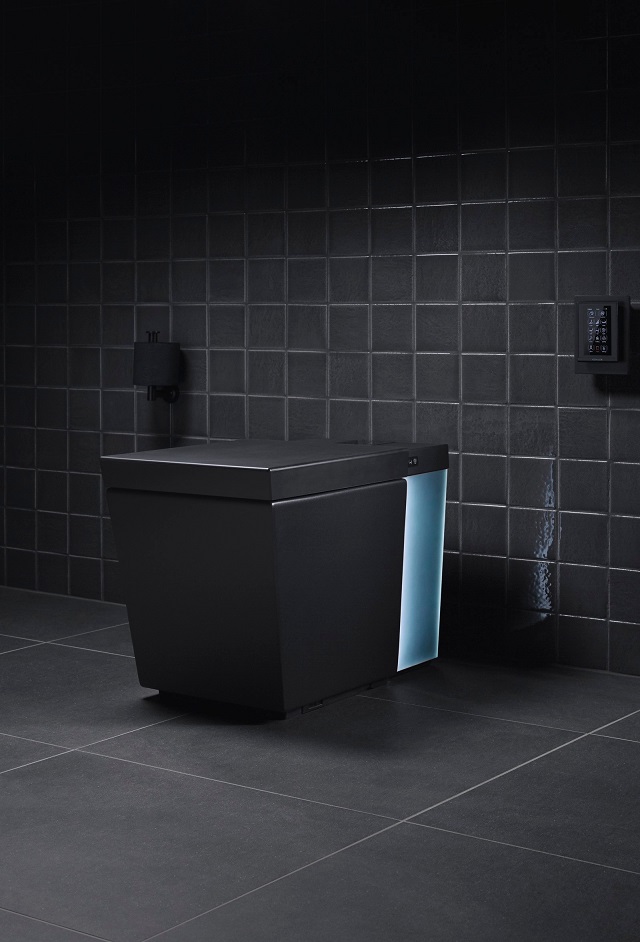 Smart home technology is taking over the bathroom as well. Kohler is leading the charge there with its Konnect portfolio, including the Moxie showerhead with a built-in smart speaker, enabling users to check the news or weather while washing their hair. Also check out the Numi 2.0 intelligent toilet, with voice-controlled operation of its toilet seat, built-in bidet, sound system, lighting, and more.    
Trend #3 Outdoor living inspired by the great indoors
Nearly two-thirds of homeowners are interested in creating outdoor living spaces, even those living in four-season climates, according to an industry report. The biggest trend for 2020 is using sophisticated design details to integrate these outdoor spaces with the home's interior.
One eye-catching example from the show was the modular storage cabinets on display at the Brown Jordan Outdoor Kitchens booth, with their wood grain-inspired powder coat finishes, perhaps to match the mahogany or walnut floors just inside the home.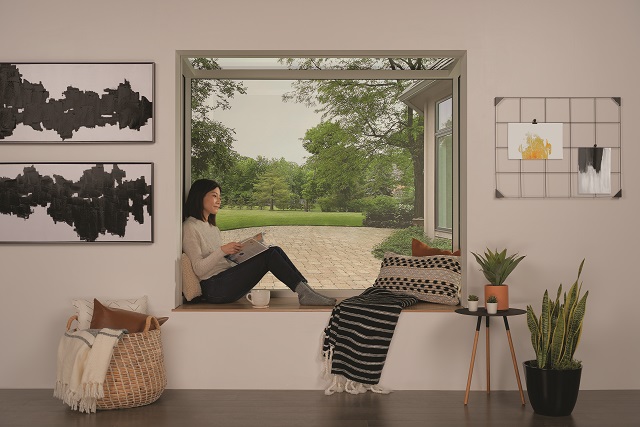 Our pros also liked the new line of exterior-grade quartz countertops from Caesarstone, the manufacturer's first foray into outdoor living, allowing homeowners to coordinate their outdoor surfaces with those inside their home.
And there was a lot of buzz around "biophilia," or the human affinity for living things. In the case of biophilic design, it's all about enhancing the home's connection to nature. An award-winning example from the show was Marvin's Skycove, a fully assembled pop-out structure that creates a light-flooded window seat with panoramic views of the outdoors.
Trend #4 Artificial intelligence gets real
AI is quickly moving from the concept phase to ready for prime time. Many of the best applications simplify home maintenance. Case in point: LG's new Proactive Customer Care, which uses AI to alert customers to potential problems with their appliances before they occur, and expedite repairs when service calls are needed.
Another good example is Phyn, manufacturer of whole-house monitoring systems, which leverages machine learning to identify serious leaks in a home's plumbing, differentiating them from, say, a running toilet or unusually long shower.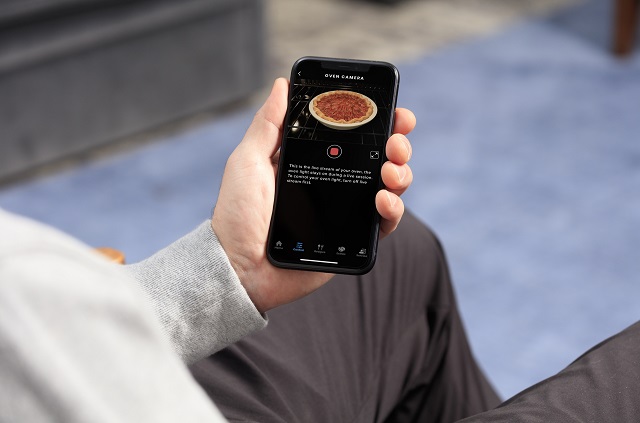 AI is also making life easier in the kitchen. GE Appliances, for example, is putting smart cameras inside ovens and other interactive appliances, where they can recommend recipes to homeowners based on available ingredients and then manage cooking times and temperatures. The WiFi-connected cameras also let you check dishes remotely from your smartphone, so you can see if the soufflé is browning without walking to the kitchen.
There's no end to the convenience of AI. Another show favorite was Miele's new G7000 dishwasher line, which uses intelligent sensor technology to automatically dispenses the correct amount of detergent based on how dirty your dishes are, for enhanced cleaning power and efficiency.
Trend #5 Aging-in-place gets a makeover
Older Americans plan to stay put in their existed residence, rather than seek assisted living. But they don't want their home to look like a hospital, hence the demand for aging-in-place (or "livable," a term that's catching on) products and materials with plenty of style.
Our pros liked Elkay's Dart Canyon stainless steel farmhouse sink, which plays beautifully into the trend for farmhouse design, and is ADA-compliant since it enables tasks to be done from a seated position.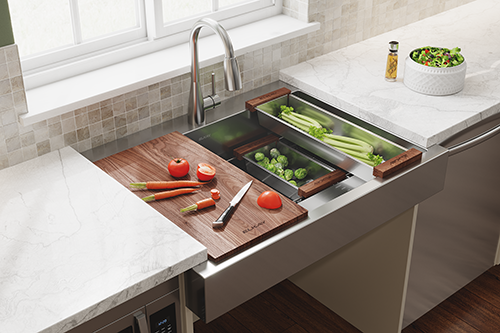 Evakare, an Australia-based company, debuted at KBIS 2020 to promote its message of stylish and innovative independent living. Among the products on display were grab bars with elegant finishes and sound-activated LED lights, as well as glow-in-the-dark toilet seats, to help users navigate the bathroom at night.         
Bonus round! Three more finds from the outrageous file
While there are plenty of practical solutions at KBIS, the show is always home to some outlandish product launches as well, including these three envelope-pushers. You might not need any of them in your home, but they're still fun to know about.
A cartoon-inspired refrigerator.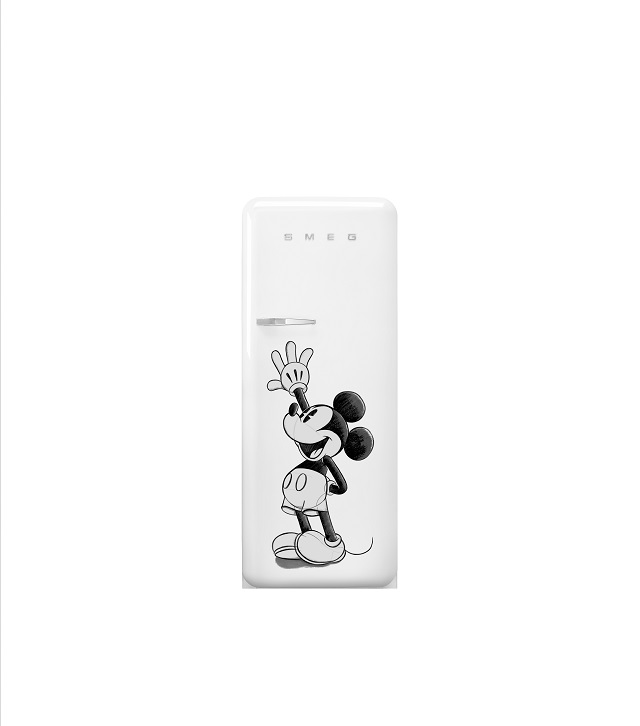 Italian appliance manufacturer Smeg is known for its whimsical designs. This year's showstopper was a limited-edition fridge with a hand-drawn, black-and-white sketch of Mickey Mouse, celebrating the Disney character's 90th birthday. Two words: Oh boy!   
A wine-dispensing faucet.
We've seen kitchen spigots that dispense boiling hot water and even sparkling water, but the concept faucet in the Kraus booth that poured chilled wine into a glass with the press of a button was definitely a first. And possibly a last too, should you ever forget to switch it back to water and send your kid to school with a water bottle full of chardonnay.
A fully automated indoor garden.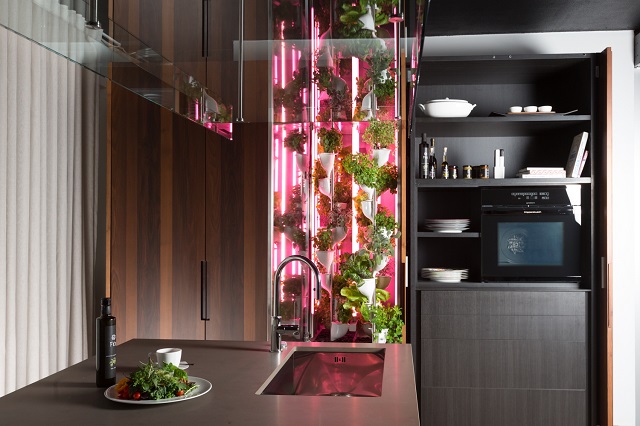 Forget the pot of basil on the windowsill. The Natufia Kitchen Garden is a fully automated hydroponic garden that maintains optimal light, temperature, water, and pH levels for up to 32 plants at a time, from herbs to leafy greens. The machine even features a trio of playlists—classical, ambiance, and nature sounds—to keep the plants grooving. Now that's what we call homegrown.
No Comments Yet