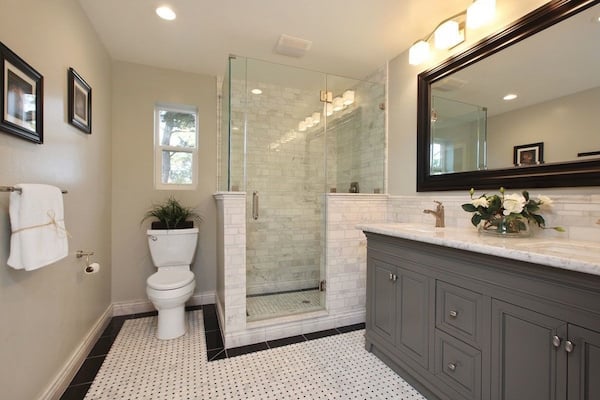 On This Page:
Does your family prefer showers to baths? Maybe you have an older family member who's having trouble climbing over the tub ledge to shower. Or possibly your bathtub is looking dingy or dated and you're exploring options to make your bathroom look fresh and modern. No matter what your reason, removing an existing bathtub to install a walk-in shower can be a remodeling project that really pays off in enjoyment, comfort, and ease of use.
It's not just your family who wants a full shower in the home. Walk-in showers and showers without tubs are growing in popularity. According to the American Institute of Architects' 2015 Home Trends Survey, 65 percent of homeowners like and want to have stall showers with no tub, up from 56 percent in 2014. Large walk-in showers, doorless showers and upscale showers are also trending.
By doing a bathtub remodel & making it a shower, your home is more desirable and potentially increases your ability to sell, should you need to. But you want to carefully weigh your decision if that means your home will be without a tub entirely — some real estate agents recommend that you leave at least one tub in your home, even if it's not in the master bath. You should factor in the use and enjoyment you'll get from the walk-in shower in the years you plan to spend in your home when making the final decision.

How Much Does a Tub to Shower Remodel Cost?
The first step to starting any bathroom remodel project is to decide whether you want to tackle the project yourself or hire a contractor to do the work. That can depend on your familiarity with plumbing updates and your budget. Paying for labor can get expensive, but taking the wrong steps and damaging your plumbing can be an expensive — and stressful — mistake.
The cost for your remodeling project also depends on the quality of materials you want to use. For example, a simple drop-in shower stall can be installed as a do-it-yourself project if you're confident in your skills; it could cost around $400. If you decide to have a professional do the installation, add $300 to $400 for labor. Your tub to shower conversion cost will vary depending on factors like materials and fixtures.
But many people who undertake a bathtub-to-shower remodel want a little more luxury than a drop-in shower stall provides, or may need repairs or plumbing updates. Here are some of the areas that can add cost.
Changing out the pipes. If your home is older, the pipes may be outdated. The cost to replace them with copper or PEX can vary depending on how much needs to be changed out. Your plumber will likely cost anywhere from $45 to $150 per hour; get an estimate to know for sure how long the updates will take.
Dry rot or other issues around the tub space. The good news is that bathtubs are heavier than showers, so your shower likely won't need any floor reinforcement. The bad news? A tub that's been there for years with a water leak of any kind can cause damage to the floor and may need to be replaced before your shower can go in.
Tiles. Tiling a shower with ceramic tiles can cost $1.30 per square foot, but specialty tiles can run as much as $20 per square foot.
Door. A standard sliding glass door costs between $100 to $300 plus installation. You may choose options that are more expensive such as glass that is textured or tinted, or a door that opens rather than slides.
Fixtures. Your luxury shower experience might be enhanced with special fixtures, such as showerheads that mimic rainfall or that are height adjustable. The higher-end fixtures can run a few hundred dollars.
Return to Top
How Difficult Is Relocating the Shower?
While it's nice to look at pictures of beautiful bathrooms with giant shower spaces, the reality is that most of us have small bath areas. Converting a tub to a shower space is the best way to get that walk-in shower in a smaller bathroom area.
But you may decide that you either don't have enough space or you want to do something a little larger, and that entails relocating the plumbing for the shower. In most cases, this is a job for a professional plumber or advanced DIYer. Issues may include:
Room location. Is your bathroom on a ground floor or an upper level? It can be more difficult to move pipes in bathrooms on the second or third story of a home.
Type of foundation for ground floor bathrooms. If you have a slab foundation, you may have to cut into the concrete to reposition pipes. This can require special tools and know-how.
Location of the down pipe. This pipe carries waste water to the sewer, and connections to it must be on an angle to prevent clogs. Depending on where it is located, you may need to remove most of a wall to access it.
Whether you need to move the toilet. If you have to change the toilet's position, it will require reworking its connection to the vent stack as well as the sewer pipe.
If you're able to work with the space you have and install your shower in the footprint of the bathtub, it can save a lot of cost and effort.
What Should You Do Before Starting Your Remodel?
The first step is ensuring you actually have the space for the shower you want. Most bathtubs are 60 inches wide; this space should be fine for your shower, but be sure to measure and confirm the width. Your concern is the depth; you'll need a minimum of 30 inches according to the National Kitchen+Bath Association, which notes that most plumbing codes require a shower to be at least 30 inches by 30 inches. You will probably want a couple more inches if you can find the room. Aim for at least 32 to 34 inches deep from the finished shower wall to the door.
Check to make sure that you'll be giving the toilet enough room, if it's located right by the tub/shower. While you can expand your new shower out a few inches, you don't want to feel crowded when using the toilet, either. Moving a toilet is definitely possible, but can increase the complexity of the project.
Next, you'll want to consider different materials. A walk through a larger home improvement store can give you many different ideas, but if you are working with a contractor who specializes in bathroom remodels, he or she should have idea books and material samples for you to look through. Start either a physical folder or an online folder that can keep samples of materials and information from manufacturers you're considering.
Return to Top
What Type of Shower Works Best For Your Space?
Now that you have some ideas about what you want your shower to look like, you'll want to consider the best type of shower to install in your bathroom.
Shower stalls
All-in-one shower stalls that can be added to an existing tub-sized space can make your job easier. Many options exist with built-in ledges and shelving; some even have seating areas. The stalls typically include a curb to contain water and the option of installing any type of door you wish — or even just using a curtain.
Tiled shower curbs
A tiled shower created in the existing wall space usually necessitates a curb or ledge that will hold the door and keep the water inside the shower. The curb should be tall enough to contain moisture and short enough to step over easily. Curbs should also be polished and have smooth edges to reduce injury.
Curbless showers
Showers with no lip to contain the water make it much easier to access the shower, especially for the elderly or disabled. But beyond that, curbless showers offer a particular open look that is appealing and modern. The curbless style can also save you a little space if you're making the most of a small area.
The issue with a curbless shower, of course, is the difficulty of containing the water. This problem can be minimized by choosing a shower screen — essentially, a pivoting glass door — and a directed showerhead that keeps the flow of water moving away from the rest of the bathroom.
Conclusion
A bathroom remodel requires careful planning and an attention to detail to make sure plumbing is correct and no leaks will occur. Working with a professional can cost more initially but can increase your confidence that the work is done properly.

Return to Top
1 Comments