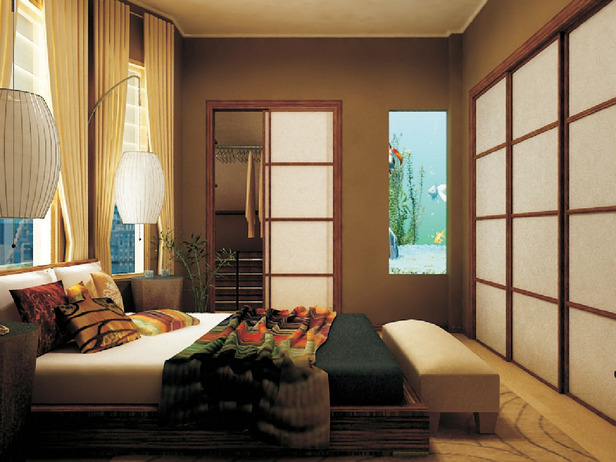 Pets, like many things, can be a double-edged sword. They're lovable, sometimes fuzzy, and a lot of fun to watch. A pet can also be loud, messy, and down right destructive. The addition of a home aquarium is a good way to have a pet, but save your carpet and furniture.
Wall Aquariums
Most fish tanks are simply placed on a table, counter, or stand. There is another option though, that many luxury hotels and bars have been using for years. The wall aquarium is the ultimate in elegance and space management. Its placement takes up no extra floor space in a home, and often offers a better view of the fish inside.
Traditionally, wall aquariums are either set into the wall, or become a replacement for a whole section of wall. When part of the wall is replaced with an aquarium, people can easily view the fish and their habitat from both sides, and also look through the aquarium and see the room on the other side. This style is more expensive than most home aquariums, but it really looks stunning. For those who want the space saving convenience of a wall aquarium, but don't want to cut a hole, you can find self-contained units that are mounted on (as opposed to in) the wall. These units are reminiscent of plasma TVs, and are less expensive than traditional wall aquariums.
Saltwater Aquariums
Anyone who knows anything about fish tanks will tell you that a saltwater aquarium is an aquarium of the most stunning sort. They will probably also tell you that they require a great deal of maintenance. Saltwater aquariums require a lot more care and attention than their freshwater brethren. Those interested in keeping sea fish should prepare to have at least a new hobby, if not a new full blown obsession.
Saltwater home aquariums are desirable because saltwater fish come in greater variety. Freshwater tanks can hold only a finite number of different species; saltwater tanks have an entire ocean of fish to choose from. The "plant-life" in saltwater tanks offer more variety and color (though many of the "plants" in aquariums are actually invertebrate animals).
In the past, people who wanted to have a saltwater aquarium had to basically design one themselves. This is not true today. While there's no argument that freshwater tanks are much easier to care for, some saltwater tanks are now designed to be as low maintenance as possible. For the true enthusiast, however, these tanks might not be desirable as the control over specific conditions in the tank are lessened as the maintenance becomes lower.
Aquarium Benefits
Your home aquarium offers a few benefits that are not just aesthetic. Medical science is only recently understanding the negative effects of mental stress on the physical body. Home aquariums have been shown to reduce this stress. Research also shows that caring for a pet can actually improve not only the quality of life, but the quantity as well. An aquarium provides less stress and more living, all without the worry of chewed sofas or nasty litter box odor!
No Comments Yet