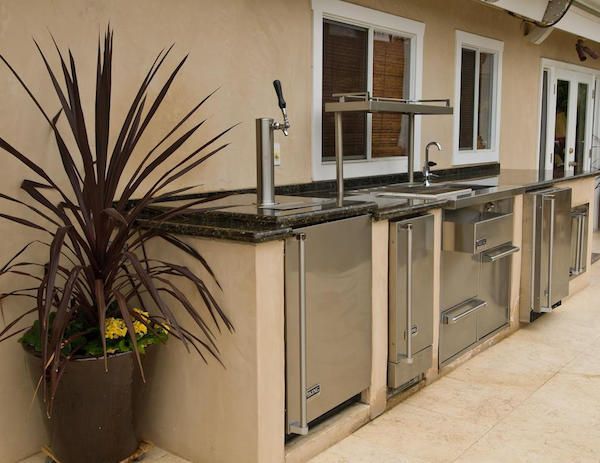 Up until recently the undercounter freezer market catered almost exclusively to industrial kitchens in restaurants, hotels, and bars. Not so anymore. The convenience and accessibility of these time saving appliances is now the domain of residential kitchens as well.
Who Needs an Undercounter Freezer?
Presently these units are most often installed as a luxury item in high-end kitchen remodels. Considering the convenience they provide, however, it's easy to understand why homeowners across the country are paying a little bit extra to incorporate these freezers into their overall kitchen design. Think about it. How many times have you neglected food on the stove or in the oven while you dig through the black hole that is your garage deep freeze? And if you don't have a deep freeze, how nice would it be to free up a little space in your refrigerator's freezer with an undercounter model installed beneath the kitchen island? Either way, it's easy to see why these handy kitchen appliances are catching on so quickly.
Undercounter Freezer Design
One of the reasons that undercounter models haven't made waves until recently is that they have traditionally been built with a decidedly industrial look. Stainless steel, no frills models have been the norm for most of its history. Thankfully the design options available to homeowners have blossomed as undercounter models have risen in popularity for residential users. If your budget allows it, options such as compartmentalized freezer drawers that blend seamlessly into your cabinetry and glass front units that let you inventory your frozen goods at a glance are available for purchase. And there's always the traditional stainless steel, or solid black and white models if you're not into high-end design. Regardless of whether your style is utilitarian or aristocratic, there's a freezer out there to match your kitchen and your personality.
Ready to start your
undercounter freezer

?Find Pros
Other Benefits of the Undercounter Freezer
The benefits of an undercounter model don't stop there. Talk to any appliance retailer or installer, and they'll tell you that these handy freezers provide you with a lot more than a little extra freezer space. For the serious cook these units provide frozen goods at the ready without requiring the chef to abandon their post and cross the kitchen. And for kids these freezers are a real blessing. Any parent knows that the freezer is a happy hunting ground for hungry school age children, a place where they dig for everything from popsicles to pizza rolls. Unfortunately overhead refrigerator freezers can be hard for children to reach, and even dangerous when frozen goods come tumbling out. Undercounter models are at kid level, making finding after school snacks easier, and safer, than ever before.
Talk to a Kitchen Designer or Appliance Retailer
If you're interested in installing an undercounter freezer, talk to an appliance detailer and kitchen remodeler about how large of a project you'll need to undertake to get one of these beauties up and running. Likely it won't be too big of an inconvenience to install, making it possible for you and your family to enjoy the ease and convenience of a new undercounter freezer before you know it.
No Comments Yet