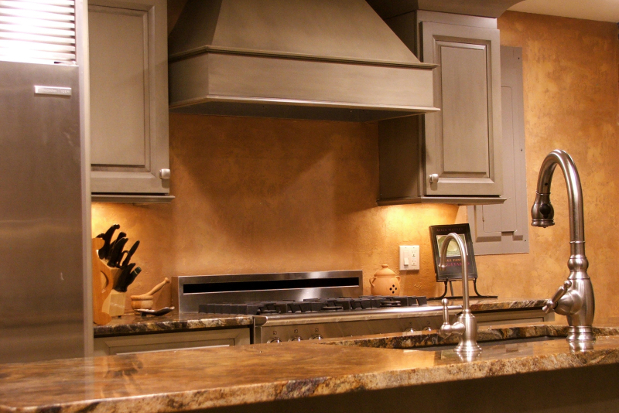 Drywall is, by far, the most common wall in homes today. With the advent of drywall, homeowners quickly began choosing this less expensive and easily repaired wall material. Plaster, however, is making a solid comeback. Improved plastering techniques and plaster veneers are making it more affordable again with many of the former benefits still in tact. Venetian plaster walls are thicker and more durable than their drywall counterparts. They receive paint more uniformly, and their additional strength makes it easier to strip wallpaper without damaging the wall. Plaster also has a short-term resistance to water, unlike drywall. More than structural superiority, plaster creates a flatter, smoother surface.
Real and Faux Venetian Plaster Walls
Real Venetian plaster walls are still uncommon in today's residential homes. This type uses a mixture of marble dust and other materials to create walls of unmatched strength and beauty. However, it requires a highly trained craftsman and is not at all cheap. In fact, real Venetian plaster is most commonly used not as interior walls, but as a cheap alternative to marble. While the texture of real plaster can be achieved with a veneer, it will take quite a skilled artisan with a decorative painting technique to fully imitate the color of the real thing. That said, even a veneer is going to blow your neighbor's walls out of the water.
Ready to start your
Plaster Project

?Find Pros
While priced competitively with drywall, faux plaster requires more expertise than most homeowners possess to install. You'll probably need some specific experience handling plaster, as a general "handiness" isn't enough to produce the striking effect of Venetian plaster installation. The base for faux plaster is usually gypsum-based lath paneling. A thin layer of plaster is then applied over the paneling with a trowel to create the desired effect. After that, a decorative paint is applied to the veneer to create your wall finishing.
Venetian Plaster Repair
Though plaster is considerably stronger than drywall, it's not indestructible. Cracked or damaged walls are not uncommon, especially in older homes that have plaster from several decades ago. There are essentially two routes to take when considering Venetian plaster repair. First, you can hire a professional to come in and re-apply plaster to the cracks. This will help re-create the strength of the original plaster walls. You can also hire a drywall company that will be able to give you a passable plaster repair with substitute materials, including (but not limited to) drywall itself. These substitutes are a good imitation if the entire wall is resurfaced to blend the repairs together with the original walls. In fact, you can even attempt a DIY plaster repair, but you'll need to be super prepared for this kind of resurfacing unless you're willing to live with visible inconsistencies in your wall. Keep in mind that this wall resurfacing is generally still cheaper than hiring someone to repair the cracks with more plaster.
Venetian Plaster Installation and Decorating
Obviously, Venetian plaster installation is easiest done during the initial construction of your home. If your home has experienced extensive water damage that severely comprised your drywall, this might also be an excuse to upgrade your home with an extra treat. But for most homeowners, the idea of ripping down all of the interior walls and starting from scratch isn't a very persuasive one. That said, there's no reason you can't mix and match. Just as you might create an accent wall with a different tint or shade of interior paint, you can install plaster on one of your walls. One of the most popular ideas, with truly breathtaking results, is to install a plaster wall as part of your fireplace surrounds.
Ready to start your
Plaster Project

?Find Pros
5 Comments