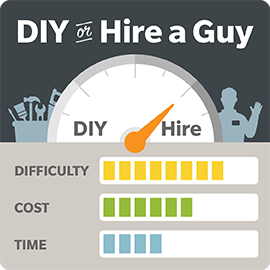 Installing a new sink is not an easy project. Use this guide to help you decide whether you should DIY or hire a guy.




If you're looking for a simple and relatively inexpensive way to upgrade the look of your home, look no further than a new sink. There are a few things to keep in mind, however, to make sure the project goes off without a hitch.
First, understand that there's a significant difference between installing a kitchen sink versus a bathroom sink. Kitchen sinks will have specific drains you need to disconnect, whereas bathroom sinks have not only the drain and piping, but also backsplashes and grouting. You need to also make sure and select the appropriate sinks for each room. Porcelain sinks, for example, work well in bathrooms, but stand out poorly in kitchens and would function badly with dishes. Here is more information on sink installation or replacement to be aware of as pursue it a DIY project.
Materials Required:
Adjustable Wrench
Bucket
Pliers
Screwdriver
Caulk Gun
Plumber's Putty
Sink
Putty Knife
Utility Knife
Drainpipes and Fittings
Tape Measure
Shop Towels
Silicone Sealant
Strainer
---
Installing a sink is an easy DIY project when you know how to correctly complete the project.
Steps for Installing a Sink
Measure the space for the sink to ensure that your new sink fits into the space of your old sink. If they do not align, you will need to cut the countertop to make space.
To set the sink, apply a bead of plumber's putty to the topside of the sink's drain flange.
With the appropriate lengths of PVC pipe, connect your trap to the trap adapter and waste line to the drain elbow. Separate the drain pieces, coat them with PVC primer and let dry. Put PVC cement on ends and attach.
Repeat the application of the plumber's putty to the top of the garbage disposal flange.
Turn the sink upside down on a flat surface and attach the clips to the underside of the sink.
Apply a bead of silicone sealant to the underside of the sink's rim and carefully lower the sink into the countertop opening.
Align the sink and lock it tightly by securing the clips underneath.
Reattach the garbage disposal, waterlines and any other plumbing accessories. Hook tailpiece waste nib to dishwasher drain line and tighten hose clamp. Check for leaks. Connect your shut-off valves to the faucet and secure the sprayer hose.
Remove excess plumber's putty from the drain.
Watch Out for These Common Pitfalls
Make sure you have the right number of faucet and accessory holes. Standard sinks come with three faucet holes and an extra one for an accessory, but certain ones require fewer and you may not need the rest. To prevent the problem of mismatching features, select your accessories and faucet first, before buying the sink.
Measure your cutout size. Before taking out your existing sink, take a measurement of the opening from below to bring with you when you shop. (Be sure to check all four sides, as the area may not be square.)
Test your shutoff valves. If they're not working, you'll need to shut your entire water supply off while you work. Problematic if the project takes a while, so repair or replace any malfunctioning parts before starting.
Deal with any countertop issues. Look carefully for swelling and replace your countertop if there is enough to interfere with the sink setup.
Remove the old caulk. Leftover caulk from the old sink can cause problems with creating a watertight bond with your new one. Use caulk remover if necessary.
HomeAdvisor Tip:
When attaching the garbage disposal, reattach the snap ring by sliding it up the sink flange until it pops into place.
Sink Types
Here are some of the most common sink types you'll encounter:
Pedestal: This type of sink is considered standalone and consists of a narrow base plus a wide basin.

Pros: It's ideal for small bathrooms that don't have a lot of square footage.
Cons: There is not a lot of space to set items — toothbrushes, cups and other accessories — on and there is no additional storage space, though you can place some underneath it with ease.
Installation challenges: The setup varies by manufacturer and style but most need a wall mount, so you can't have the sink stand far from a wall.

Vessel: Also considered the countertop style sink, it consists of a bowl-shaped piece put on top of the counter surface.

Pros: It doesn't require undermount installation, which saves time overall.
Cons: Maintenance can include additional cleaning, and this sink is more prone to splashing.
Installation challenges: This sink often necessitates the use of a wall faucet, which can sometimes be a tricky piece to find or match against your room.

Drop-In: Also considered the self-rimming sink, this piece easily slips in over your countertop.

Pros: This sink is usually considered the simplest to install. It fits into an existing counter with a rim around the bowl that rests on the countertop.
Cons: You can't sweep food or liquid into the sink because of a barrier between the bowl and countertop surface.
Installation challenges: You have to be very accurate when carving out the countertop hole for the sink to go into. Otherwise you could have it fall through or damage the counter.

Undermount: This sink is placed below a solid countertop where the rim doesn't show out.

Pros: It provides a smooth modern look, is simple to clean and you can sweep foods in easily.
Cons: This type of sink can be more expensive to buy and install, and you have to avoid filling it completely, as water can spill over.
Installation challenges: It's generally more difficult to install since the sink needs to be glued to the counter's underside. Depending on the material, an internal support system may be necessary to hold the sink up.
---
---
No Comments Yet
You can be the first to comment!
Sorry, comments for this entry are closed at this time.