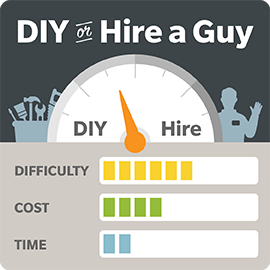 Installing a smart thermostat is an easy way to give your home a high-tech upgrade. Use this guide to help you decide whether you should DIY or hire a guy.



While your current thermostat may be in working order, it might also be working more money than necessary out of your wallet. Learn what a smart thermostat is, the different models that are available and how to install one the right way.
Materials Required:
Faucet with Installation Materials
Screwdriver
Towels
Wrench
Safety Goggles
How to Install the Smart Thermostat
Before you head out to buy your smart thermostat, look at your current one to see if you have a C-wire, which supplies your thermostat with power. To determine whether your current thermostat has a C-wire, detach the back and see if there's a wire labeled "C." If you need a C-wire and have both heating and air conditioning, you'll need to get a C-wire measuring 18/5. For just a furnace, it's best that you get wire measuring 18/5.
Most smart thermostats have a basic installation process, so the following instructions will more than likely apply to any thermostat you select. Here are the basics:
Remove the old thermostat from the wall.
You will see a number of wires plugged into the existing wallplate of the thermostat. Either label them or take a photo to know the order in which to reinstall them.
Remove the wires from the wallplate.
If you need to drill new holes for a new thermostat set-up, refer to the tip below.
Install the new wallplate, using a level to make sure that it's screwed in straight.
Attach the wires into the new wallplate using your labels or photo as a guide for placement.
Attach the new thermostat to the wall by snapping it into place.
Most smart thermostats are easy to install, but there are some that may require the help of a professional. If you're ever in doubt, it's always best to seek assistance. Even if you finish installing the thermostat on your own, you might want to have your handiwork looked over by a pro to ensure you've done everything right and to prevent avoidable mishaps and repairs.
HomeAdvisor Tip:
To create new holes, drill a pilot hole and insert wall anchors using a hammer.
What Is a Smart Thermostat?
Like a smartphone, a smart thermostat is a more technologically advanced version of a traditional thermostat. Not only can you control a smart thermostat from your smartphone, smart thermostats can learn from your settings and schedule to determine the perfect temperature. Turn your unit off when you leave the house and set it so that it kicks back on while you're on your way back, ensuring your home is at the perfect temperature when you arrive.
Different Models of Thermostat
There are several different brands of smart thermostat, each with its own unique design, price and features. The type of thermostat you choose is often dependent on your budget, your home, your personal preferences and your schedule.
Some of the most popular brands of smart thermostat include the following (as well as some of their top features):
Honeywell
Has a square design and a busy display
Can be controlled remotely from a downloadable app
Can keep track of interior humidity levels and get notifications for changing the air filter
LockState
Has a 7-day scheduling and programming feature for consistent heating and cooling patterns
Can control 3 stages of heat as well as 2 stages of cool
Works with almost every HVAC system
Emerson
Can control from anywhere via the mobile app
Has an optional 7 day scheduling feature
Has up to 4 stages of heating and 2 stages of cooling
Can get indoor readings of humidity as well as local weather info
Nest
Has a futuristic, circular design and a minimalist display
Can take about a half hour to install
Also has an "away" feature that sets a more energy efficient temperature in your home when you aren't there
Can receive alerts when your home is either too hot or too cold
Displays a leaf symbol whenever you're saving on energy
Ecobee
Based on your home's unique energy profile, will turn on your heating or cooling automatically
Can sense if anyone is home and which rooms are occupied
Can save homeowners an average of 23% annually
Very easy installation (compared to others)
Homewerks
7-day programmable thermostat
Has up to 2 stages of cool and 2 stages of heat
Can program up to four different periods each day
Venstar
You can control up to 2 heat and 2 cool stages
Can send text messages from mobile devices to the thermostat display
Has a thermostat-locking ability so only authorized individuals can change it
Conclusion
Keep your HVAC bills and home energy use as low as possible with a smart thermostat. While sometimes pricey, technologically advanced thermostats can help you save money in the long run and can even potentially increase the overall value of your property.
---
No Comments Yet
You can be the first to comment!