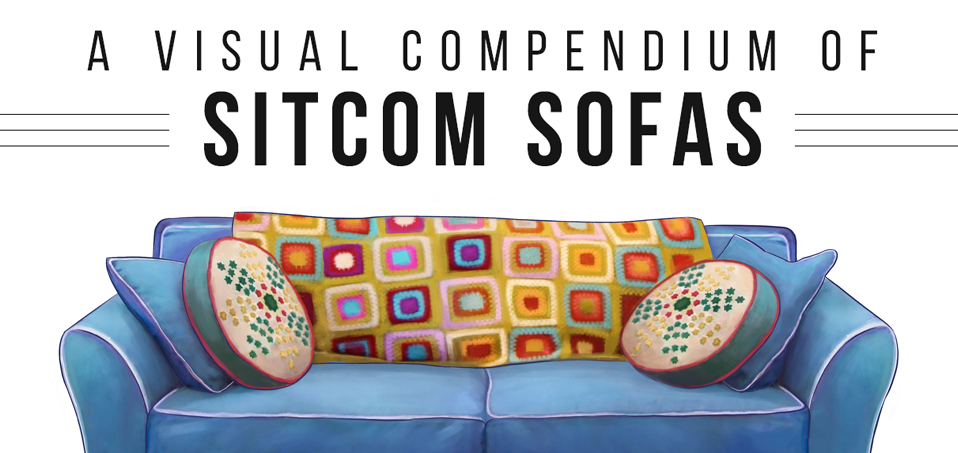 The sofa, as television producers have long known, is the perfect sitcom prop. It can form the center of a studio stage, symbolize family values, or create a mirror image of the viewer at home. In some sitcoms, the sofa is so important that it is a star in its own right.
The classic sitcom sofa is both welcoming and stylish. It is the anchor for the characters and the audience, just as your own sofa anchors your family through each episode of your daily life. So why not turn to infamous sitcom sofas when looking for inspiration for your next couch?
We've created the ultimate sitcom sofa compendium to help you make your choice. The rich variety of the natural world has nothing on the diverse offerings of sitcom sofas. Each couch has evolved with a purpose, however baffling, and reveals underlying truths about its characters' deep prehistory.
Check out the sofas of Seinfeld, for example. For much of the show, Jerry enjoys a softly-furnished, grey-blue sofa that compliments his lifestyle of hanging out with friends and eating cereal. Kramer, on the other hand, enjoys a vintage fainting couch that is as stylish, lived-in and melodramatic as Kramer himself.
Over eleven years of Frasier, personal space was an important issue for our misanthropic anti-heroes – and so was personal taste. Frasier's talking piece was a replica of a sofa Coco Chanel kept in her Paris atelier – the show's producers spent $15,000 just to get it recovered with Italian suede. It made for a pointed contrast with Martin's comfy recliner, which was recovered in gaudy 1970s textiles and tape to give it that only-a-father-could-love-it look.
Cartoon sitcoms also get a look in. The Simpsons' couch famously gets its own scene every week, despite its inconspicuous design. It's a sturdy, wine-resistant red three-seater with a lot of stories to tell. Crazy Rick and Morty's sofa is relatively unadventurous, a standard Lawson sofa in light green, which may be why the characters had a guest appearance crash-landing into one of the Simpsons' couch gags.
Never mind those seasonal sofa commercials, you can get all the inspiration you need for your new couch from the zany world of television sitcoms. Which one makes you smile?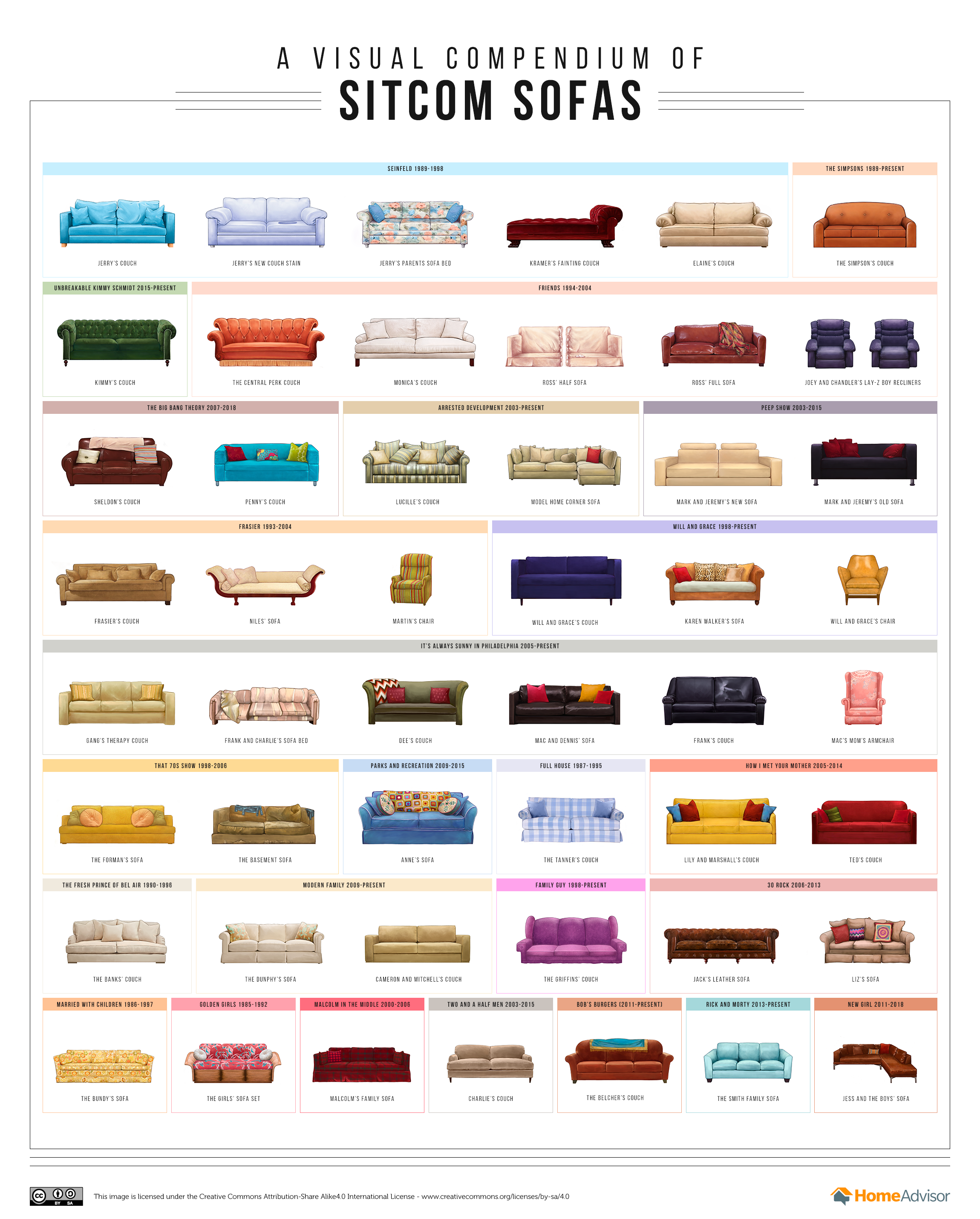 Add This Graphic to your Site:
Click the text below.
Copy the selected text.
Paste the code on your website.
Sources
Robertson, L. (2015). Reenact your favorite 'Seinfeld' scenes in replica of Jerry's apartment. mashable.com
WikiSein. (2018). The couch.seinfeld.wikia.com
IMDb. (2018). The Pen. imdb.com
Sims, D. (2011). Seinfeld: "The Package"/"The Fatigues". avclub.com
Kramer's Apartment. (2018). Feels Like An Arby's Night.kramersapartment.com
Pompliano, A. (2016). The 'Friends' Apartment Costs This Much to Rent in 2016. obsev.com
Friends Wiki. (2018). Ross' Third Apartment.friends.wikia.com
Radloff, J. (2015). Our Behind-the-Scenes Visit to The Big Bang Theory's Set. glamour.com
Horton, H. Perry. (2017). Best. Simpson's Couch Gags. Ever.filmschoolrejects.com
Lacob, J. (2013). 'Arrested Development': Why Netflix's Revival Failed. thedailybeast.com
Arrested Development Wiki. (2018). 1×08 My Mother the Car (24).png. arresteddevelopment.wikia.com
Wiebe, J. (2015). Get The Look. elledecor.com
Brittany. (2012). Parks and Rec: Ann Perkins' Afghan Pattern.justbcrafty.com
Lewis, H. (2017). Martin Crane's hideous chair was the true star of Frasier. newstatesman.com
Frasier Wiki. (2018). Niles' Apartment.frasier.wikia.com
Channel 4. (2015). The Peep Show sofa could be yours.thanks4.channel4.com
Fanpop. (2018). That 70's Show images Eric and Hyde wallpaper and background photos. fanpop.com
IMDb. (2018). That '70s Show (1998-2006). imdb.com
Shriver, A. (2018). Get the Look: Will & Grace's Upgraded NYC Apartment.apartmenttherapy.com
Stump, S. (2017). 'Will & Grace' stars take TODAY on tour of the iconic apartment. today.com
IMDb. (2018). How I Met Your Mother (2005-2014). imdb.com
Matthew Berthold Design. (2014). A farewell to the set of How I met your mother. matthewberthold.com
Budge, M. (2018). Malcolm in the middle.michaelbudge.com
It's Always Sunny Wiki. (2018). The Gang Gets Analyzed. itsalwayssunny.wikia.com
TV Fanatic. (2010). A Very Sunny Christmas: Part 1.tvfanatic.com
It's Always. (2017). Mac and Dennis Are In Love.itsalways.com
Twin Brothers. (2018). Fresh Prince Of Bel Air House. twinbrothers.info
Becker, C. (2018). This Old Couch Looks Exactly Like the One from 'Married… With Children' and It Can Be Yours. theblast.com
Bell, C. (2016). Full House' V. 'Fuller House': Comparing The Iconic Tanner Family Home Sets. mtv.com
Whitlock, C. (2011). The Homes of ABC's Modern Family. architecturaldigest.com
House Floor Plans. (2018). Family Guy House Interior Best Of Home Sweet Home Family Guy Remade In the Sims 3. thewbba.com
Wordy von Writish. (2017). Rick and Morty: MPB theory. reasonish.com
3 Comments