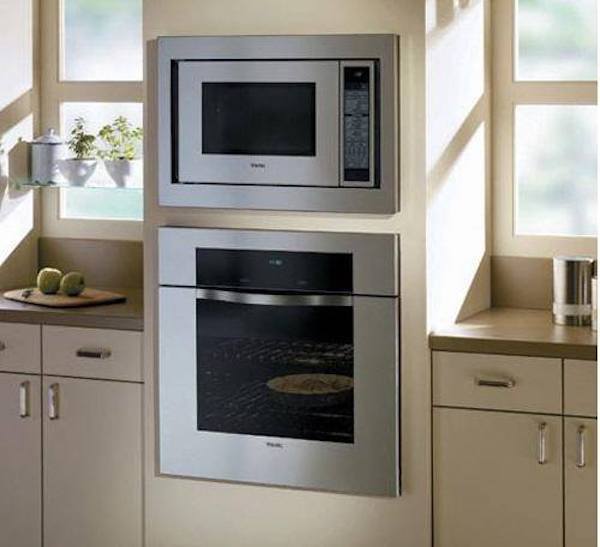 A wall oven is an oven unit that is installed higher on the wall in your kitchen rather than on the floor. These ovens have lots of advantages over traditional floor models, but by far the biggest selling point is convenience. Since they're higher up they make everything from checking on dishes to pulling food in and out of the oven much easier. And with additional amenities such as gas hookups, convection cooking, electronic displays, and contemporary design features, you're sure to find a model out there to fit your needs.
Single or Double Wall Oven?
One of the most popular modifications when buying one of these built in ovens is to choose one of the double oven models, allowing you to cook an entire Thanksgiving meal in one shot! A double wall oven is priced accordingly, however, so be sure you need one before you buy. It's nice to have two ovens once or twice a year when the entire extended family comes over for dinner, but are double wall oven models really worth the extra price? Most amateur cooks should get along fine with a single oven model, saving a few bucks to boot. If you're a regular entertainer, however, a double oven might be worth it in the end.
Electric or Gas?
The choice between an electric model and a gas wall oven is pretty much a matter of personal preference. While many professional cooks prefer gas ranges, the gas vs. electric debate isn't as heated when it comes to oven space. What's important is that you buy a high enough quality unit that you can trust it will cook evenly and clean up easily, regardless of the heat source. That means making sure electric models have hidden lower elements and that gas models have diffusers that evenly distribute heat from the burners at the bottom of the oven. Availability of hookups is also something to consider, and it's always smart to hire a professional to run wiring or gas lines to your new gas wall oven or electric model.

Convection Ovens
Whether you choose gas or electric, you'd be wise to look for an oven that utilizes convection heating. This is a fairly common feature on most wall-mounted ovens, but it's certainly not a standard feature across the board. Nevertheless, convection cooking is preferred by most professional chefs because it cooks foods faster, more evenly, more thoroughly, and at lower temperatures than traditional ovens. By some accounts convection cooking reduces cook times by up to 30%, meaning you'll save time, money, and get better results. This is one feature that's worth spending a little extra on if you have the means.
Other Features to Look For
Besides the aforementioned options, other things to pay attention to are oven size, controls, and interior lighting. And if you can afford it, you might want to check into some of the luxury electric and gas wall oven models as well. Trivection models combine conventional, microwave, and convection cooking, while oven refrigerators combine cooling and cooking power so you can put dishes in the oven in the morning, without having to worry about them spoiling, and then preset them to be cooked by the time you get home for dinner.
Whatever features you end up choosing, it's probably not a bad idea to talk a contractor who specializes in kitchen remodels, building, or design about the best way to install your new single or double wall oven. Because these units are built directly into your walls and cabinetry, it takes skill to install them properly and blemish free. Hiring a pro with experience is the best way to ensure you'll be admiring your new oven for a long time into the future.
No Comments Yet