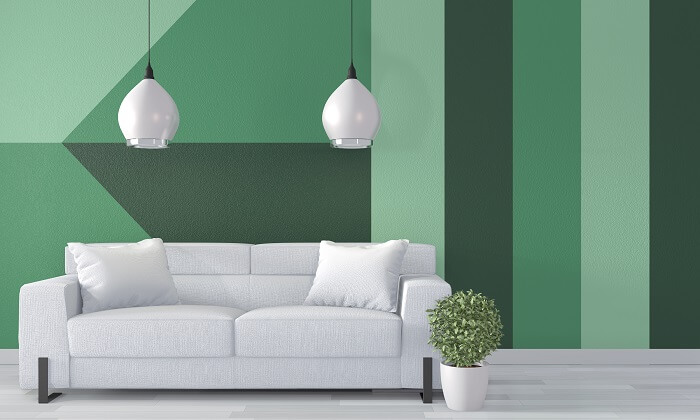 You know you want to do something interesting with your walls, but you're not sure what. You've never liked the idea of wallpaper. Even the best wallpaper designs can get mixed reviews. Drywall texturing is playful but not for homeowners who put a premium on elegance. If you want something simple but not boring, looking into different wall painting techniques is a good place to start. Each technique has something slightly different to offer and all of them will enliven your walls without risking the tackiness of busier wallpaper.
On This Page:
Painting Techniques
Sponging
Sponging will create a uniform texture for your walls. Once you've painted the base color, a paint glaze can be sponged on to create a mottled look or a solid glaze can be sponged off before it dries. If you want depth, use a lighter color on top. For a more definitive statement, try a darker color on top of the lighter one. For a subtle effect, use two different tones in the same color family. For a more dramatic effect, two different colors will provide an interesting cumulative coloration. For the best result, use a natural sea sponge, not synthetics.
Ragging
For a more varied and stunning effect, ragging is the wall painting technique of choice. The process is similar to sponging except you use a rag. Different rag materials will produce textures of familiar fabrics such as velvet or leather. Unlike sponging, the texture is designed to be less uniform across your wall space, creating more focal points and areas of emphasis. Again, the glaze can be applied with the rag or a solid glaze can be removed before the glaze dries. Rags can also be put on rollers, called rag-rolling. If you're artistically-minded or like to experiment, this is a dynamic wall painting technique.
Stenciling and Stamping
These wall painting techniques pretty much speak for themselves. You can pick one or a couple specific designs or shapes and stencil or stamp them onto your wall. Often, the intent is to create an effect similar to wallpaper. Yet, since you can choose different shapes and places for the patterns the end result is less fixed and more dynamic than wallpaper. Plus, you're still dealing in paint so you can avoid the appearance of having had upholstered your walls. Naturally, the nature of the shapes and sizes of your stencil or stamp will determine how dramatic your walls will become. Keep in mind, too, that you can use different tones of the same color or contrasting colors to minimize of emphasis the design.
Stippling
One of the most subtle wall painting techniques, stippling involves adding or removing various glazes or paints onto the base coat by stabbing the wall with a paint brush. Typically, it involves stippling the wall in separate 12″ vertical sections and using varied glazes for each strip. This creates subtle vertical lines in your wall with interesting transitions. The dotted texture of the stabbed brush also creates a richness that many homeowners love. If you like to experiment but also like guidelines in which to work, this can be a great wall painting technique.
Hiring a Professional Painter
All of these techniques can be easily learned and completed by the typical homeowner. Besides the convenience of hiring a professional painter, you should also consider a professional if you fall in love with a particular look and effect. Trying to recreate a specific look from a picture in a magazine or on the Internet can be difficult without prior experience and expertise. The result of doing it yourself will probably be good of its own accord, but prepared to be disappointed if you expect it to look exactly as imagined. And understand the additional cost repercussions of having to hire a professional to repaint if it's not up to your expectations.
Tips on Painting Around Trim
No Comments Yet