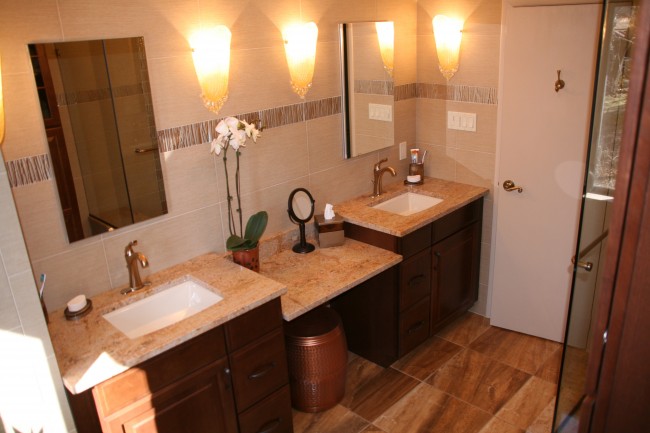 Most people don't notice the value and beauty that wall sconces add to a room because subtlety is their main purpose. They create general or accented light while still remaining discreet and unobtrusive. Not only are they a significant source of ambient light, they also add a decorative flair to any room. Their function is often hidden by their elegant presence. These mounted wall fixtures throw a dramatic lighting effect along the entire surface of a wall, adding decoration and texture to a room while still being able to illuminate it. And unlike traditional lighting, this type creates a unique look to a home due to the fact that they come in a large variety of styles and designs. Plus, they don't overpower the eyes, but instead create a soft feel to any room.
Where Function Meets Form
Sconces aren't just beautiful; they are practical as well. They create more space in your living quarters. Though traditional lamps create the same visual appeal, they can also be burdensome, awkward, and clumsy because they can take up room. Wall sconces, on the other hand, can actually create space in a house for other furnishings or walkways. Also they are very useful when lighting small areas of the house, such as dark hallways or corners that traditional lighting sources can't target. Plus, if you attach a dimming system to them, you will be able to save on energy bills as well.
Style and Design
One of the distinct advantages of scones is their ability to come in many different appearances. Like any lighting source, there an infinite number of styles (contemporary Victorian, Colonial, Western, etc.) and materials (copper, metal, ceramic, wrought iron, glass, etc.) available so that you can match the fixtures with your own personal style. However, one distinct advantage of sconces is their prominent beauty and uniqueness, and candle sconces are testament to that promise.
Candle Wall Sconces
Candle wall sconces create a rare, old-world charm to any room. In fact, since it was regularly used in early American society as the only form of interior light, candle wall sconces actually establish a throwback to a more rustic, romantic time. They are especially great at night, adding a more subdued and relaxed lighting affect than traditional lighting sources. Plus, just like electric fixtures, they come in a variety of designs. Candle wall sconces can be mounted, suspended from the ceiling, and some fixtures come in multiple-layers which are able hold several candles at a time. Some even contain water systems, allowing the candles to float in them.
Another benefit of these particular sconces is that any candle will work. Use aromatherapy candles to create a relaxed atmosphere, or scented candles for additional ambience. And all fixtures are equipped with safety regulations so that the flame is never near the wall itself. Therefore you can enjoy your new romantic lighting without fear or concern.
No Comments Yet