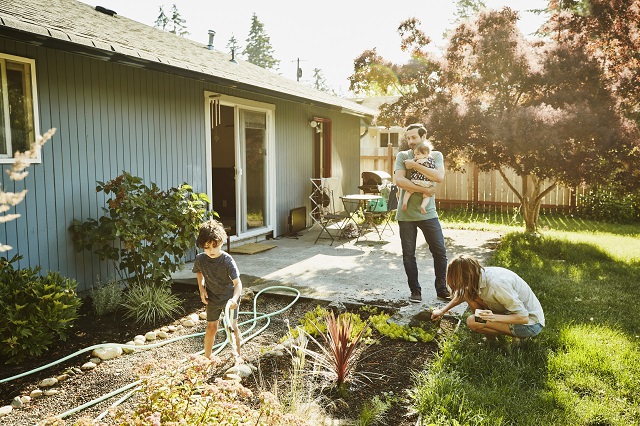 Whether you live in a dry climate, would like to conserve water, or simply want to lower your bills – water-efficient landscaping can help keep your usage in check. Here, we've compiled a few tips and tricks to help you cut down on your sprinkler and irrigation usage while keeping a beautifully landscaped lawn.
Choose the right plants
When it comes to choosing the perfect plants for your yard, it's easy to get caught up in the look of the space rather than its function. But taking a moment to consider the watering, soil and sunshine needs of each plant can save you time, money and effort down the road. For a water-efficient landscape, you'll want to choose:
Hearty plants that can withstand neglect and fluctuating temperatures.
Plants and trees that are native to your area, so they can flourish naturally with little assistance.
Drought-tolerant grass, shrubs, flowers and trees.
A professional gardener can help you choose hearty, native plants for your yard. Here are a few ideas to help you get started:
Coneflower
Cactus
Aloe
Lavender
Russian Sage
Know your soil
Soil is one of the most important elements when you're crafting a water-conscious yard. You'll want to make sure the dirt can help keep plants cool and retain as much moisture as possible. Good soil will also keep water from evaporating too quickly.
If you're concerned about your soil health, consider hiring a soil engineer to test the ground. They can check the pH of your ground, its nutrient levels and the quality of the soil itself.
Learn about 'xeriscaping'
According to the US Department of Energy, xeriscaping is "a systematic method of promoting water conservation in landscaped areas." Xeriscaping is not only a great option to help reduce your water usage — it's also a popular form of landscaping for arid climates.
To xeriscape your yard successfully, try to:
Strategically choose plants that will thrive in your climate.
Group plants with similar watering needs together in zones.
Avoid using bluegrass turf instead and opt for a lawn that requires less water.
Use mulches to help minimize water evaporation.
Install river rock to help drain water strategically in your yard.
Optimize your sprinkler system
Consider contacting a local irrigation professional to optimize your sprinkler system and help you determine a watering schedule for your lawn. Your sprinkler system pro might recommend that you:
Water only at a certain time of day, like early morning, to maximize results.
Divide your landscape into different watering zones to suit the needs of each part of your lawn.
Time your sprinklers to water in short sessions rather than long ones.
Install a smart sprinkler system to help monitor and adjust to weather and soil conditions.
Benefits of conserving water
There are several advantages to using water-efficient landscaping in your yard, according to the Environmental Protection Agency (EPA). Not only can you benefit the environment, you can also:
Lower your water bills.
Decrease your energy use due to less pumping and water treatment.
Reduce your heating and cooling costs with strategic tree and plant placement.
Plus, according to the EPA, "attractive, water-efficient, low-maintenance landscapes can increase home values." Talk to a landscaping professional to see how you can incorporate this beneficial style in your own yard.
No Comments Yet