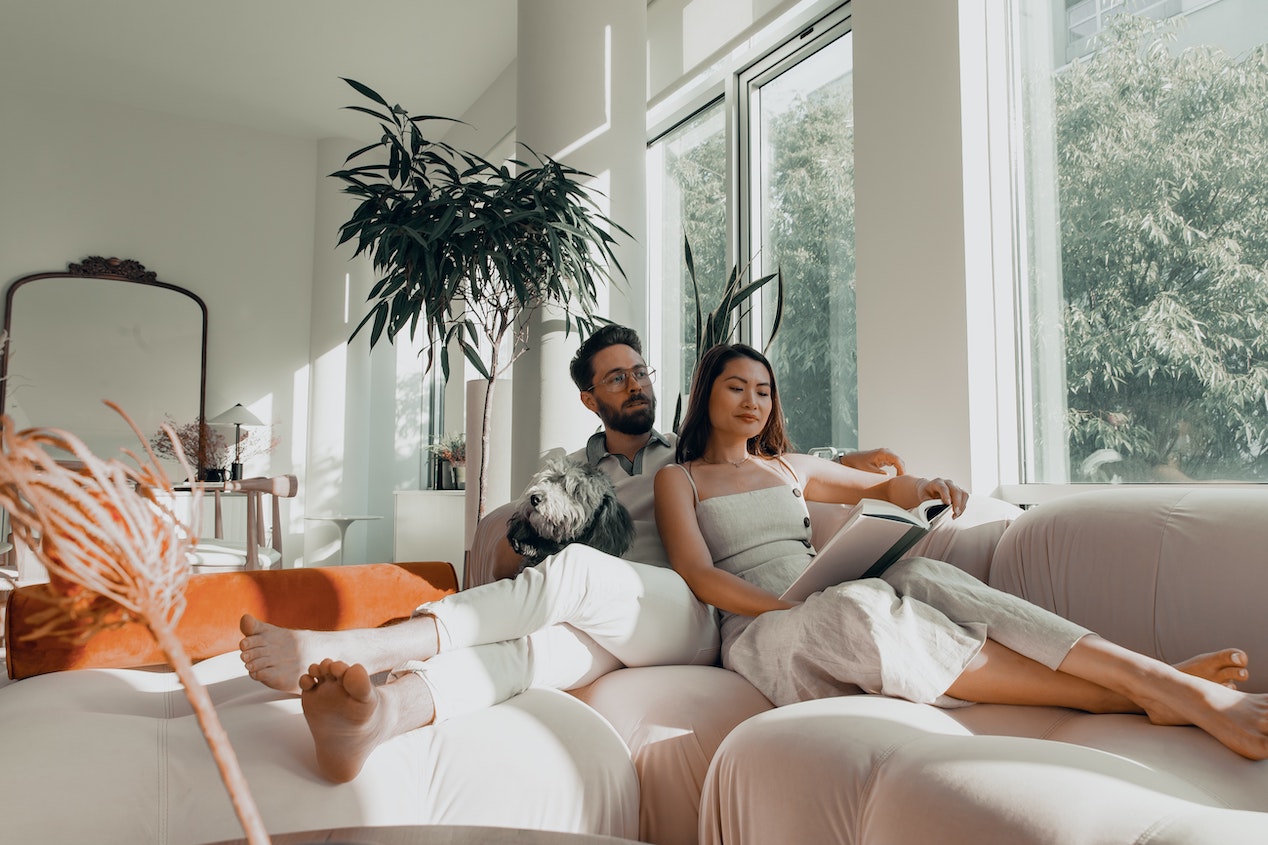 Owning your own home can be a dream come true, but it's no secret that homeownership has its hang-ups. Even if you're happy with your home, you might still feel like you're overlooking some of its flaws, like that rickety staircase, squeaky floorboard, or a loud next-door neighbor.
Sound familiar? Well, many other Americans feel that way, too. We surveyed 1,029 homeowners to find out their opinions of their homes. From location to size to comfort level, here are Americans' most loved and hated aspects of their homes.
Key Findings
Nearly 1 in 3 Americans say their home is too small.
Living rooms are the top space Americans enjoy the most, with 51% spending the most time in that room.
Neighborhoods are the most-liked aspects of people's homes.
Homeowners are not afraid to take on a DIY renovation project, with 76% saying they would do one.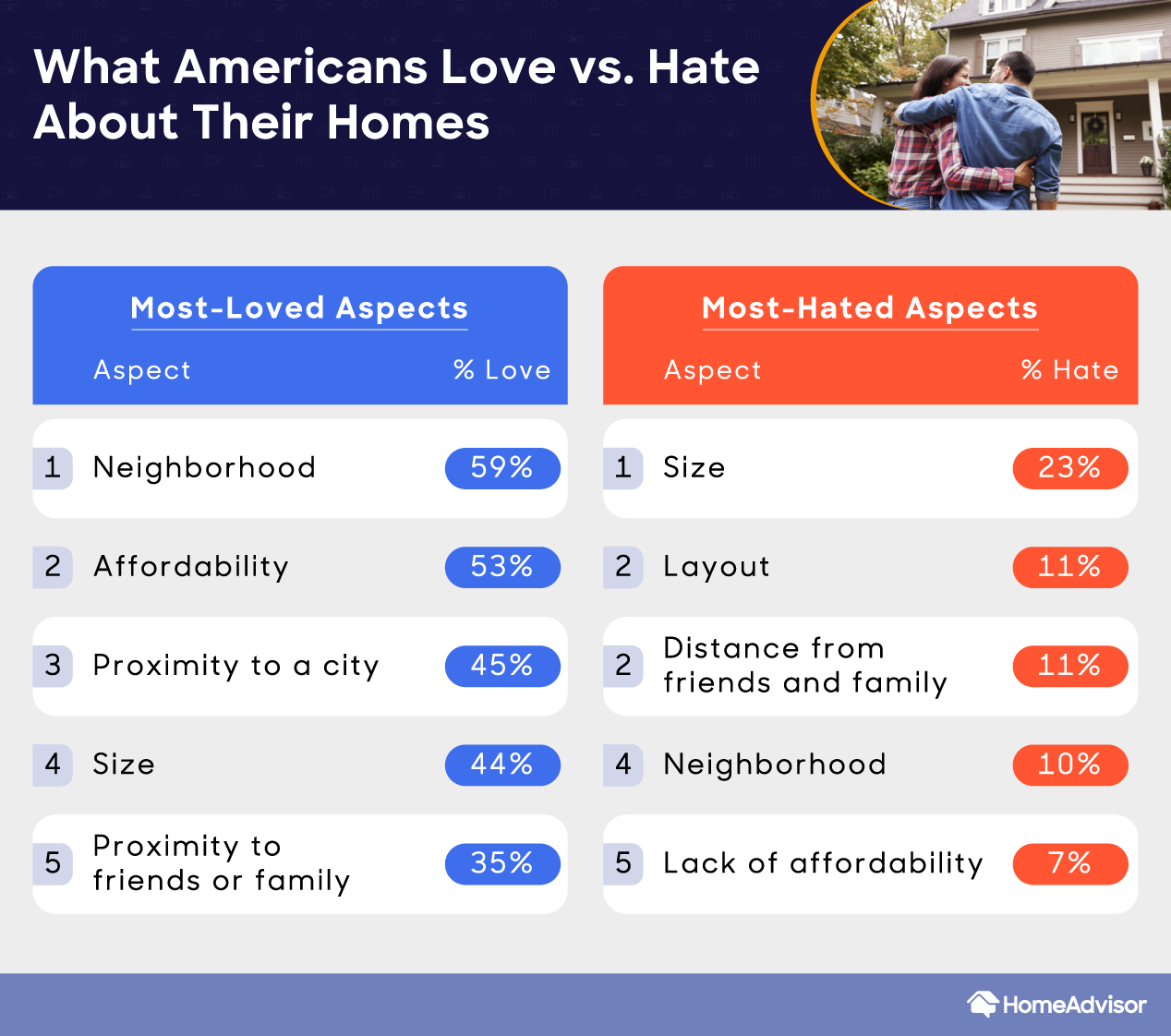 What Americans Hate About Their Homes
Let's face it: Everyone has something that bugs them about their home. According to our survey results, respondents' biggest problem with their homes is inadequate size (23%), followed by layout and distance from friends and family (11%). Other top contenders for aspects respondents dislike about their homes include:
Neighborhood: 10%
Lack of affordability: 7%
Distance from a city: 6%
Appliances: 5%
Proximity to a city: 4%
Furnishings: 4%
Lack of history or character: 4%
Style: 4%
Proximity to friends or family: 2%
Specifically, respondents dislike certain parts of their homes, namely functional spaces and storage spaces like bathrooms (23%), laundry rooms (21%), basements (14%), and garages (10%). Nearly half of homeowner respondents said they don't like these spaces because they're too small, with 27% saying the layout is poor.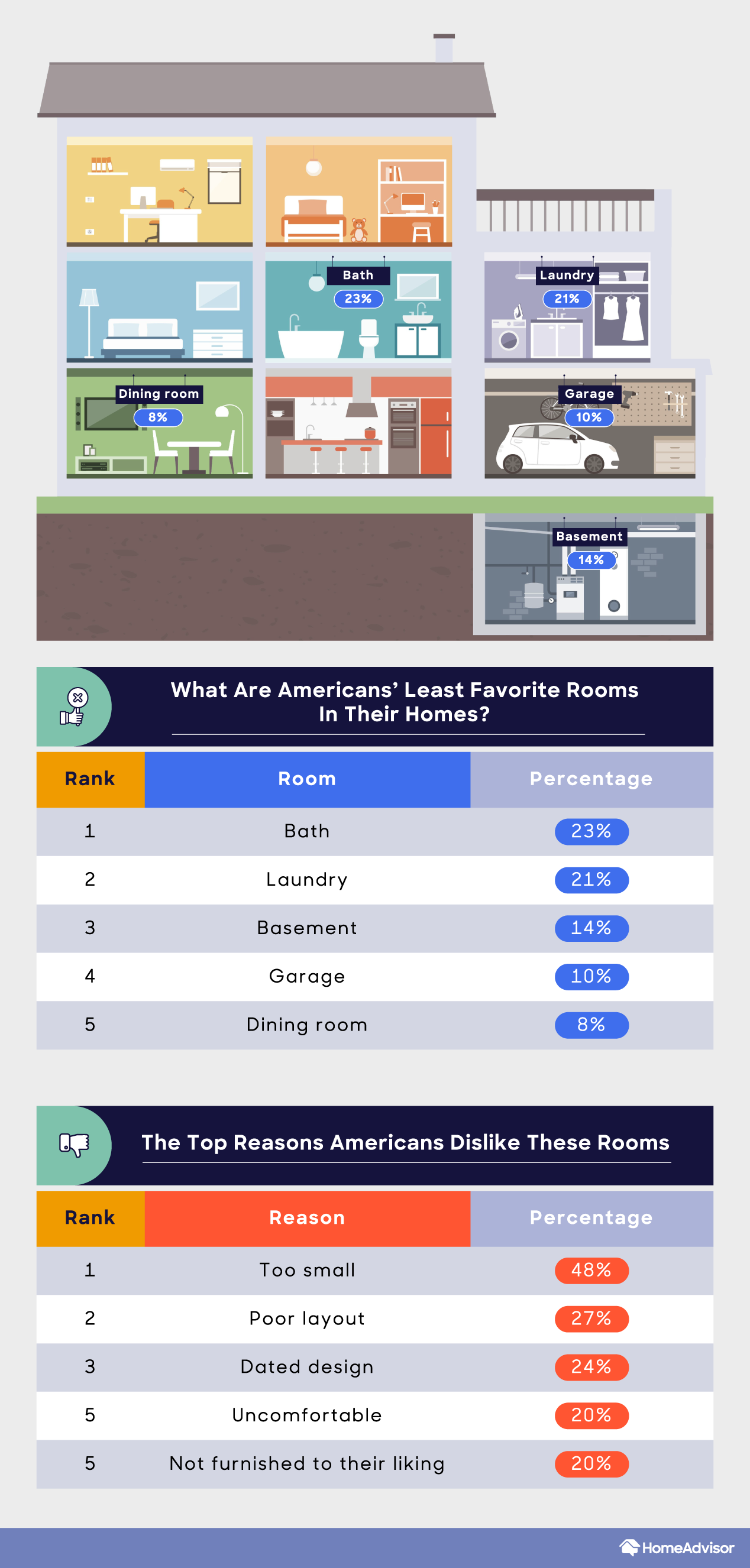 What Americans Love About Their Homes
Overall, the aspect our survey respondents like most about their homes is location, with 59% stating they like their neighborhoods. But homeowners' opinions about their home's location vary: 45% of respondents say it's perfect, while 51% consider it "just okay" and 3% say their location is bad.
Out of the top five most-liked aspects of their homes, three have to do with location. After neighborhood (#1), respondents also cite proximity to a city (#3) and proximity to friends or family (#5).
The other aspects people love most about their homes are its affordability, with 53% of respondents, and size, with 44%. But not all survey respondents agree that the size of their home is a positive quality. While 64% of respondents say the size is just right, 29% say their homes are too small, and 5% say their homes are too big. These results prove that what one person likes about their home might be what another person dislikes about their own.
Here's the full list of most-liked home qualities cited by survey respondents:
Neighborhood: 59%
Affordability: 53%
Proximity to a city: 45%
Size: 44%
Proximity to friends or family: 35%
Layout: 33%
Style: 32%
Distance from a city: 29%
Furnishings: 21%
Appliances: 18%
Distance from friends or family: 14%
History or character: 14%
Americans' Favorite Rooms in Their House
Of all the rooms in the house, Americans love their living rooms the most, with 43% of our respondents saying it's their favorite room and 54% saying it's the room they spend the most time in. Another 32% of respondents say they wish they spent more time in their living rooms.
Bedrooms are the next most-popular room, with 21% saying it's their favorite and 24% saying they spend the most time there. Survey respondents reported liking their bedrooms and living rooms because they can relax (64%), it's comfortable (58%), and it's a good size (38%). Only 8% of respondents say they don't feel like they can relax in their homes.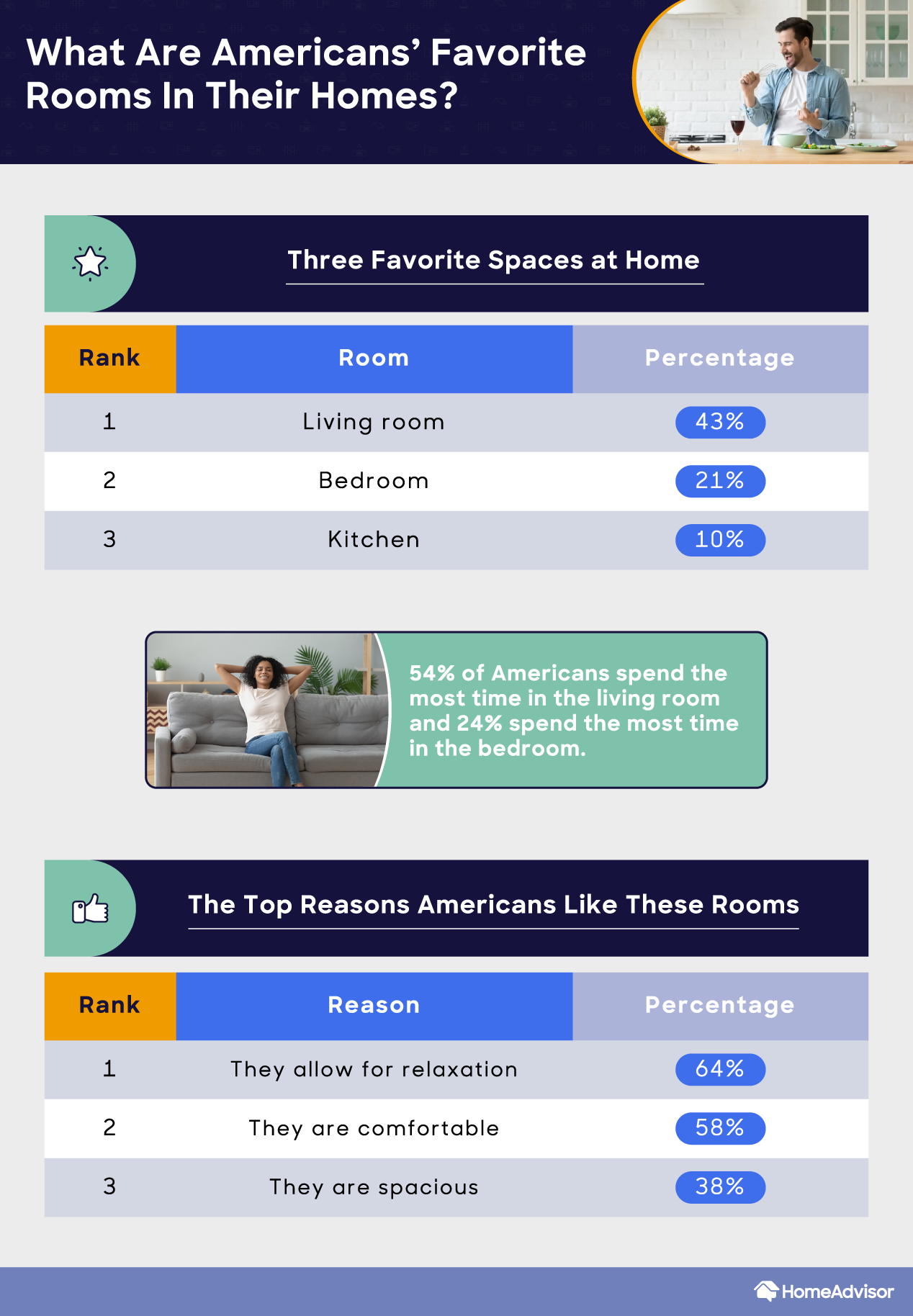 Home offices may not come out on top of the favorite rooms list, but they are one of the top three spaces homeowners spend the most time in (13%), perhaps due to the increased prevalence of remote work.
Our respondents reported what rooms they wish they spent more time in. Here's our list:
Living room: 32%
Outdoor living or dining space: 18%
Bedroom: 16%
Yard or garden: 13%
Do Americans Enjoy Entertaining in Their Homes?
The majority of our respondents (59%) say they like having other people over their house for dinners, entertaining, and hanging out. Here are the main reasons people like inviting others over: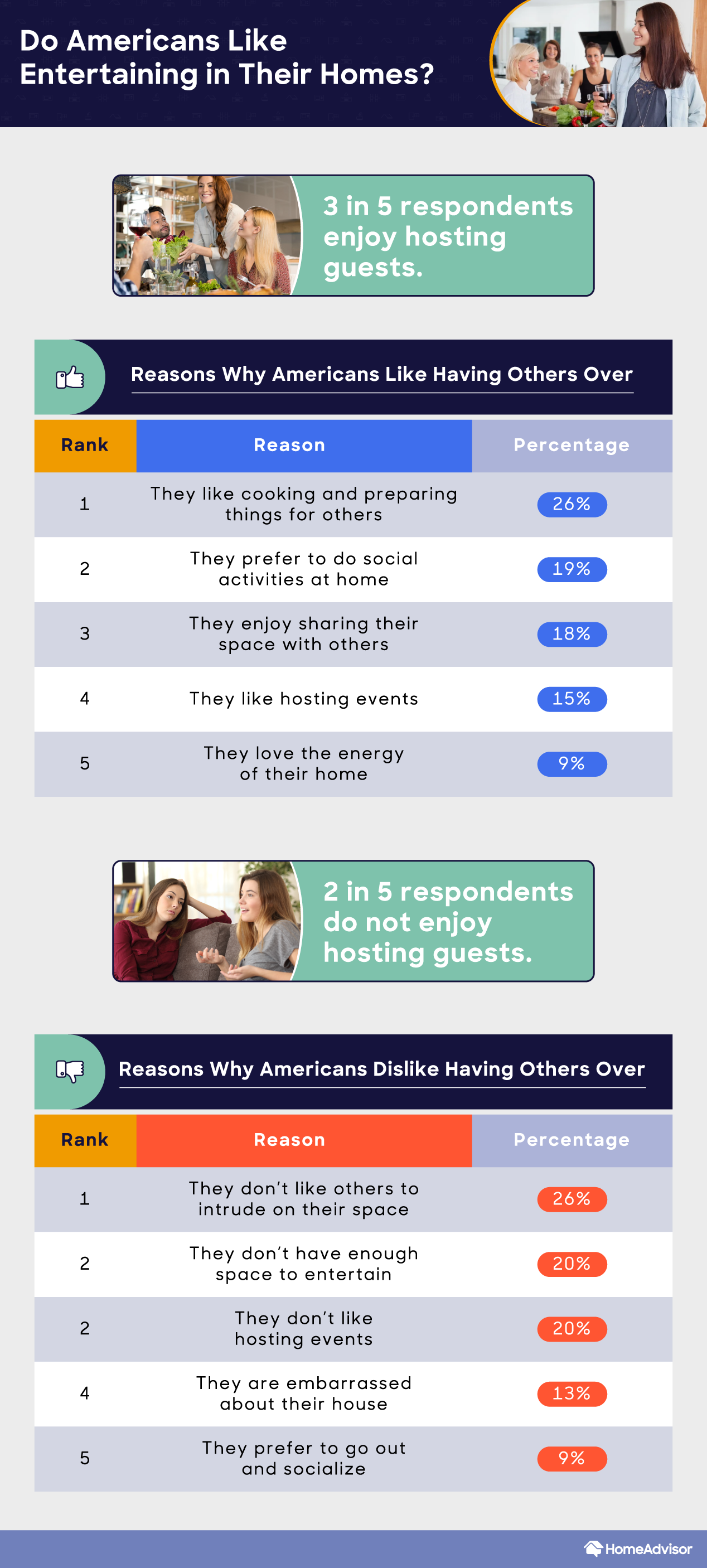 Out of the survey respondents who don't like having people over to their house (41%), their reasoning varied from feeling intruded on (26%), not having enough space (20%), lacking the desire to host (20%) and feeling embarrassed about their house (13%).
What Americans Would Change About Their Homes
Overall, our surveyed homeowners are not afraid to tackle a DIY renovation project, with 76% saying they would complete one. Top reasons homeowners provided for considering a renovation include:
To enhance comfort: 57%
To make it more functional: 51%
To make it more stylish: 47%
To add more space: 33%
To improve the home's ROI: 21%
Renovating the bathroom is the top priority for respondents who want to update their homes (21%). Meanwhile, 16% of respondents want to renovate the basement, and 14% chose the laundry room and garage.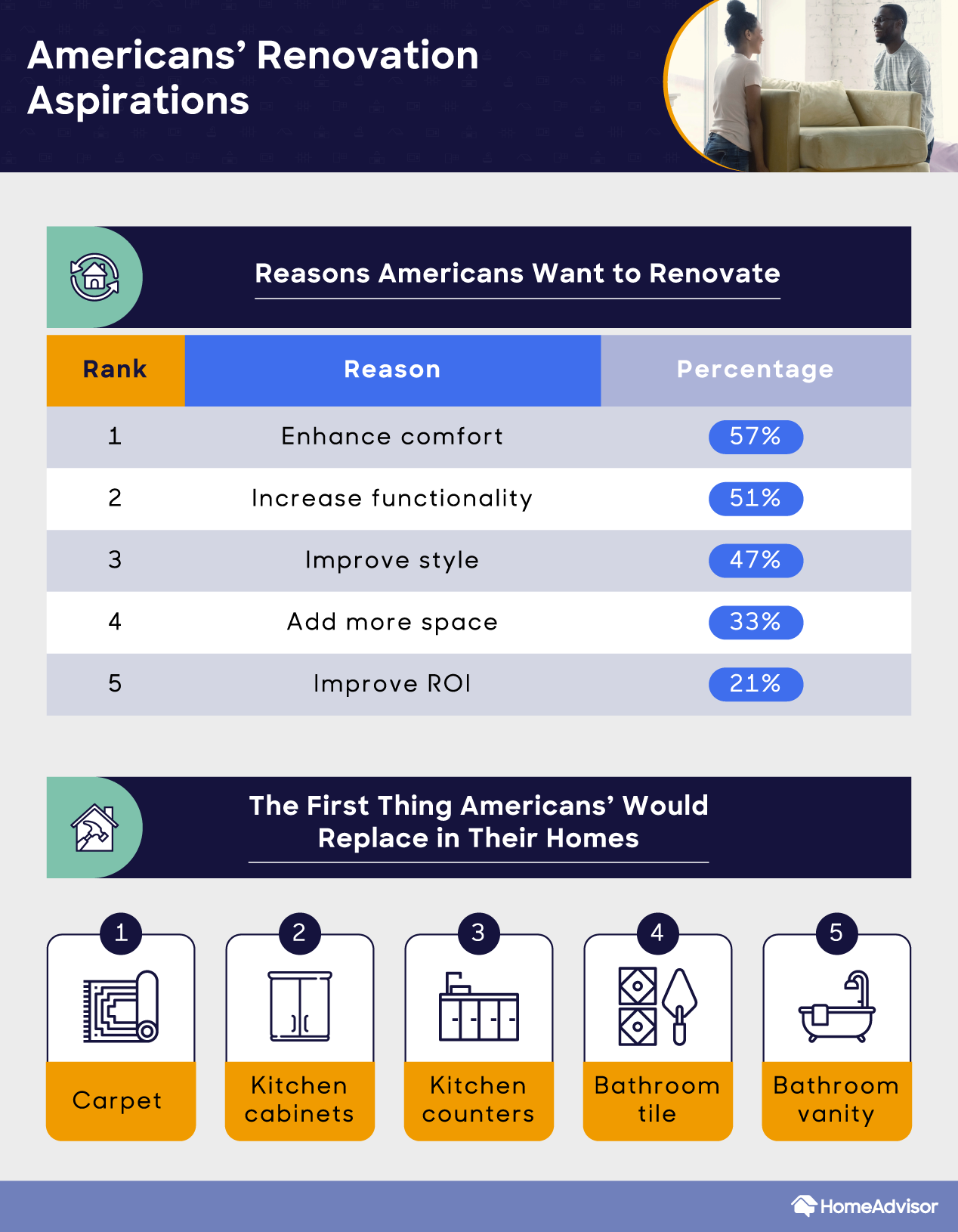 Regardless of the room, when it came to specific aspects of their homes that survey respondents wanted to replace, here are top five things they listed:
Carpet
Kitchen cabinets
Kitchen counters
Bathroom tile
Bathroom vanity
Conclusion
Though every homeowner has their preferences, most survey respondents like the location of their homes more than any other aspect of it. And many people aren't afraid to roll up their sleeves and make the necessary changes to their homes.
If you're considering taking that next step to turn your house into your dream home, HomeAdvisor has you covered. From our network of local pros to our user-friendly guides for popular home projects, we're here for all your home improvement needs.
Methodology: We surveyed 1,029 homeowners on October 12–13, 2022. The gender breakdown was 50% men, 49% women, and 1% nonbinary. The age breakdown was 16% Baby Boomers, 28% Gen X, 50% Millennials, and 5% Gen Z.
No Comments Yet