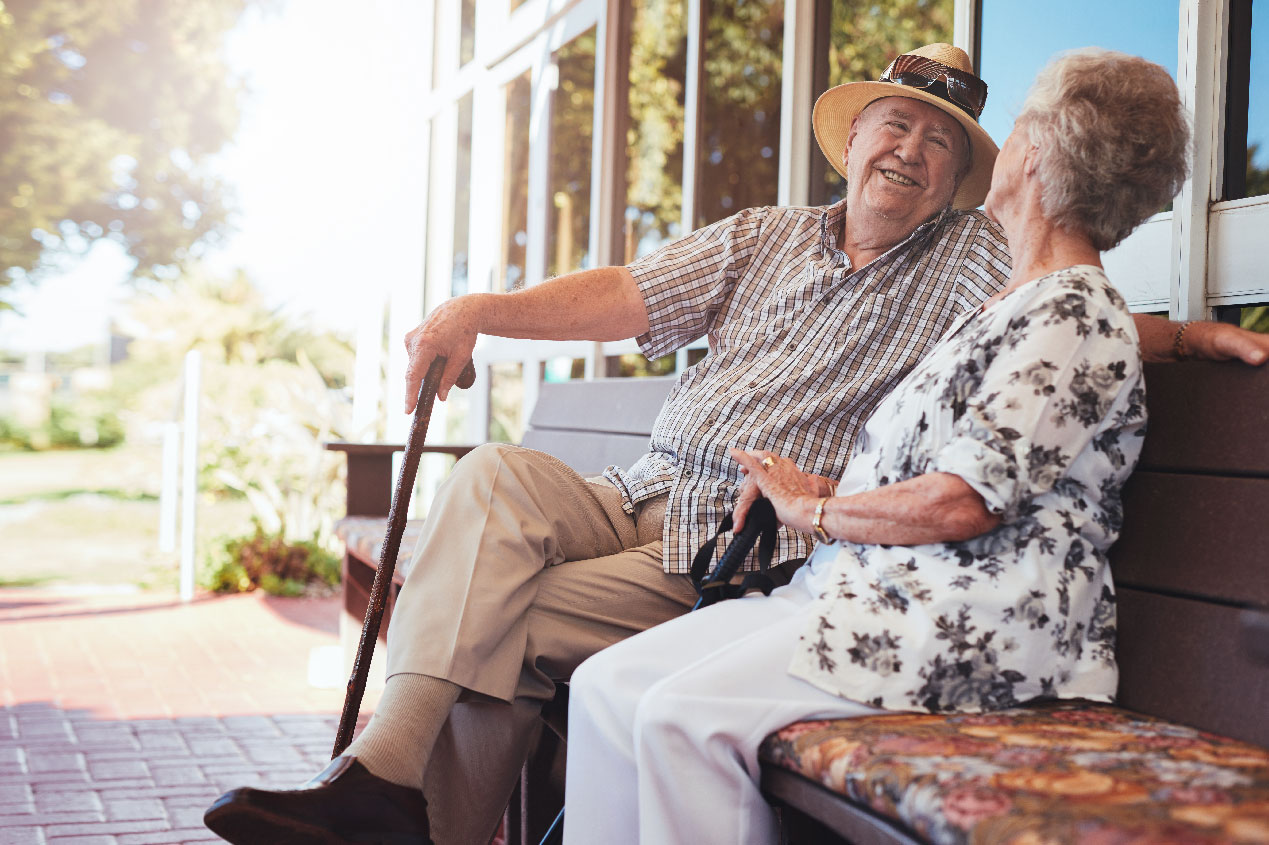 Photo: jacoblund / iStock / Getty Images
On This Page:
If you're a homeowner, you may be wondering how you can increase your property's value. Perhaps you've been exploring ways to use your home to generate supplemental income.
Or, maybe you would like to move a family member into a separate living space on your property. Adding an accessory dwelling unit (ADU) could be the solution that suits your needs.
In this guide, we'll help you determine if an ADU is right for you. Read on to learn more about the various types of ADU structures, the benefits of adding an ADU, construction regulations and tips and answers to common questions about ADUs.
What Is an ADU?
An ADU is a smaller secondary residential dwelling located on the same lot as a larger single-family home. They are often built to function as an office or studio, a rental unit or as an extra guest suite. Legally, ADUs are considered attached to the existing lot, so they cannot be purchased or sold as separate properties.
ADUs come in many different physical forms, but they are self-contained units that typically have a bathroom, kitchen, bedroom and living area. Although they are separate living areas, ADUs usually draw upon the same utility sources as the main home.
While you may be unfamiliar with the term "accessory dwelling unit," you've almost certainly seen one. ADUs have historical roots in American housing dating back centuries.
Although they fell out of favor during the housing boom that followed World War II, ADUs have surged in popularity in recent years. ADU developments have grown due to higher demand for affordable and energy-efficient housing, shifts in consumer tastes for smaller spaces, and changes to zoning laws in states like California.

Types of ADUs
ADU structures are either attached to, detached from or built within the primary housing unit. Here are a few examples of each ADU style that could be a suitable addition to your property.
Attached or Addition ADUs
Also known as bump-out units, these are built as extensions that connect to the main house or by converting spaces that are already attached to the house (typically an attached garage). With these units, homeowners don't have to downsize the existing space within their primary home. The average cost to build a new addition ranges from $40,000 to $125,000, with the average price around $82,500.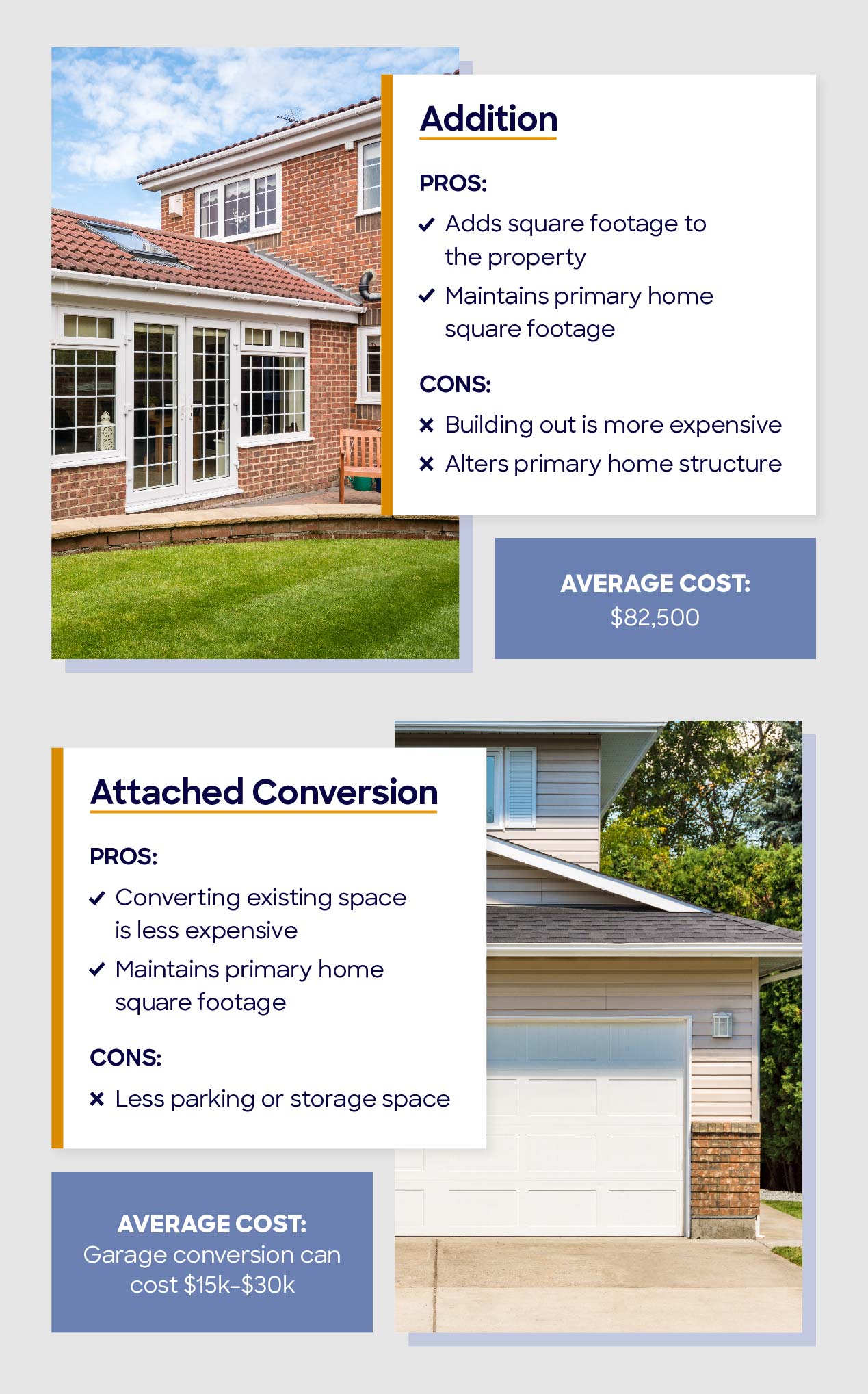 Photos: Dave Head / Shutterstock, Imagenet / Shutterstock
Examples include:
Above-garage ADU: Sometimes referred to as carriage houses, these units convert the existing space above a garage into a livable space while maintaining the garage's function below. This home addition costs between $110–$120 per square foot on average.
Garage conversion ADU: These units convert the entire garage space into a secondary dwelling unit. Converting a garage into an ADU costs a minimum of $15,000–$30,000 on average.
Detached New Construction ADU
Otherwise known as backyard cottages or granny flats, these units can either be newly constructed or converted garages/workspaces that are disconnected from the main house.
They typically resemble tiny homes and stand alone from the primary residence, offering tenants and primary homeowners alike the most privacy. A newly constructed detached ADU costs upwards of $100,000 on average.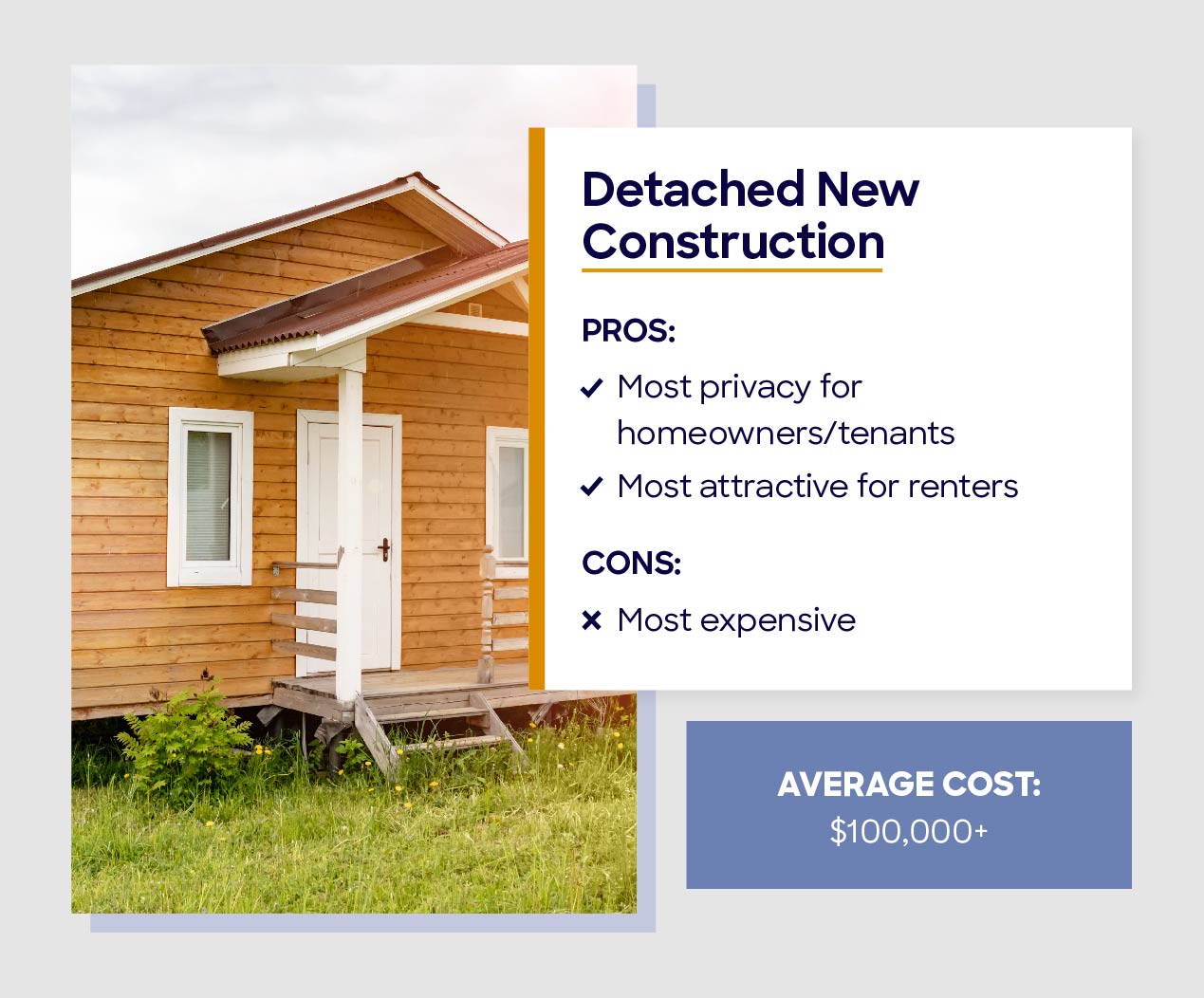 Photo: ReaLiia / Shutterstock
Interior ADUs
These are created by remodeling a particular area of an existing home's structure to create a smaller, self-contained living unit, and often have a separate entrance from the primary home.
Given that these dwellings are repurposed from existing space, rather than new additions, interior ADUs tend to be the most cost-effective option and place less strain on the main property's utilities.
Photo: dugdax / Shutterstock
Examples include:
Basement conversion ADU: Commonly referred to as basement apartments, basement dwellings or in-law units, these ADU units convert a primary home's existing basement structure into an additional living space. A basement conversion will typically cost about $10,000–$30,000.
Second-story ADU: These units are typically created by remodeling attic spaces or partitioning off the second level of the primary living space. Attic conversion prices range from $40,000–$100,000.
Junior ADU: Like other interior ADUs, these units are created within the existing space of a single-family residence. However, they do not exceed 500 square feet in size and may share a bathroom with the main residence.
Benefits of ADUs
Whether attached, detached or internal, ADU housing can be beneficial for homeowners and neighborhoods.
Affordability: ADUs can provide renters with more affordable housing options in single-family neighborhoods.
Environmental: As smaller units, ADUs require fewer resources to build and consume less energy than average-sized single-family homes.
Income source: Homeowners can supplement their income by renting out their ADUs to tenants.
Multi-generational living: ADUs can provide families with an alternative to assisted living facilities for senior family members.
Increase property value: If an ADU adds to the primary lot's square footage, the lot can see an increase in value of up to 30%.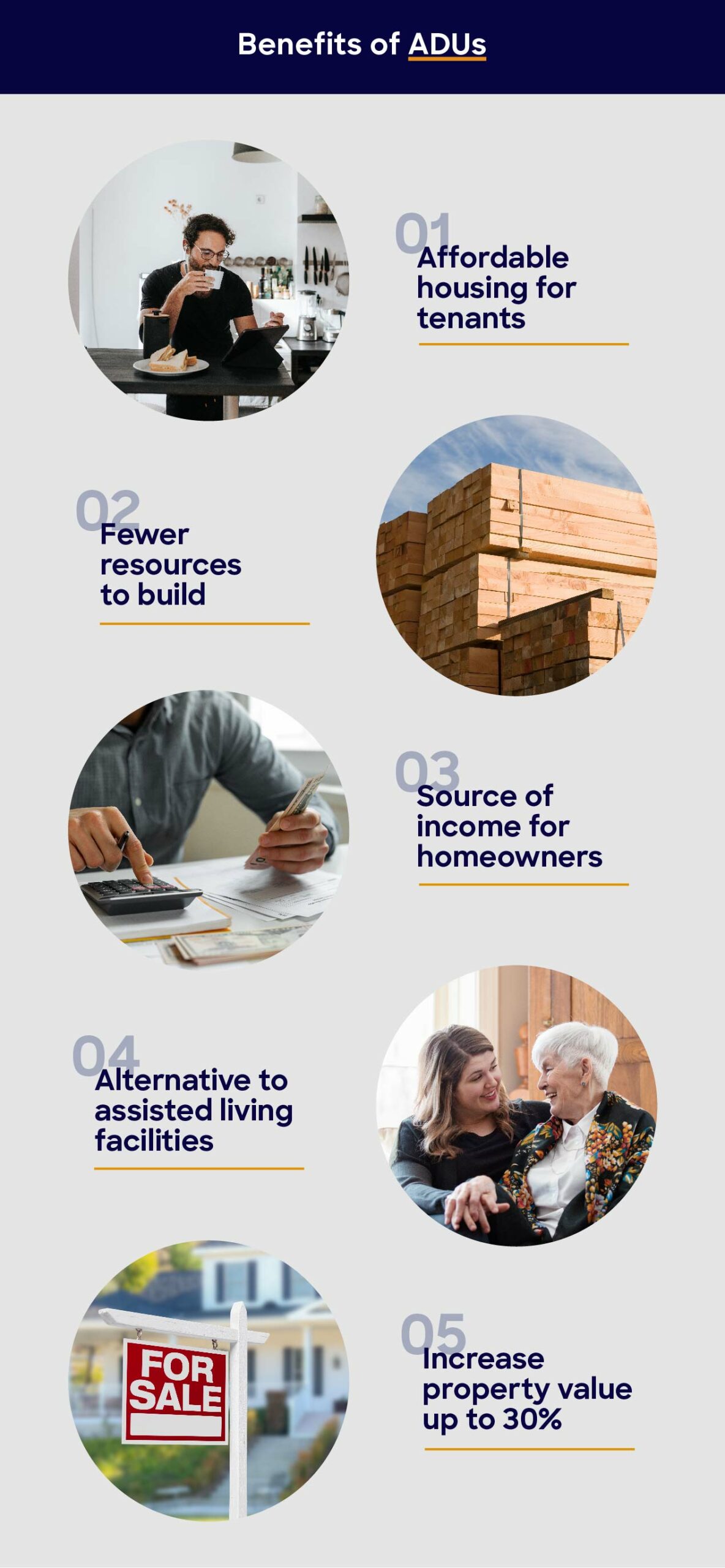 Photos: visualspace / E+ / Getty Images, carterdayne / iStock / E+ / Getty Images, bymuratdeniz / E+ / Getty Images, manonallard / iStock / E+ / Getty Images, Feverpitched / iStock / Getty Images
ADUs and the Environment
ADUs are a more environmentally friendly, sustainable form of housing. Unlike building a new single-family home, ADUs are constructed on already existing lots, so they don't require new land development.
Given their smaller size, they also consume less energy than traditional homes and allow for more efficient use of potential housing space.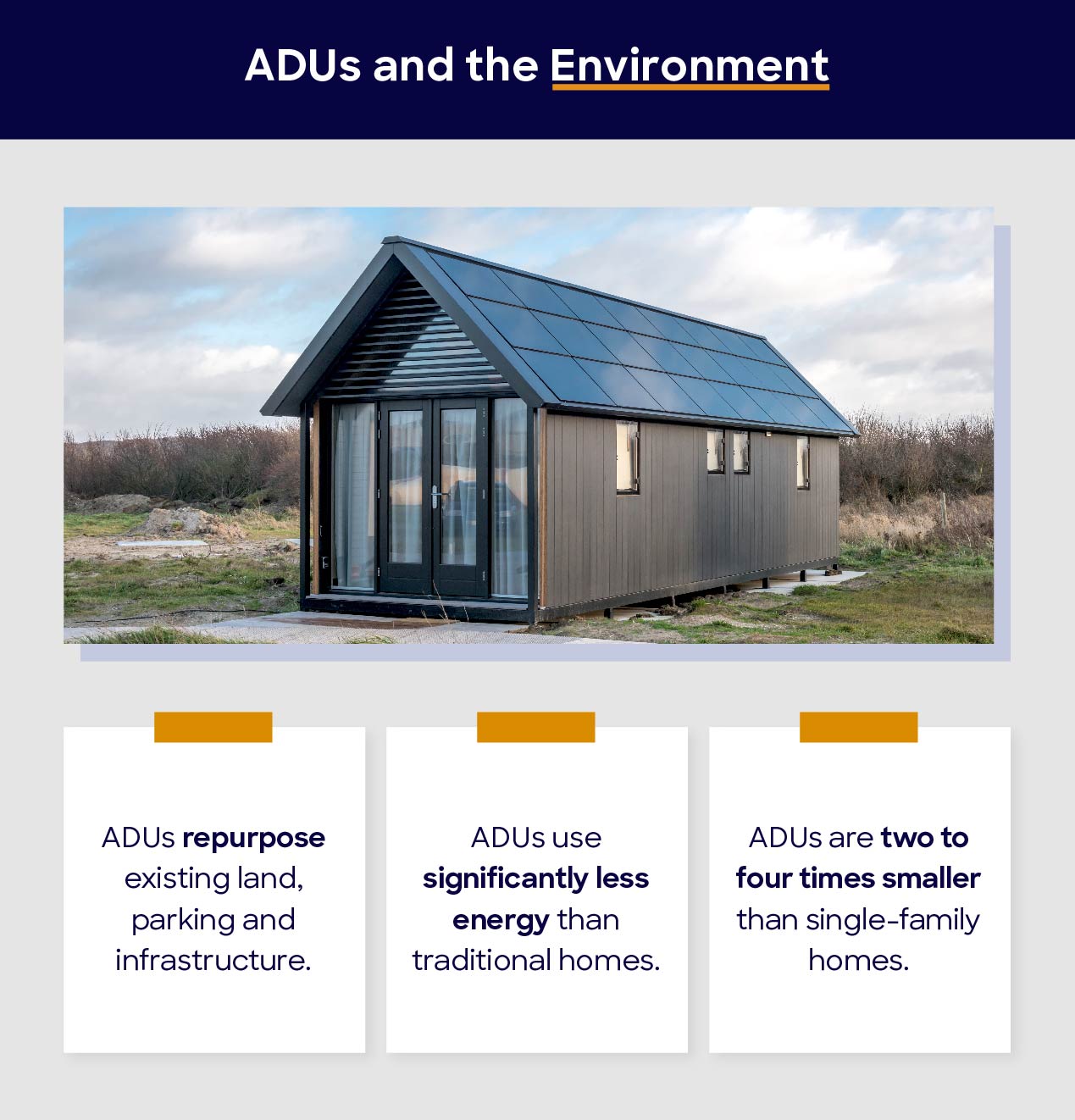 Photo: Erik Laan / Shutterstock
ADU Laws You Should Know
Before building an ADU, you should first consult your local ordinances regarding ADU construction standards and guidelines. While regulations vary by municipality and state, ADUs will typically require a building permit.
Here are a few other things to consider:
Zoning Laws
Depending on your location, you may be required to live on the same property as your ADU. Certain jurisdictions may also have rules concerning lot and ADU sizes, permitted ADU designs, parking requirements and occupancy restrictions.
Fire Regulations
Because ADUs are considered an extension of the primary living space, they must adhere to the same safety standards as the main home. Depending on state and local laws, ADUs are usually required to have safety features like smoke and carbon monoxide detectors. Following these fire safety tips can help you bring your unit up to code.
Development Standards
Development standards vary by state and municipality, but they can apply to the ADU unit as well as the lot and may limit your construction options.
For example, some cities only allow for junior ADUs (500 square feet or less), while others permit attached or detached units as large as 1,000 square feet. Other areas may have strict stipulations concerning the minimum threshold for lot size.
Construction Tips Before Getting Started
If you want to add an ADU to your property, here are a few tips to help you begin planning your project.
If you're building an ADU addition, you will need to hire multiple professionals to help with permitting, excavations, construction, electrical work and plumbing.
Hiring an architect will help plan an efficient, functional ADU. If you are moving in older family members with limited mobility, architects can help plan universally accessible designs.
It can take one to two months to obtain proper construction permitting before you're able to begin construction.
If you don't want to sacrifice space in your backyard to build an ADU, consider converting existing other unused parts of your home.
Save thousands on a new addition by converting an existing room or basement. It costs about $2–$5 per square foot, plus up to $30,000 to add a bathroom.
If you are converting a basement, attic or existing room, expect the project to last about two months. If you're building a new structure, the process takes about four to five months of construction.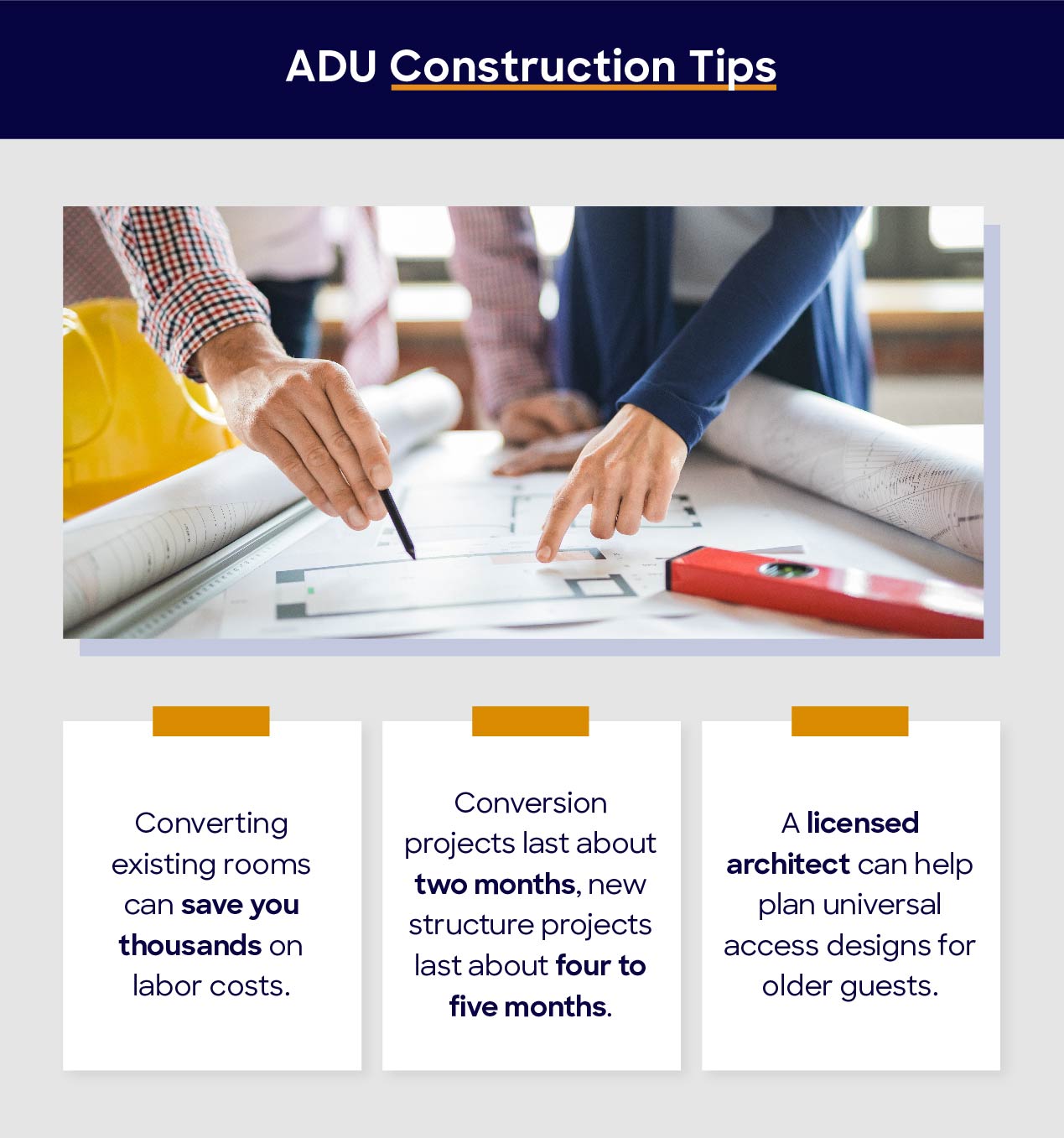 Photo: scyther5 / Getty Images
ADU Frequently Asked Questions
Now that you know the various types of ADUs and their relative advantages, these are some other common questions to ask before getting started on your project.
How much does it cost to build an ADU?
The average cost to build an ADU on your property is about $82,500 but ranges from $40,000 to $125,000 or more, depending on the size of the unit, whether it's a new structure or a remodeling and the materials used for the unit.
Here is a breakdown of what you might expect to pay, based on the size of the ADU:
400 sq. ft.: $40,000–$80,000
500 sq. ft.: $50,000–$100,000
600 sq. ft.: $60,000–$120,000
750 sq. ft.: $75,000–$150,000
Can I build an ADU on my property?
Before obtaining a permit to begin ADU construction, you'll still need to check your local laws to see if you can legally build an ADU on your property. You can also get in touch with a general contractor near you to learn more.
Each municipality has different building codes that may require the inclusion of specific features, such as separate water and sewer connections or an entrance that is separate from the primary house.
There may be special circumstances under which you are not allowed to build on your property, such as if you live in a historic district or have an HOA that forbids ADUs.
What qualifies as an ADU?
An ADU must be a smaller secondary unit occupying the same lot as a larger single-family residence. It also must be fully equipped with independent living facilities like a bedroom, bathroom, kitchen and living area.
What is the difference between an ADU and a guesthouse?
ADUs are fully equipped for independent living, whereas guesthouses are not. For example, ADUs have functioning kitchens, but guesthouses do not. An ADU can be used as a guesthouse, but a guesthouse is not necessarily an ADU.
Is building an ADU worth it?
It will cost money to construct and will add to your utility bills—but, if built well, ADUs can be a worthwhile investment.
If you're building an ADU for long-term rental purposes, you could generate enough income to cover your costs over time. By adding square footage to your home, you could also see up to a 30% increase in your property value when selling.
If you're building an ADU to provide housing for an older family member, in addition to saving on an assisted living facility, there is also the intangible value of living closely with family.

Photos: chuckcollier / E+ / Getty Images, visualspace / E+ / Getty Images, carterdayne / iStock / E+ / Getty Images, bymuratdeniz / E+ / Getty Images, manonallard / iStock / E+ / Getty Images, Feverpitched / iStock / Getty Images, Erik Laan / Shutterstock, Dave Head / Shutterstock, Imagenet / Shutterstock, ReaLiia / Shutterstock, dugdax / Shutterstock, scyther5 / Getty Images
Accessory dwelling units can benefit homeowners and their families as well as the neighborhoods in which they are built. If you've decided that an ADU is right for your needs, speaking with a local construction manager can help you streamline your efforts.
No Comments Yet