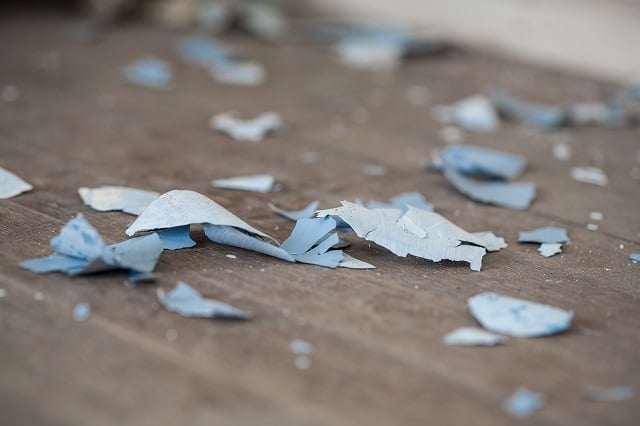 What is lead paint?
When added to paint, lead helps it dry more quickly and resist moisture. These additives also increase durability and maintain appearance over time. The most common pigments used in interior and exterior paint are:
lead chromate, or "chrome yellow"
lead oxide, or "red lead"
lead carbonate, or "white lead"
However, in spite of being a natural metal found in the air, soil, and water, lead is toxic to humans. Even in small quantities, it can cause serious health problems when ingested or inhaled as dust. Because of this, the United States federal government banned consumer use of lead paint in 1978. Homes built before 1978 may still contain it. That is why it's important to know whether your home has lead paint and, if so, what you should do about it.
What are the health risks of lead paint?
Lead is the leading cause of poisoning in the United States. Lead paint in good condition typically does not pose a severe risk. When the surface starts to crack or deteriorate, the dust and particles can be problematic.
Children under the age of six are at the greatest risk for lead poisoning. Not only are they more likely to ingest the substance from putting their hands and other objects that have contaminated dust or particles on them in their mouths, but children's bodies also absorb more lead. Furthermore, a child's brain and nervous system are still developing and are more vulnerable to damage, such as:
Brain damage
Kidney damage
Behavioral problems
Hyperactivity
Learning difficulties
Slow growth
Nerve damage
Hearing impairment
Headaches
Bone marrow disease
Exposure to lead in older kids and adults occurs through breathing in contaminated dust. Long-term exposure poses the most risk of problems, including:
Anemia
Fertility issues
Hearing loss
Vision problems
High blood pressure
Kidney damage
Nerve damage
Memory problems
Muscle and joint pain
A pregnant woman can also pass any lead in her system to her unborn child, which may lead to premature birth, low birth weight, and brain or nerve damage. These risks are the reason the US Centers for Disease Control and Prevention's (CDC) National Center for Health Statistics monitors levels of the substance in our blood. In children, a level of more than five micrograms per deciliter is cause for concern.
What are signs that my home has lead paint?
You won't be able to tell if your home has lead paint just by looking at it. Your home's age is the best indicator of whether the substance is present. If your house was built before 1978 and hasn't been renovated, it probably contains lead-based paint. The older the structure is, the more likely it is to have it.
Home Age and Likelihood of Lead Paint

| Year Built | Likelihood of Containing Lead-based Paint |
| --- | --- |
| 1960-1977 | 24% |
| 1940-1959 | 69% |
| Before 1940 | 87% |
If you are buying or renting a home built before 1978, there are laws designed to protect you. By law, landlords and home sellers must disclose any known information about the presence of lead paint. Home buyers are also given ten days to conduct an inspection or risk assessment.
Should I test my home for lead paint?
The only way to know for sure whether your home contains lead-based paint is to test it. If your home is older and young children live there; you should strongly consider testing it. This is especially true if the surfaces are peeling or cracking.
You should also get an inspection if you are planning on doing renovations to your home. Sawing and sanding can disturb the paint. In fact, even drilling a hole in a wall could create enough dust to be a health hazard.
If there are no children in the home and the paint is in good shape, you may choose not to test it. Undisturbed, it does not usually pose a significant health risk.
How do I test my home for lead paint?
To test your home for lead paint, contact a certified lead inspector or a certified lead risk assessor. While home test kits are available online, the US Environmental Protection Agency (EPA) does not recommend DIY testing. The test kits are less expensive than the professional alternative, but they are not always accurate or comprehensive. More importantly, you run the risk of exposure.
A professional will use one of three methods to determine whether your home has the substance. The type of test they choose depends on your needs as a homeowner. You may decide to run a combination of tests for more comprehensive results. Get a quote from a local inspector or check out the average cost of a lead inspection.
Types of Testing for Lead Paint
Test Type
Reason/Purpose
Procedure
Paint Inspection

Renovation, repainting, having paint removed
Determine where contamination exists
Does not assess health risk

Collect and test samples from all interior and exterior surfaces
Risk Assessment

Determine where hazards are
Indicates ways to correct them
Does not address paint in good condition

Collect and test samples from deteriorated paint, as well as surfaces where children have been biting, mouthing, or licking
Hazard Screen

Identifies probability of risk
Less extensive than risk assessment

Inspect areas of deterioration, collect and test two samples of dust: one from floors and one from windows
Each test method requires the collection and testing of paint and dust samples. A pro will send samples to an EPA-accredited laboratory for testing. They may also test samples on site with a portable X-ray fluorescence (XRF).
What to do when you get the results
If tests confirm the presence of lead paint, you will need to take immediate measures to manage and reduce your family's risk of exposure:
Clean up chips immediately, especially in areas where your children play.
Be vigilant about hand washing, especially before eating and sleeping.
Clean window sills regularly to remove dust. Use warm water and a mop, sponge, or paper towel, and clean thoroughly or dispose of cleaning tools after each use.
Remove your shoes before entering the home to prevent tracking the substance in from soil contaminated by exterior paint.
Repaint damaged surfaces.
Clean with wet mops and rags regularly
Clean air ducts regularly
None of these steps will provide a permanent solution. Once you have completed these temporary measures, you must determine what, if any, long-term solution you will pursue to mitigate the hazard. If the paint in your home shows no damage, and no children live there or visit regularly, you may choose to leave it untouched and keep an eye out for damage in the future.
How do I remove lead paint from my home?
To permanently protect your family from the hazards associated with lead paint, you must remove it, encapsulate it, or enclose it. A certified lead abatement contractor can perform the work, being cautious to contain dust and paint chips in the process. No matter which option you choose, you can expect to pay between $8 and $15 per square foot. Total project costs average $10,000, but can range from $9,600 to $30,000.
Removal
Your contractor may choose any number of approved methods to remove paint on the inside or outside of your home, including:
Wire brushing
Wet hand scraping with liquid remover or a low-temperature heat gun
Wet sanding with a high-efficiency particulate air (HEPA)-filtered vacuum
Your contractor should not utilize forbidden methods of removal, including:
Torching or open-flame burning
Machine sanding without a HEPA filter
Abrasive blasting
Power washing without trapping water and chips
Encapsulation
A professional will encapsulate the affected areas of your home by brushing or rolling on a special coating that creates a watertight seal. While this method is the easiest and least costly, the layer may wear off near doors and windows as you open and close them time and time again.
Enclosure
If you choose the enclosure method, your contractor will cover your old surfaces with a new one. Putting up new drywall and covering windows with aluminum or vinyl cladding covers up the hazardous surface. That means that if the enclosure is ever removed, there will still be contaminated paint underneath.
Less commonly, homeowners may choose to replace painted features with new ones. This method is rare due to the time and cost associated with a project of this magnitude. Furthermore, the other, more reasonable mitigation methods are effective, as long as they are performed by a certified lead abatement professional.
No Comments Yet