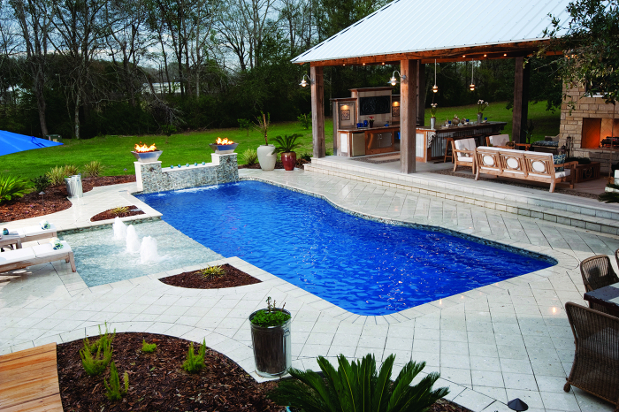 Logistically, you can open your pool as soon as you're sure the temperature won't hit freezing and cause your water to freeze. Of course, few homeowners need their pools open this early, but wait too long and you're likely to miss out on that first sterling, 85-degree spring day.
If you have a basic pool heater, you may even be ready for a dip at 75 degrees. If not and you're considering installing one, the average cost to heat a pool is about $100 to $600 per month. Conventional wisdom suggests that you keep an eye on your extended weather forecast and open your pool about two weeks before you might expect to use it.
Yet, more and more homeowners are likely to wait longer due to the weekly costs of maintaining a pool. While economics and residential pools, go hand-in-hand, it's very much a catch-22. The sooner you open your pool, the higher your seasonal operating costs, but waiting to open your pool reduces personal use, enjoyment, and return on the cost of installing the pool in the first place. In the end, it's up to you, but here's what you need to know so you can make an informed decision for your own home.
How much does it Cost to Maintain a Pool each Week?
Of course, it's hard to account for and appreciate just how many variables will determine your weekly maintenance costs. From the age, water capacity, and design to the type of finish, filter, and cleaning systems, the exact cost of maintaining a pool on both an annual and weekly basis will vary tremendously. That said, homeowners from within the blogosphere do offer fairly consistent, though anecdotal, numbers. If you have the diligence to check your pool's water and make small corrections, you might be able to get away with paying as little as $5-$10/week on chemicals. Larger, weekly maintenance usually entails $10-$20/week for chemical treatments. Many homeowners buy their swimming pool chemicals at the beginning of the season and frequently report $200 gets them through the season. Additionally, most homeowners report paying between $20-$50/month for the electricity to operate pool pump and filter systems. Thus, altogether, it's not uncommon for a homeowner to pay $25 or more each week to maintain their pools without the help of professional pool services.
A Geographical Timeline for Opening Your Swimming Pool
HomeAdvisor—leading online resource connecting homeowners with home improvement contractors—tracks home projects of all sorts, including pool opening services, by both date and location. Of course, when you want to open your pool is up to you, and these numbers only reflect homeowners who requested professional pool opening services, but it's still useful to see when homeowners from various cities decide to open their pools.
April Opening
Nationwide, 20.2 percent of homeowners decide to open their pool during April. Louisville and Nashville show the strongest performance for pool opening during this month. Adjusted for population, Louisville has more online requests for April swimming pool opening services than any other city, except Baltimore.
May Opening
With 34.7 percent of homeowners opening their pool during May, this month is the high-water mark for pool opening. If not before, many people use Memorial Day Weekend as the seasonal excuse to open their pools. For the entire season, Baltimore has the highest rate of professional pool opening services, and May is the city's biggest month. Adjusted for population, Philadelphia is #2 during this month but sees a substantial 69 percent drop in June.
June Opening
At 32.6 percent, June lags just behind the month of May for most popular pool opening month. Northern cities naturally dominate pool opening services with New York, Boston, and Detroit standing out as particularly skewed toward later in the calendar. The first two weeks of June show their own spike, as school gets out for the summer.
Geography, Economy, and Pool Types
Naturally, homeowners who live in warmer climates and expect to use their pools virtually year-round are more likely to invest in the major expense of a concrete pool—with an average installation cost of $40,431, according to HomeAdvisor. Plus, homeowners who live in climates that require opening and closing services frequently avoid concrete pools that are susceptible to freeze and thaw cycles that can cause concrete to crack and eventually destroy in-ground pools.
The next step down, fiberglass pools have an average installation cost of $24,364. These pools are the least common of the three and are frequently marketed to a specific climate. For places like North Carolina, Virginia, Maryland, Tennessee, and Kentucky, with long pool seasons but frozen winters, the extra cost and durability of fiberglass is worth the sacrifice of limited design options.
Finally, vinyl-lined pools are more popular in northern climates where the low cost and flexibility of these liners can create a luxurious pool setting without the huge upfront costs of concrete. At $13,553 for average installation cost, the drawbacks for these pools are limited life expectancy and increased likelihood of tears and other damage. Of course, with a limited pool season, pools in northern climates also aren't required to endure the same level of continual abuse.
Opening Your Swimming Pool
Opening a pool for the summer isn't difficult—especially if it was properly closed in the winter—for a reasonably knowledgeable and/or experienced homeowner, but it can get tedious. Between cleaning and removing the cover, inspecting and assembling the pump and filter, cleaning the sides and bottom of the pool, treating the water, not to mention pool accessories and surrounds, you'll probably need to devote a full weekend to the task. In this light, it may very well be worth it to hire these professional pool opening services, which according to HomeAdvisor, will cost, on average, between $300-$350.
No Comments Yet