July 13, 2017
With all the talk of the "dawn of the smart home," you might think the technology is only a few years old. In fact, it's been around since at least 1984, the year the National Association of Home Builders formed a "Smart House" task group to explore ways to integrate technology into home design. So is the smart home really ready for prime time? Or will it continue its niche ways?
To help answer those questions, HomeAdvisor conducted a smart home survey of 1,500 consumers nationwide. We wanted to find out what they like about the technology, what barriers are keeping them on the sidelines, what role professionals will play in the spread of the smart home, and more. Here are the five key takeaways from the survey, aimed at home improvement pros and emerging smart home manufacturers.
1. Consumers don't want to go it alone.
Smart home technology is often marketed as a DIY solution. Sure, setting up an Amazon Echo or Google Home is easy enough. But less than half (48 percent) of the respondents to our survey said they always install smart home products themselves. Of those who rely on professional support, the main reason they give is that they don't have the knowledge to handle the installation themselves. That's creating a sizable "Do It For Me" customer base in the smart home market.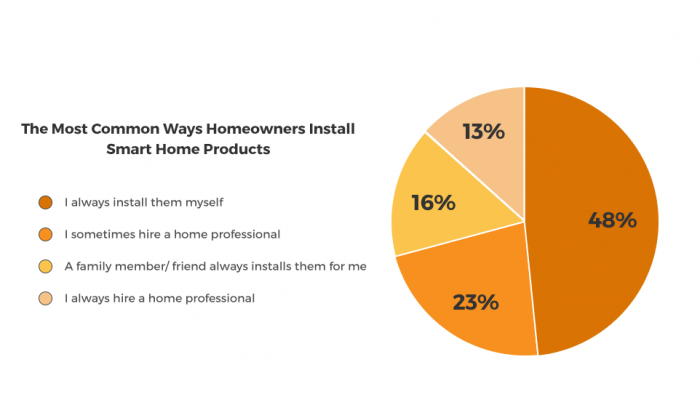 2. There's no clear go-to pro.
So who do consumers turn to when they need help with their smart home products? About half of survey respondents hire a security/alarm company (48 percent) or electrician (47 percent), while roughly a quarter choose a contractor (28 percent), heating and cooling contractor (28 percent), or handyman (27 percent). Options are good, but at a certain point we will likely see the emergence of a dedicated smart home pro.

3. Less trouble with troubleshooting.
We also asked people about their comfort levels troubleshooting after products are installed. Just 15 percent of respondents were either uncomfortable or very uncomfortable with that aspect of smart home ownership. That number could go up as the technology moves from tech-savvy early adopters to the mass market. But for the moment, the need for professional support is focused on the initial install.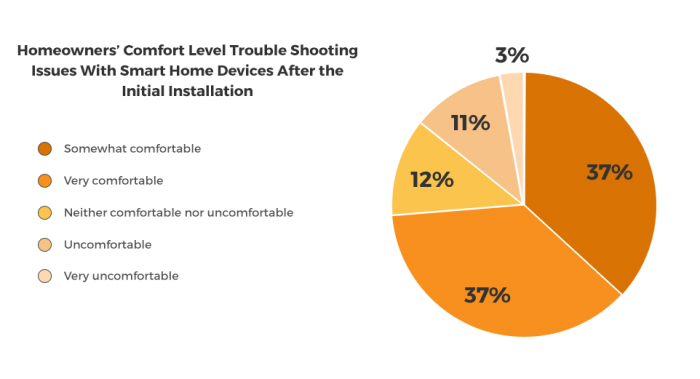 4. Smart home help is just a click away.
We know that around 90 percent of homeowners currently use word-of-mouth referrals and other "offline" methods for hiring pros to do work around the house. This survey told a different story. Just 28 percent of respondents told us they use word-of-mouth to hire smart home pros. A virtually identical 27 percent use online referrals sites, while lesser percentages use referrals from retailers (13 percent) and manufacturers (11 percent). Translation? Smart home services will be a mainly digital business.

5. It's (still) all about Millennials.
Bit of a no-brainer here, but the extent to which Millennials are driving smart home technology is noteworthy. To wit, 77 percent of Millennials in our survey have purchased a smart home product, compared with 50 percent of Gen Xers and 25 percent of the 55-and-up age group. Given that Millennials will own more than 30 million homes by the year 2030, look for them to be a driver of smart technology for decades to come.

There you have it. Of course, technology is hard to predict, and smart home tech is no different. Consider the fact that even the most prescient industry experts didn't see Amazon Alexa coming. But some thirty years after people first started pondering the possibilities of the smart house, the sun is finally starting to peek up on the horizon.
No Comments Yet