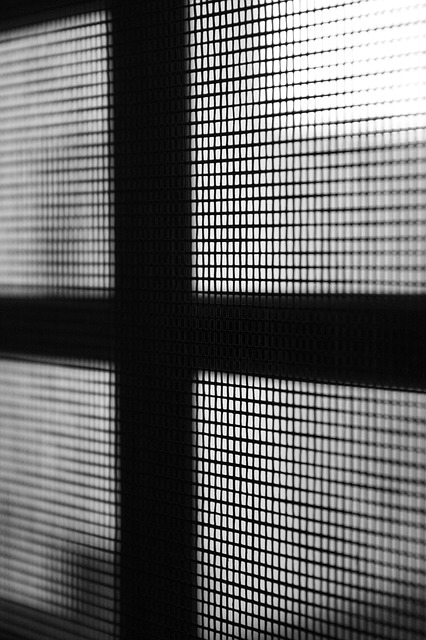 Wire glass is a common sight in schools, businesses, and hotels across the nation. It is manufactured primarily as a fire retardant, with wire mesh inlaid in the glass to prevent it from shattering and breaking out under stress or when exposed to high temperatures. With the window intact, the glass keeps the fire at bay, protecting those on the other side from the harmful effects of smoke and flame.
Reasons NOT to Install Wire Glass
There are many myths about this glass and its proper usage. Primarily, most people assume that that the incorporation of wire into the glass makes it stronger, and that this makes it a good option for security glass. Nothing could be further from the truth. In fact, the wire in the glass actually weakens the glass from a strength standpoint, and makes it more susceptible to breaking. What the wire does do for the glass is hold it in place. That makes it safer from the standpoint that a broken window won't send glass fragments showering through a room (hence its use in schools), and that the wire will hold the glass in place under extreme temperatures (hence its status as fire rated glass).
Places You Should Install Wire Glass
This glass is a smart addition in any area where a solid fire barrier and safety glass are beneficial. This includes public areas such as schools, public buildings, and businesses, and particularly in areas of these buildings that provide escape routes in case of fire. Windows in stairwells and in hallways that lead to emergency exits are prime examples of areas where fire rated wire glass is a smart addition.
Don't Like the Wire? How About Fire Rated Glass?
There is a reason that talk of wired glass mostly conjures up images of public buildings and institutions. Frankly, wire mesh isn't very attractive, and as a result it's a rarity in residential buildings. Fortunately for homeowners, advancing technology has provided a clearer, less obstructive, alternative. Fire rated glass foregoes the wire mesh, and is manufactured to withstand temperatures of over a thousand degrees. If you're concerned about fire safety and want to install fire rated interior windows in your home, fire rated glass is an excellent investment. It provides all the benefits of other interior glass solutions, but with the added peace of mind that quality fire protection provides.
Talk to a Pro
If you're interested in installing wire or fire rated glass in your home, you'll need to look further than your local hardware store. These are specialty window treatments that are usually only available from security and fire prevention contractors. Talk to a window installer or a contractor experienced in the sale and installation of these life saving windows, and get your new fire rated windows installed as soon as possible.
5 Comments