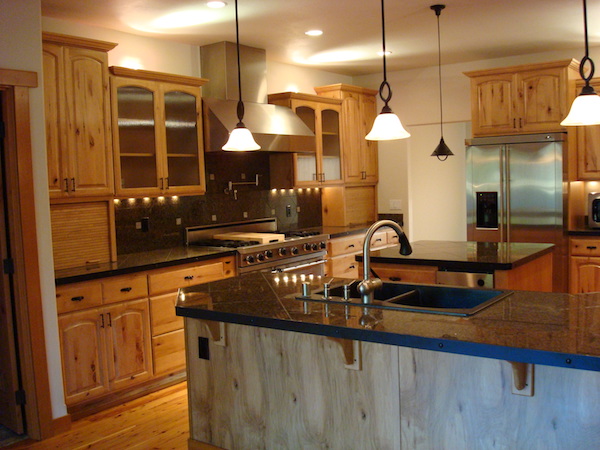 Everyone knows that there isn't a better material out there when it comes to building cabinetry than wood. Whether it's a wood kitchen cabinet, a wood storage cabinet, or a wood bathroom cabinet, there's something about the warm feel and beautiful look of wood that sets it apart from any other material. Even so, if you're looking to purchase cabinets made from wood there's still a wide range of choices to select from. Here's some wood cabinet basics so you can talk the talk when you meet with your contractor or retailer to choose the right cabinetry for you.
Wood Cabinet Construction 101—Face Frame vs. Faceless
There are two schools of cabinet building that dominate the cabinet industry. Face frame cabinetry refers to cabinet designs that utilize a solid wood face frame installed along the front face of a row of cabinets. This is the traditional American cabinet building style and allows for a little more texture and space between door and drawer overlays. Faceless cabinetry, also known as European style cabinets, is built as individual, solid boxes. Because there is no face frame to attach hinges to, the doors and drawers of this style sit very close to each other without gaps, creating a more seamless design. Which style is better depends on who you talk to. The important thing is choosing the style that fits your home design and personality best.
Wood Cabinet Construction 201—Custom, Semi-Custom, and Stock Cabinetry
Besides the type of cabinet construction, you'll also need to decide on the quality of cabinetry you select. Cabinets come in three basic tiers.
A custom cabinet is made to your specifications by a highly skilled craftsman. These cabinets are costly and made of solid wood, but if you can afford them your new wood kitchen cabinet set will be unrivaled both in looks and function.
Semi-custom cabinets still offer you choices when it comes to designing your cabinets, just not limitless possibilities. Since they are factory made, instead of made by a custom wood cabinet maker, they cost quite a bit less than a custom cabinet set.
A stock cabinet is the type of cabinet you'll commonly find at big box home improvement stores. They're pre-made, pre-sized, and are usually made of wood veneer glued over pressed wood or particle board instead of made from solid wood. If you're on a tight budget, this is the way to go.
Wood Cabinet Materials
The final decision you'll have to make about any cabinet, be it a wood storage cabinet or an entire wood kitchen cabinet set, is the material. Species of wood differ greatly in color, durability, and price. Here's a list of the most popular woods used in cabinetry, and a few comments on each, just to get your gears turning.
Pine is the cheapest cabinet wood you're going to find. It is a softwood, however, so don't expect pine cabinetry to hold up as well as others when it comes to fighting off scratches and dents.
Oak is known for its beauty and resiliency. It has an attractive, open grain, and ranges in color from dark red to a yellowish brown.
Cherry is one of the most beautiful woods on the market and is a favorite for two reasons. It varies in color, even on a single piece of wood, which adds character to your cabinetry. Secondly, it darkens with age, gaining that deep red hue that cherry is so well known for over time.
Birch is another popular choice, also because of the varying shades in the wood and grain. It's a medium density hardwood, tougher than pine but not as hardy as oak or maple.
Maple, along with oak, dominates the cabinetry market. Its lighter color and high resiliency make it perfect for a wood kitchen cabinet, or any other cabinet for that matter, and the common occurrences of distinctive irregularities in the grain give it a character that few woods can rival.
Mahogany is perhaps the most beautiful choice you can make when it comes to cabinetry of any sort. It's also by far the most expensive. Expect to dig deep into your pockets if you go with this rare, and beautiful, wood.
Contact a Pro
You now have a basic understanding of wood cabinetry, styles, and species. The next step is to talk to a professional. If you're interested in semi-custom or stock cabinetry, and you have the know-how to hang your own cabinetry, go straight to a cabinet retailer and start shopping. Most cabinet sellers will also be happy to provide installation as well if you're interested. And if you think custom wood cabinet designs are right for you, search out a quality custom cabinet maker to meet all your cabinetry needs.
No Comments Yet