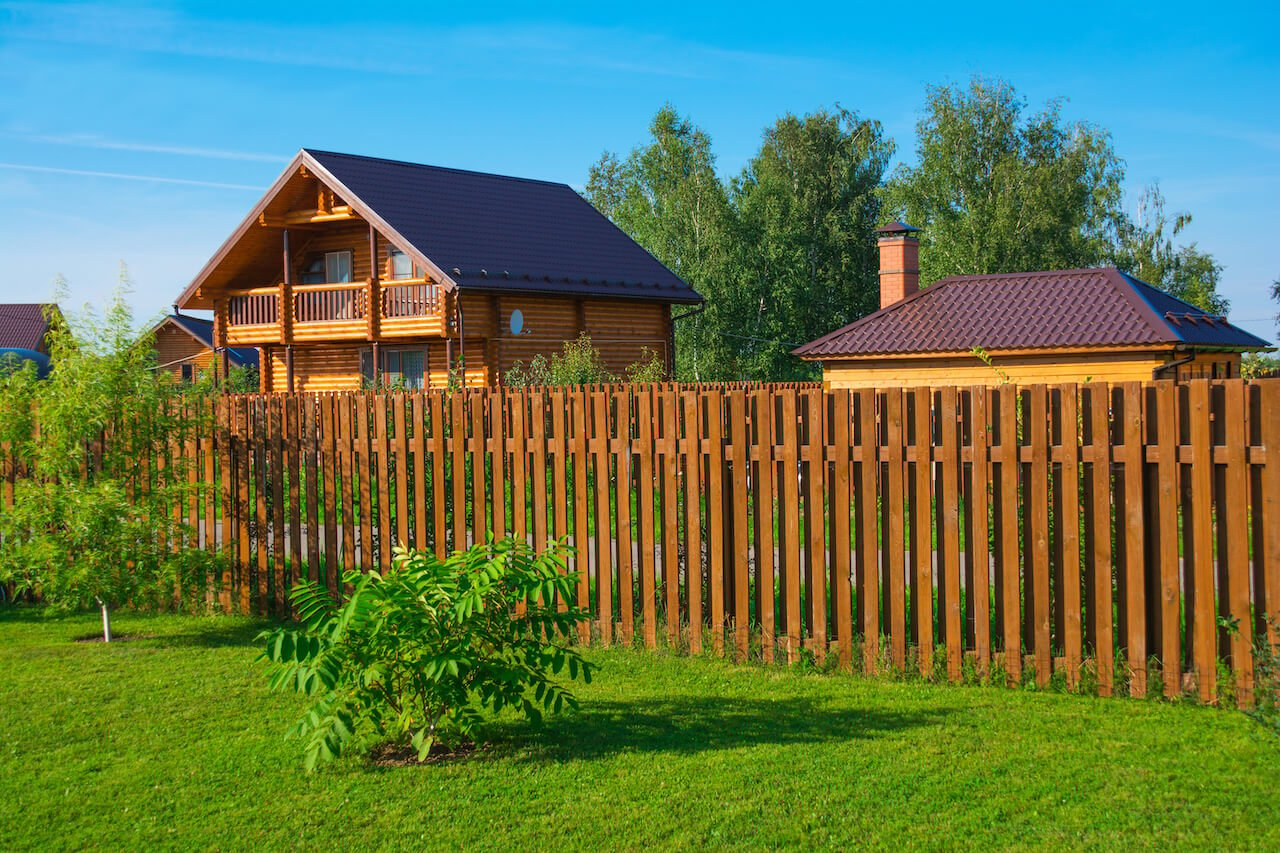 Photo (Left): Jason / Adobe Stock
Photo (Right): Vastram / Adobe Stock
When it comes to vinyl versus wood fencing, the biggest differences relate to their aesthetics and durability. Wood fencing offers a timeless look with various finishes. But you need to stay on top of maintenance to maximize its longevity. Budget-friendly vinyl fencing is very durable, but it might look less elegant in your backyard landscape. Breaking down their unique characteristics will help you decide if wood or vinyl fencing is right for you.
On This Page:
What Is Vinyl Fencing?
Vinyl has come a long way since its introduction as a fencing material around fifty years ago. These versatile synthetic plastic fences are typically made of a polymer of vinyl chloride (PVC). This kind of vinyl is durable and affordable, and that's why you also commonly see other vinyl building products, including siding and flooring.
What Is Wood Fencing?
Wood (timber) is one of the oldest and most popular fencing materials—think of the traditional white picket variety. But the design and appearance vary depending on the cut of the wood and the tree it originates from—it's not all just pine posts and rail. And the best type of wood for fencing depends on your budget, climate, and landscape design.
Appearance
Whether you opt for a vinyl or wood fence depends on if you're going for a classic look and the other elements of your landscape design.
| Wood Fencing | Vinyl Fencing |
| --- | --- |
| Natural look | Manufactured look |
| Only available in earth tones, but can paint or stain | Wide selection of colors |
| Variety of finishes, depending on the wood | Limited types of finish |
Vinyl Fencing
While vinyl won't replicate the natural look of a wood fence, they are available in a wide range of colors, and modern techniques allow for faux-wood grain finishes. But choose your style carefully. Because you can't stain or paint vinyl fences easily, you don't want something that will look dated after a decade.
Wood Fencing
Nothing beats a wood fence if you want an organic, natural look. Whether you go for a durable oak with a wavy grain, a light and affordable pressure-treated pine, or a vivid cedar fence, there are many earthy shades and grain styles to choose from.
It's also possible to stain or paint wood fencing to get the exact shade you want or to change things up to match a landscape makeover.
Cost
Wood fencing costs vary considerably, depending on the type of timber you select. But, generally, long-lasting vinyl fencing offers better value for money.
| Wood Fencing | Vinyl Fencing |
| --- | --- |
| $17 – $45 per linear foot | $10 – $40 per linear foot |
Vinyl Fencing
Typically, vinyl fencing costs between $10 to $40 per linear foot. The average price for a 150-foot fence is $3,800. The upfront material and installation costs might be more than for wood fencing, but these fences typically last considerably longer.
Wood Fencing
Wood fencing costs between $17 and $45 per linear foot for materials and labor. The average 150-foot fence will set you back $3,000.
While you can pick up some budget pine timber for less than the average vinyl pickets, the more durable woods cost considerably more. Plus, basic pine, even with top-notch maintenance, won't have the longevity of vinyl fencing.
Find a Local Fencing Pro
Upkeep
Because of its ease of care, vinyl invariably wins out regarding upkeep. You'll need a regular maintenance schedule to get the most out of wood fencing.
| Wood Fencing | Vinyl Fencing |
| --- | --- |
| Demanding maintenance schedule | Low-maintenance |
| Requires regular retreatment | Easy to clean with a hose or power wash |
| Easy to replace individual posts | Whole panel replacement can be pricey |
Vinyl Fencing
Cleaning and maintaining vinyl fencing is a breeze—and a big selling point. An occasional rinse down with a sponge and hose or a gentle setting power wash will keep it looking tidy. This non-porous material also stays free from major mold and mildew, rot, or insect invasions.
The one downside is that any significant cracks or weather damage are more tricky and costly to repair than they tend to be with wood. Typically, whole vinyl panels rather than individual planks of wood need replacing, unless a small DIY patch up is possible. Handily, DIY repair kits are available for around $40, making minor vinyl fence repair costs more affordable.
Wood Fencing
Wood needs regular cleaning, treating, and restaining or painting to prevent premature damage and aging. But if you keep this maintenance up, repairing an occasional damaged post is something you can often tackle yourself for less than $100. The average professional cost to repair a wood fence is $600.
Durability
Of the two materials, vinyl fencing is harder wearing. Even if you keep up a strict maintenance schedule with your wood fence, it can't match the durability of vinyl.
| Wood Fencing | Vinyl Fencing |
| --- | --- |
| Prone to rot | Impervious to rot and pest damage |
| Fluctuating temps can lead to warping | Doesn't warp in extreme temperatures |
| Not a good choice in wildfire-prone regions | High fire-resistance |
| Poor upkeep significantly reduces longevity | Can discolor in direct sun |
| Pest infestations can be a problem | Loses flexibility in freezing conditions |
Vinyl Fencing
This low-maintenance, rot-resistant, flexible, and robust material is built to last. If your yard regularly bakes in the sun, you won't have to worry about warping. However, vinyl fencing can discolor due to prolonged exposure to UV rays.
While they can handle sudden temperature fluctuations, vinyl fences become less flexible in freezing conditions. This makes them more prone to breakage if they are subject to a harsh impact.
Wood Fencing
Without regular treatment, weather damage such as cracking, rotting, and warping will quickly become an issue for a wood fence. Vinyl might be a better choice in humid areas or in those with high rainfall.
The type of wood you select makes a difference—pine degrades faster than tropical hardwoods. But, even for hard-wearing redwoods getting the right upkeep, over time, the wood's natural expansion and contraction mean it won't last as long as vinyl fencing. Also, watch out for insect infestations, and be mindful that wood fences aren't as fire-resistant as vinyl.
Installation
Both vinyl and wood fencing typically require digging and setting posts in holes, and poor installation reduces security and longevity. That's why hiring a local fencing contractor is almost always the best way to go.
| Wood Fencing | Vinyl Fencing |
| --- | --- |
| Can cost more, depending on the fence style | Lock-in panel kits are quick and easier to DIY |
Vinyl Fencing
Standard post-and-rail vinyl fencing requires around the same amount of effort and cost as wooden fencing installation. However, vinyl fencing tends to be slightly easier, especially if it involves installation of panels rather than individual posts. There are even vinyl fencing kits available that make DIY installation more straightforward. The panels in the kit often lock together without the use of nails.
Wood Fencing
Expect to pay between $30 to $80 per hour for a professional fencing contractor to install your wood (or vinyl fence). If you have opted for wood post-and-rail fencing rather than long vinyl panels, the installation costs will be higher.
Find Fencing Pros Near You
Lifespan
Vinyl fencing typically outlasts wood by a fair stretch. Although, by how much depends on the quality of each material.
| Wood Fencing | Vinyl Fencing |
| --- | --- |
| 10 – 20 years | 30+ years |
Vinyl Fencing
Depending on the vinyl's quality and the conditions it's subject to, it's normal to get at least 30 and even up to 100 years out of this material.
Wood Fencing
The type of timber, frequency and quality of maintenance, and local climate all influence the longevity of your wooden fence. With good upkeep and a quality material, your fence could last 20 years (or more, if you are lucky).
Environmental Impact
If being eco-conscious is at the top of your list of considerations, then wood is the way to go with your fencing.
| Wood Fencing | Vinyl Fencing |
| --- | --- |
| Shorter lifespan means regular replacement | Doesn't need replacing as frequently |
| More sustainable and recyclable | Some vinyl is recyclable |
| Manufacturing process isn't toxic | Manufacturing can release toxic chemicals |
Vinyl Fencing
Because of its durability, you won't have to replace vinyl fencing as frequently as wood varieties. If you want to be more environmentally friendly, look for vinyl fencing that is recycled and recyclable. You'll need to check with your local recycling points if they accept and recycle vinyl fencing.
Unfortunately, the PVC manufacturing process can release toxic chemicals into the environment. Some processing plants are more ethical than others, so it pays to do your research.
Wood Fencing
Wood fencing is sustainable, easy to recycle, and doesn't have harmful production processes, provided you source it from ethical suppliers.
Durable hardwood fencing won't need replacing as often as soft pine. But be aware that some endangered species aren't available locally and aren't always harvested ethically. Also, watch out for harmful chemical treatments on wood fencing that can leach into the soil.
Is Vinyl Fencing or Wood Fencing Better for Your Home?
Whether vinyl or wood fencing is the right choice for your yard depends on your budget, the desired look, and how much maintenance you are happy to undertake.
| | Wood Fencing | Vinyl Fencing |
| --- | --- | --- |
| Appearance | More natural look | Manufactured look |
| Cost | $17 – $45 per linear foot | $10 – $40 per linear foot |
| Upkeep | Needs more maintenance | Low-maintenance |
| Durability | Weather and pests are problems | Rot- and pest-resistant |
| Installation | Best left to the pros | Possible to buy DIY panel kits |
| Life Span | 10 – 20 years | 30+ years |
| Environmental Impact | Sustainable and recyclable | Toxic manufacturing process |
Vinyl and Wood Fencing vs. Other Options
It's not just vinyl or wood fencing you have to choose from. Consider some other widely used fencing materials and their pros and cons.
Aluminum
Opt for aluminum if you're looking for a low-maintenance, long-lasting, corrosion-resistant fencing that fits with a modern aesthetic. Aluminum fencing costs an average of $4,130, ranging from $17 to $90 per linear foot for the materials and labor.
Wrought Iron
Looking for a classic, durable, ornamental fencing material? You can't go wrong with wrought iron. However, it isn't a good choice for privacy, and rust can be a problem. Wrought iron fencing costs between $24 and $34 per linear foot, so it isn't the most budget-friendly option.
Chain-Link
Chain-link fencing might not be the most private or attractive option, but it's very wallet-friendly, easy to install, and keeps pets and kids secure. The average cost of a chain-link fence is $2,200, typically ranging from $10 to $20 per linear foot.
Start Your Fencing Project Today
2 Comments