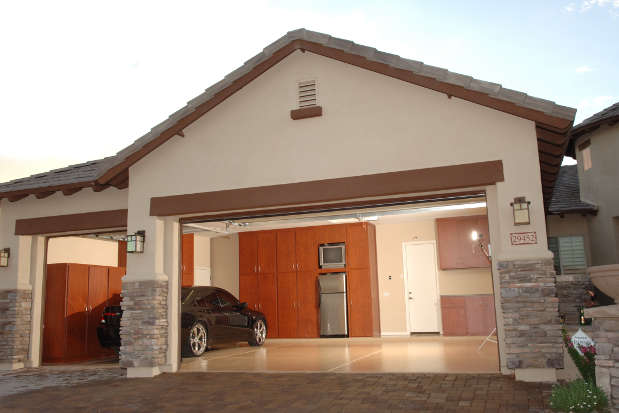 Garage contractors are professionals concerned with minimizing the impact of their work on your day to day life as much as possible. However, a garage conversion, garage remodel or garage addition is a major home improvement project, and your contractor will likely be working on your property for an extended period of time. That being the case, it's important to think about your relationship with your contractor and their crew in order to ensure that your experience will progress along as stress free as possible for both parties.
Start Off on the Right Foot with Your Garage Builders
Garage builders are hired for one job and one job only: to construct the garage you're paying for. Professional garage builders are well-versed at this job, and will probably not need too much help from you to complete their work successfully. This doesn't mean that you cannot help the project along! There are a few things you can do as soon as your crew arrives to get the project started off right, making the atmosphere around your home a pleasant one and putting all parties involved on the path to fast and functional results.
Garage builders are going to be working mostly outdoors, meaning that they will not be as disruptive to your daily routine as, say, a kitchen remodeling crew. Though this is good in many respects, the separation of you and your crew can easily become pronounced, leading to a breakdown of communication. On the first day, make sure to introduce yourself to your crew and have a little chat with the site leader. This is a great time to discuss starting and stopping times, the degree of clean-up you expect each day, and any house rules you may have regarding smoking, parking, cussing, and the like. Most successful garage builders are well aware that you will have rules that they will have to abide by, and stating them clearly at the beginning of the project is a sign that you want this process to go as smoothly as possible.
Other Basics for Working with Garage Contractors
Because a major garage project isn't a one day affair, you'll want to consider the needs of your contractor and crew and be willing to accommodate them. Making a bathroom available is a good idea and will prevent the workers on your project from having to make periodic runs off-site to take care of business. Don't be shy about designating a specific bath for them to use, however. You garage builders will appreciate knowing they have a space to use that you've both agreed on so they won't have to worry about any homeowner conflicts in that area.
Also, make certain a source of water is available for your contractor and crew to fill water bottles and clean off equipment when necessary. Finally, be sure there is access to electrical outlets and any other items or spaces your contractor will need to get the job done. Once you've provided for these necessities, your obligations are over. Construction workers don't expect any creature comforts, so don't feel you need to provide anything beyond the basics for them.
Keeping Open Communication with Your Garage Builders
Keep the lines of communication open with your garage contractor. Don't be afraid to bring up any concerns or problems you might have, whether they're about the job at hand or the presence of a work crew at your house, and encourage your contractor to do the same. It will make things easier for everyone involved. Just be sure to voice concerns in a respectful and understanding manner. Be sure to give compliments where they have been earned, as nobody will respond well if you only have bad news. Remember, your contractor and crew are people too and will appreciate being treated as such.
Talk to your contractor about upcoming phases of construction that might impact your day to day life so you can plan for them. It will allow you to protect furniture and flooring from increased traffic, move items out of the contractor's way so they can get the job done with less hassle, and you can anticipate days when important areas, such as kitchens or living rooms, might be places to avoid.
Let your contractor do their work without you looking over their shoulder. Remember, they are trained professionals and know what they're doing. Voicing your concerns is important, but so is trusting them to do the job right.
Final Considerations
Regardless of the nature of your garage home improvement project, declare the worksite off limits to children and pets. It will allow your garage contractor and crew to work without disruption, but more importantly it will ensure the safety of your kids and animals.
If you want to gain the loyalty and appreciation of your garage contractor and crew, surprise them every now and again by going the extra mile. Major construction is a tough job which requires taxing physical labor and working in all sorts of weather. The appearance of a homeowner with a jar of cold iced tea when the mercury soars, a pizza for lunch or a cooler of cold beverages at the end of a long day will not only make their day, but will encourage them to work extra hard for a homeowner who appreciates their efforts.
No Comments Yet