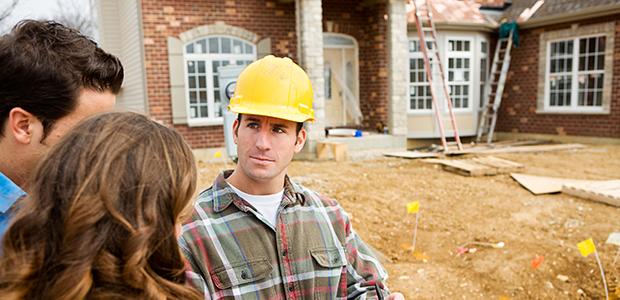 Having work done on your home can be one of the most satisfying experiences around. When things go well and you get exactly what you want, it's easy to be happy about it. Unfortunately, when it comes to very large projects like major remodels or home additions, there are simply so many variables that contractor disputes are more common than anyone likes to think. The good news is, dealing with contractors is not an impossible task. By following a few simple rules, you can avoid contractor disputes and end the project on a high note.
A lot of the work involved in avoiding contractor disputes is actually done before you hire someone for your project. Dealing with contractors is an art, and if you don't have the right tools to begin with (good communication, mutual respect, a common goal), it'll be like trying to paint a portrait with a rock instead of a brush.
Dealing with Contractors Tip #1: Interview Several Companies
Always, always, always meet with three or more contractors before beginning any project (especially a major one that is likely to last for months rather than days)! Meeting with multiple contractors will give you a better idea of fair project estimates, but it will also give you a very important chance to see who is willing to do the job the way you want it. Look for a contractor who asks questions and who responds quickly and clearly to the questions you ask. Avoid companies that seem too busy to deal with you and hear your thoughts on the project. If a company is difficult before the project even gets started, you can bet that they'll be difficult throughout the entire process!
Dealing with Contractors Tip #2: Check References
One of the best ways to judge how well a contractor performs is to check his or her references, which they should be happy to provide. Any contractor who is unwilling and/or unable to give you the contact information of a few satisfied customers probably doesn't have any! Talk to the previous clients and don't be afraid to ask questions; finding a good contractor isn't always easy, but clients who had a great experience are typically more than willing to give the contractor who provided that experience with a recommendation.
Dealing with Contractors Tip #3: Communicate During the Project
One of the biggest causes of contractor disputes is a lack of communication during the project which winds up leaving the homeowner less than satisfied with the results. Often, these miscommunications can be avoided all together by setting up a short daily meeting with a designated member of the crew performing the work where you can discuss progress and possible delays. This type of meeting keeps you in the loop of what progress is made each day and gives you a designated time to ask questions or voice concerns. Many projects where daily meetings ARE NOT a part of the process end up being successful anyway, but few projects where daily meetings ARE agreed upon wind up leaving either party dissatisfied at the end!
Dealing with Contractors Tip #4: Define How Contractor Disputes Are to Be Handled
Contractor disputes can sometimes occur even when dealing with a great company, and having a definite plan on how those disputes will be handled is a wonderful way to settle issues when and if they arise. Often, picking a neutral third party to hear each side of a contractor dispute is the key in keeping a less than successful project from becoming a litigation nightmare! In most cases, a good contractor will be happy to discuss how disputes should be settled before the project begins, as it will ensure that if a problem arises in his or her eyes, there will be an agreed upon way to handle the situation.
Dealing with Contractors Tip #5: Keep Up the Courtesy
We've heard many stories of contractors and clients becoming good friends after a formidable job is completed. This, however, doesn't (and won't) need to be the goal of every homeowner entering a large remodel or addition project! You certainly don't have to have the entire crew over for tea and cakes at the end of the day or be prepared with enough eggs and toast for everyone when the workday begins, but a cooler of water on a hot day, a few cups of coffee on an early morning, or even a compliment or two on the progress during the project goes a long way. Big remodeling projects are hard work for the crew and often a nuisance (before they are completed, of course) for the homeowner having to deal with noise, dust, and a ton of people milling around their home; having a few pleasantries and courtesies to extend during the process will keep spirits high, make the job site a more friendly place to be, and may even get the work done faster!
No Comments Yet