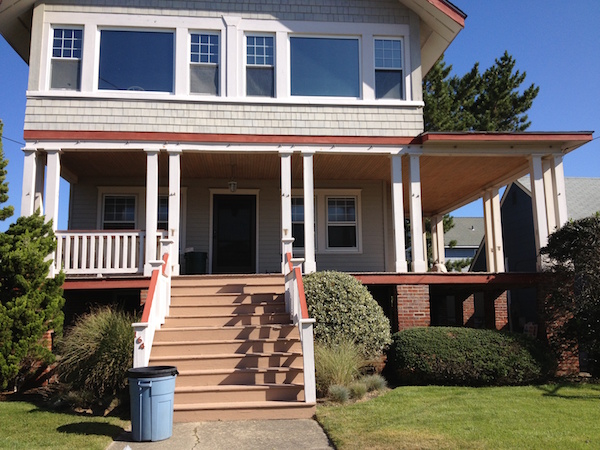 Wrap around porches are porches that "wrap around" the house, most commonly on two sides or around the entire home. Their popularity is easy to understand. Often associated with Southern or Caribbean architecture, these large, spacious home additions provide an inviting area to relax, put your feet up, socialize, and entertain. Furthermore, when they're built correctly, with function and design in mind, they add an air of tradition and elegance to any home.
More is Better
Why choose a wrap around porch? Because you'll have more porch to enjoy. This answer may seem overly simple, but considering both the tradition and evolution of the American porch over the last hundred years, it's clear why these porches are one of the most popular porch designs being built today.
The porch began its run in American architecture as a social place. This is an area to sit in your rocker, wave at passersby, and drink cold tea and lemonade with neighbors and loved ones. That's why the porch's initial location was at the front of the house. For better or worse, however, sometime in the mid 20th century America's porch priorities shifted from community to privacy, and the porch began its long journey to less conspicuous areas, primarily the backyard where a person could put up their feet, drink a cup of coffee and read a good book without being bothered.
Today's homeowners want the best of both worlds: a porch that offers the promise of both community and privacy. The wrap around porch fits the bill.
A Porch For the Entire Day
Another reason these porches are popular with homeowners is that they're comfortable at any time of the day. Most porch owners see the porch as a place to get out of the sun and enjoy some downtime in the shade. A front or back porch, depending on the direction it faces, often sits in the sun for a substantial portion of the day. With a wrap around porch, that is never the case. All you have to do is pick up shop, walk around the corner, and make yourself comfortable again, and you're back in business. If you go with a full wrap around design as opposed to two sides of the house, you also get the added benefit of being able to enjoy two other top considerations for habitual porch sitters: the sunset and the sunrise.
It's All in the Design
When you plan your new porch, there are several things you want to take into consideration to make sure it will be the perfect porch for your home. The first is where to place it. If your porch extends all the way around your home, this isn't an issue, but if you go with a two-sided design, you'll want to take into account things such as views, sunsets and privacy before you build.
Make sure you've got enough space to enjoy your porch. You'll want your porch to be at least 6 feet deep if you want to be comfortable in your rocker, and if you plan to set up a table and chairs for breakfasts or quiet evening meals you'll want to go even bigger, at least 8 to10 feet wide.
Ready to start your
wrap around porch

?Find Pros
Once you've decided on location and size, the rest is all up to your personal taste. Painting your porch an inviting color can create a pleasant mood and will protect it from the elements, and there's a whole slew of porch-specific building products such as specialty milled posts, columns, railings, and balustrades that will add character and beauty to the design.
Creature Comforts
Finally, think about adding some extras to make your porch even more inviting. Install electrical outlets for radios and laptops, lighting for summer nights, and even ceiling fans to make your porch enjoyable on even the hottest of days. And, of course, don't forget the hammock. No porch is complete without it.
Because there are so many things to think about when designing and building these structures, it's important to get in touch with an experienced contractor to help you plan and build your new porch. They will be able to advise you on everything from choosing a design to which materials to use, and their experience and building expertise will ensure that your new porch is built right so you can safely enjoy it for years to come.
1 Comments