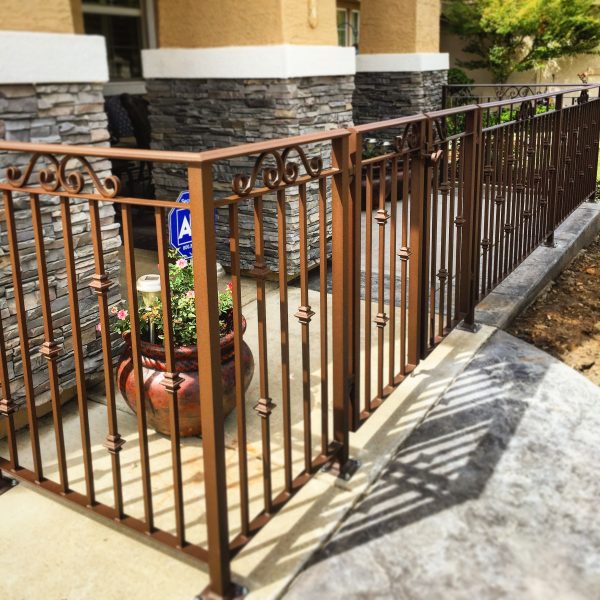 Wrought iron is some of the most durable and decorative material you can use for home improvement installations. It is, by nature, customized and hand-crafted. Naturally, this makes it expensive, but it also makes it an excellent choice to create a distinctive and ornate touch to your home. The most common wrought iron installation is fencing. Too often, though, the amount of required material makes this project too expensive for many homeowners, especially since decorative aluminum fencing has become widely available for your fencing installation. Other smaller projects can give your home the same austere feel to your home at a more manageable strain on your budget.
Door
A wrought iron doors are one of the best ways to create a distinctive design. A custom door like this can be trademarked for you so you know it's one of a kind. The design is tailored made to enhance the pre-existing architectural style of your home. They can be minutely-detailed or crafted with broad curving strokes or a simpler, vertically-lined pattern. Many homeowners choose to install their wrought iron door for their front entryway to maximize its visibility, but they can be a beautiful accent for either the exterior or interior of your home.
Railings
Wrought iron railings are the perfect installation to take advantage of its personality. Whether you want a railing for your deck, stairs, balcony, patio, or pool, a railing often needs to be customized for the dimensions of that area of the home. Your stairs are just like any other stairs without putting your own touch on it. These railings also work for the interior or exterior of your home. Sturdy and elegant at the same time, wrought iron makes for the perfect accent for any number of living spaces and decorating styles. The total wrought iron railing cost will vary based on the length of the perimeter you want to create.
Ready to start your
wrought iron project

?Find Pros
Chandelier
The wrought iron chandelier is great for the homeowner who likes the idea of one without the precious or dainty look of a crystal chandelier. Chandeliers are also one of the few installations, where choosing wrought iron is actually going to save you quite a bit of money. An aluminum fence is going to be significantly cheaper than iron. On the other hand, a quality crystal chandelier is likely to run you several thousand dollars, where a comparable-sized wrought iron chandelier may only cost a couple hundred dollars.
Regardless of your situation, chances are somewhere in your home is a place waiting to be complimented with a wrought iron installation. It's a classic, durable, and elegant material that is sure to add value to your home for years and years to come.
No Comments Yet