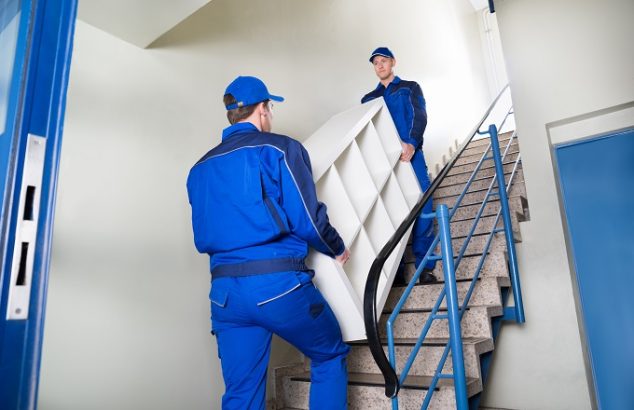 Updated September 2017
Professional movers are usually expected to help you move from one place to another. But another often ignored aspect of moving is the availability of in-house moving services to help you move or reorganize heavy items (especially furniture). It becomes quite tedious when you set out to drag and reposition furniture inside your house by yourself, and there's always a chance of hurting yourself or your furniture in the process. Professional in-home moving estimates are quite reasonable, making it a worthwhile investment for most homeowners as it ensures fast and effective moving.
The average cost for hiring 2 on-site movers is estimated to be around $200 for 2 hours.
On This Page
Cost Factors Involved in Lifting & Moving
Heavy furniture movers charge you for their services depending on the quantity and kind of items that need to be lifted and moved. Lifting & moving companies' prices are formulated based on the following factors.
Volume
The number of belongings that need to be lifted is the single most influential factor in deciding moving prices. The volume of furniture, electronic goods, or other heavier items to be moved is directly proportional to the rate of hiring a mover.
The cost for moving heavy items is directly influenced by the weight of your belongings.
| Volume in pounds | Cost |
| --- | --- |
| 250 | $200 |
| 400 | $275-$300 |
| 600 | $350-$370 |
Shape & Size
Another important parameter is the size of the item to be moved. There is no one-size-fits-all solution to decide the rate for moving household items. The heavier the item, the costlier the service will be. But not all moving services charge based on the size of the good. Also, bulky and oddly-shaped items make the task more challenging and as a result, the mover could request a higher rate.
Custom estimates are usually required in cases where oddly-shaped items are to be moved. This is due to the need for customized wrapping and packing materials, and more personnel assistance for the move.
Number Of Floors
Lifting heavy furniture from one floor to another is demanding as lifters will have to deal with staircases and often tight corners. This is applicable usually when the lifting and moving is to be done in multistoried homes or apartment-to-apartment moving within the same complex, or when you want to load your items into your truck for removal or disposal.
According to the expertise of the lifter, you should be ready to shell out about $70-$120 per hour to hire 2 lifters.
Special Lifting Equipment
Sometimes it becomes imperative that special lifting equipment is used. A professional will be able to inform you if the items will be too difficult to handle without this equipment, like in the case with some furniture. When the layout of the house is complex and if your belongings are extremely heavy, the necessity for these tools arises.
Usually, heavy furniture moving companies don't charge extra for lifting equipment, but it is always better to check with the contractor in advance.
Need to find a pro for your Furniture or Heavy Item Move?
Find Pros
Hiring In-Home Movers
Unlike the standard homeowner, professional movers are well-equipped to lift and move heavy equipment & furniture safely without inflicting damage to your belongings. These personnel are skilled & strong enough to lift and tactfully maneuver turns and stairs within the compact confines of your home, thereby ensuring that all your packed goods are transported with care.
New Furniture
If you have ordered new furniture, it makes sense to approach reliable moving services to let the experts take care of the new items. They can help move the item to the desired location in your home, arrange it, and dispose of old furniture if need be.
Home Renovations
While your home is being renovated, your large furniture may need to be moved to a different room or to a different floor to let the renovators deal with flooring, painting, or other aspects of the room. You might have to clear the room where work is being done and re-shift the furniture once the work is done. Room-to-room movers can be hired to help.
Rearranging Furniture
Often, homeowners are tired of their home's existing layout and are looking to shuffle things up a bit. In such cases, furniture could be rearranged in the same room or moved to a different one. Note that assembling furniture is a different service and is often not offered by in-home furniture movers.
Moving Up/Down Stairs
Trying to move heavy items up or down the stairs by yourself is not advisable. This is where experienced lifters and movers come in handy. Turning & pivoting while carrying heavy furniture can not only damage your furniture, but also put your physical well-being in danger.
Storage or Disposal
If you want to restructure your home and need some items to be moved to a temporary storage facility, professional in-home movers can be very helpful. Furniture removal cost is incurred on the number of items you want moved to a storage space.
Sometimes, you might want to get rid of an old furniture or sell it. In such scenarios, you could hire a mover to get your furniture out of your home. If you have to deal with stairs, then you should definitely consult a professional.
Home Staging
It is a known fact that staged homes sell well. During the staging process, you'll want to move furniture and heavy boxes to a different place within the home or garage.
Special Events
Throwing a party can be a lot of work. You'll have to clear out space to accommodate your guests. You can hire in-house movers to temporarily move furniture and other bulky items.
Apartment-to-Apartment Moving
In certain situations, people move to a different apartment within the same complex. If you are living on the 2nd floor and are shifting to a house in the 1st floor, a full service moving company is not a necessity. Alternatively, you could hire experienced on-site movers to do the heavy work for you.
Need to find a pro for your Furniture or Heavy Item Move?
Find Pros
Why Hire An Expert?
Smaller household items can be moved with the help of family and friends. But moving heavy furniture is a physically-demanding process. Homeowners need to finalize on the list of heavy equipment or furniture that need to be lifted and moved. Make sure that the furniture is properly packed for its own good. If the packing is difficult, don't hesitate to hire a professional packer. On most occasions, in-home movers make sure that your belongings are wrapped before moving to protect it from scratches.
Advantages
Safety of your furniture.
Minimized chance of physical injury
Less time required to complete the task
They can help you re-arrange multiple times until you get the perfect look.
---
16 Comments