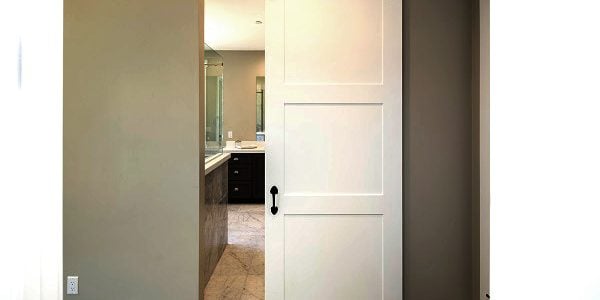 Interior barn doors are one of the hottest home trends, and it's easy to see why. They're functional, space saving, attractive, and add premium resale value to your home. In fact, a recent study conducted by Zillow Digs found that homes that listed "barn doors" in their description sold for 13% more than expected and 57 days faster. The cost of purchasing and installing these doors varies depending on material and size, making it an option for a wide range of budgets.
Major Benefits
Save space: Because they slide along a wall rather than swinging back and forth, they're an ideal design option for small spaces. In a tight room or hallway with traditional doors, replacing a bathroom door with a sliding door frees up limited floor space.
Versatility: Many homes have a layout that combines the kitchen, dining room, and living room into one large space. Sliding doors are a great option for temporarily dividing the space, essentially granting you a moving wall that allows you to be flexible. They can also be used for closets, pantries, bathrooms, and other places you want to hide while still being easily accessed.
Accessibility: They're easy-to-operate design makes them great for this. Sliding doors stay open, making them perfect for rooms that you walk in and out of with your hands full, like the laundry room. This also makes them a good choice for those with limited mobility. Wheelchair and walker users won't have the hassle of navigating around traditional swing doors.
Alternative Artwork: Custom home builders and remodelers have noted that the craftsman-meets-farmhouse design of interior barn doors are one of the most requested home additions. Customizing color, material, and size allows you to design the door as a focal point or a seamless addition to your home's aesthetic.
Worth the investment: While you might be paying a little more than you would for traditional doors, it is proven that homes with barn doors sell faster and for more money.
Material & Cost Ranges
A basic, sliding barn door with track hardware starts at around $300 and goes up to around $1,000. Costs vary widely depending on material, size, and installation.
If you opt for a standard size in a lightweight material like pine, vinyl, or a composite, prices begin around $200-$250.
For a style that is closer to the actual size and weight of an exterior barn door, prices range between $300 and $700.
Doors with glass inserts cost $500 on average.
Solid wood and custom-made doors will cost you about $750. However, if you use a particularly heavy wood such as walnut, mahogany, or maple, the price can increase to $1000.
Hardware
To slide open and closed, they have rollers at the top that attach to an aluminum track. The cost of the track depends on the weight and size of your door and is an important factor to keep in mind as you budget the cost of this project.
Doors weighing less than 125 lbs will only need one track at an average cost of $150.
Styles weighing more than 125 lbs, you will need multiple tracks. This could bring the cost up to $800.
If you opt for a double sliding style, you will need at least two tracks. This means that even if you go with a lightweight material, the track will cost you at least $300.
For decorative tracks and hardware, you can expect to pay more. Depending on the number of tracks needed, decorative hardware can run up to $2000.
Need to find a pro for your Barn Door Install?
Find Pros
Installation
The total barn door installation cost will vary depending on where you live and the size and weight of your door. On average, installation will take three or four hours.
Lightweight, standard-sized models typically cost $200-$300 to install.
Because they require more than one person, and additional labor and time to install, heavy and custom-made doors have a higher average installation cost of $500.
These interior doors are functional, easy to install, and provide serious resale value for your home. Get creative and make your doorway an artistic focal point, or add space-saving functionality. With a wide variety of options for a range of budgets, this is an interior trend that isn't disappearing anytime soon.
---
No Comments Yet
You can be the first to comment!