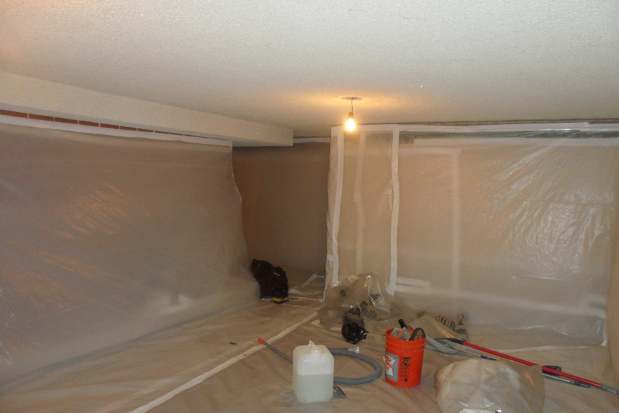 Warning – Hazardous Material! There's a number of reasons to remove asbestos containing materials from your home, but by far the most important reason is you and your family's health. This is nasty stuff and a proven cause of cancer and other lung problems. Basically, any time asbestos containing materials are disturbed (be it through sawing, drilling, cutting, or scraping), fibers are released into the air and from there accumulate in your lungs. Asbestos removal is a time-consuming and meticulous process. This basic overview of asbestos isn't nearly enough to prepare you for the insidious dangers the material presents as well as the complicated steps involved in its removal, but it's a start.
Identifying Asbestos Containing Materials
Asbestos can be found in acoustic ceiling tiles, insulation, drywall tape and compound, roofing, siding, flooring (especially linoleum and vinyl), textured paints and plaster, among other building materials. The good news is that, except in rare cases of unlawful construction work, asbestos is not found in materials installed before 1980 due to a ban from the EPA. Thus, each year, more and more remnants of the asbestos legacy are being removed from homes as the material is found. Unfortunately, some building materials last a long, long time and, so long as the asbestos remains locked within the material, homeowners are most likely to remain unaware of its existence. That said, before you tear down the walls of your bathroom, rip out your old roofing shingles, or pry off your siding panels, you (or, more likely, your contractor) need to make sure there isn't asbestos lingering underneath.
Asbestos Abatement: To Act or Not to Act?
Considering all this, the old adage holds true: "If it ain't broke, don't fix it." One of the best rules of thumb when it comes to asbestos is to leave it alone. If you haven't disturbed it, it's not likely to be a problem for you. Still, for many homeowners just the thought of living in a home awash in cancer causing agents is enough to make their skin crawl. You can also have your home tested for asbestos. The average cost is $451, with removal costs reaching in to the thousands, according to data collected from HomeAdvisor. If you want the asbestos out, talk to a professional removal company to evaluate its presence in your home and to perform the necessary removal. With all of the health concerns involved, as well as the safety precautions that must be taken, this is definitely a job better left to the experts.
Ready to start your
Asbestos Abatement

?Find Pros
Safe Removal
In most states, asbestos abatement is illegal without the proper licensing. As mad as this may make some homeowners, it's grounded in sound scientific evidence. Whether it's you or your contractor, here are some of the precautions that should be used during removal.
Wear a hazmat suit and a respirator approved for asbestos removal.
The entire area must be sealed from the rest of the home to prevent contamination. This includes sealing windows and doors, if you're working outside on roofing or siding.
Warning signs must be posted around the work site during the entire removal process.
The area must be treated with a wetting agent to keep dust to a minimum while the work is performed.
The material must be handled carefully. Don't drop, stack, or unduly disturb asbestos containing materials, as this may cause the fibers to be released into the air.
The material must be disposed according to local regulations, which means finding a landfill or other disposal site that is approved to handle the stuff.
Finding an Asbestos Removal Contractor
Having trouble finding or choosing a local asbestos removal (or abatement) contractor? HomeAdvisor can help. Each and every contractor in our system is put through a rigorous screening process. Our contractors have all the necessary licensing and experience to get the job done. Plus, our quality-controlled ratings and reviews will give the opportunity to see what other local homeowners have said about individual contractors or asbestos abatement in general.
1 Comments