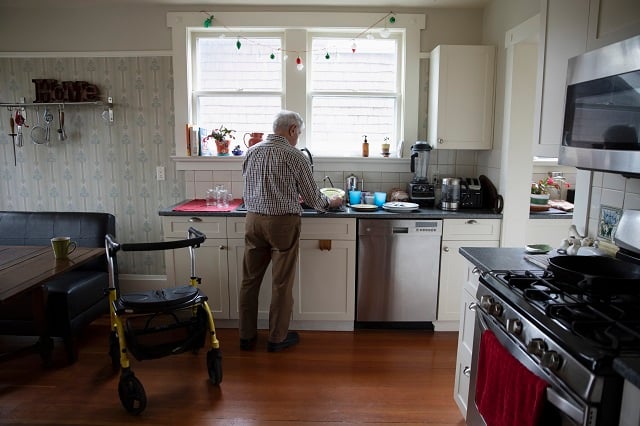 If you have an elderly loved one who lives alone, one of your main concerns is always their safety. After all, as we age, our bodies and minds get weaker, our coordination fades, and our reaction time slows. As a result, we're all more likely to sustain an injury at home in our old age.
Of course, there are things caregivers and family members like you can do to help reduce that probability. And it starts with ensuring their home is safe and structurally sound. From loose floorboards to cracks in the foundation, a home with structural issues creates a literal stumbling block for seniors who want to maintain their independence and age in place. Here are four steps you should take when inspecting your parents' home.
Step One: Do an assessment & restrict areas that need work.
Whether lifting heavy gravel bags to patch a driveway or using a step ladder to paint over a doorway, the physical dangers of DIY can be serious (and costly) for elderly bodies. And, if your mother or father is the kind of person to notice a shingle out of place, be vigilant about roof repairs to prevent them from climbing up there themselves.
In some cases, structural issues and minor repairs can be difficult to see. That's why it's important to do a regular inspection of your loved one's home, keeping an eye out for symptoms of structural damage in particular.
Walk around the interior and exterior of their home. Look out for the following warning signs:
Indoors
bowed or cracked walls
gaps where the wall meets the floor
cracks around door frames
popped nails
horizontal, stair-step, or vertical cracks in basement walls
uneven floors
bouncy or bowed floors
doors and windows that stick
cabinets that won't stay closed
ceiling leaks
Outdoors
stair-step cracks in brick or stone
deck, porch, or stairs pulling away from the home
gaps in windows and door frames
leaning or cracking chimney
saggy roof
dilapidated wood on decks or stairs
If you notice any of these issues, your next step will be to restrict access to that area of the home until you call a professional to take a closer look. If your loved one cannot remain in the home without accessing the spaces or elements in question, make arrangements for them to stay somewhere else until they are inspected and repaired, if necessary.
Step Two — Call a Professional
Unless you have the knowledge and experience to assess the structure of the property yourself, your next step will be to call a structural engineer to look into any problem areas you identified during your walk-through. Unlike a home inspector, who knows a little about a lot of different areas of your home, a structural engineer is trained specifically to evaluate the structural integrity of your home and identify the cause of the problem. In most cases, they can also prescribe the solution.
On top of handling immediate issues right away, you should have a home professionally inspected every five years. When done, your pro will let you know what areas of the home need further investigation, like potential termite damage, faulty electrical work, or a cracked foundation.
In many cases, regular inspections can help identify damage early on, before it threatens the integrity of your home. At an average of $315, the price of an inspection is well worth the peace of mind.
Step Three — Make the Necessary Repairs
Once you know which problems are cosmetic and which ones indicate serious damage, it's time to make the necessary repairs to keep your loved one safe. In most cases, structural repairs should be left to a professional to ensure that they are completed correctly and up to code.
Depending on the type and extent of damage, you may need to call a foundation specialist, hire a general contractor, or locate a termite mitigation company. If so, be sure to read reviews, compare quotes, and check references for any company you hire.
If paying for the repairs is a concern, there are a variety of local grants and government assistance options available for elderly homeowners, including:
Step Four — Repeat
Once repairs are complete and your loved one is back into their home, it's important to stay on top of regular maintenance and repairs and to reassess their property for damage every so often.
(Hint: pay special attention after storms or other extreme weather.)
Tasks like tree care, staining wood decks and making minor repairs can extend the life of the home's foundation and overall structure. Most importantly, it helps ensure the safety of the person you love who lives there.
It can be difficult to keep up with regular home maintenance and repairs—even for young homeowners. Remember that if you or your parent need a professional hand while you manage both your household and theirs, HomeAdvisor can help. You can find anything from a local home inspector to an all-around handyman near you. Let us find the best pros so you can focus on taking care of your family.
No Comments Yet