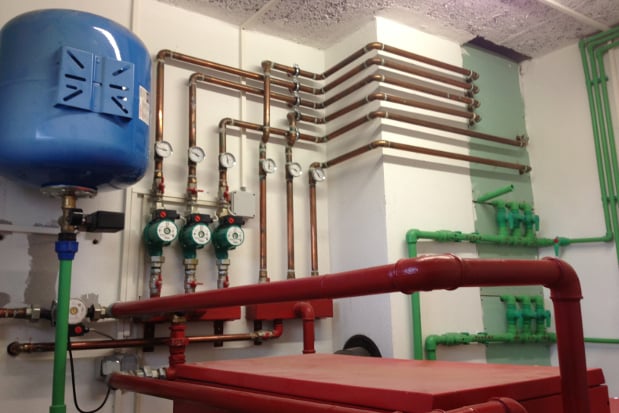 Boiler and radiator heating systems are already green in many respects, since they are one of the cleanest heating systems around when it comes to fostering good indoor air quality— a big plus in green remodeling circles. Nevertheless, your system can still benefit from going green, especially when it comes to reducing your home boiler heating costs and improving your home's energy efficiency. If that sounds like something you'd be interested in, read on for some expert advice on what you can do to turn your home heating system green.
Going Green
HomeAdvisor understands that it can be tough for homeowners to wade through all the "green" remodeling information out there. Here's a guide to greening your boiler or radiator heating systems.
The Cost
We'll get to specifics in a minute, but for starters let's address what's on most homeowners' minds when the subject of green remodeling comes up: cost. With home heating, plan to pay a little more up-front to install an energy-efficient unit or upgrade your current system. Once you get that initial expenditure out of the way, however, you'll enjoy a significant reduction in home energy costs for years to come. Considering that your home heating and cooling costs can easily account for more than 50 percent of your monthly utility bills, it's easy to see how this is one green investment that pays back in spades over the life of your new unit.
Calculate costs to install a new radiator using our True Cost Guide.
Ready to start your
boiler or radiator

?Find Pros
The True Value of Going Green with Home Heating
Of course, putting a dent in your monthly utility bills is only the tip of the iceberg. The real value of going green is far higher than any calculations involving dollars and cents. For example, since reducing your home energy consumption means that you'll be reducing the amount of greenhouse gases that are released into the air as a result, it's fair to say that greening your home heating system is as much about passing a better world onto your children and grandchildren as it is about you saving a buck or two on your utility bill.
Tips for Saving Green by Going Green with Boilers and Radiators
So just what can you do to start saving money and the environment when it comes to heating your home? Here's a list of ideas to get your gears turning, starting with suggestions for how to save green by going green with boilers and radiator heating systems.
Install a High-Efficiency Boiler—The energy efficiency of boilers and furnaces is measured by assigning each unit an AFUE (annual fuel utilization efficiency) rating. By installing a boiler with an AFUE rating of 90 or higher, you can cut your home heating costs by 30 percent or more overnight when replacing an older unit— and you'll reduce your home's annual carbon footprint by about 2.5 tons of carbon dioxide.
Install a Sealed Combustion Boiler—Sealed combustion units draw air from outside your home for combustion instead of using indoor air. Doing so eliminates backdrafting, which can release potentially deadly carbon monoxide into your indoor air, and since your boiler won't be using heated indoor air, you'll see a slight rise in energy efficiency, as well.
Install Zoned Hydronic Radiant Heating—Radiator heating systems, also referred to as radiant flooring heating, are a favorite of green remodelers because they don't dry out breathing passages, furniture, or other aspects of your home. Furthermore, radiant heating systems don't turn up dust and allergens like forced air systems. If you do install radiant heating, opt for a zoned system that allows you to heat specific areas of the house at different times, saving you 30 to 50 percent in energy costs over unzoned models.
Install a Geothermal Heat Pump—If you have a radiator heating system already installed, you might consider adding a geothermal heat pump. These systems pump water through a system of underground pipes to draw heat from the earth and then redistribute it throughout your home. Your energy savings will payoff your investment in three to five years, after which you'll enjoy one of the most environmentally friendly and energy-efficient heating in the industry – nearly free of charge.
Properly Size Your New Boiler—Purchasing a properly sized boiler is just as important as buying an energy-efficient one. In fact, you can kiss a good portion of your energy savings goodbye if your boiler is too big or too small, regardless of its AFUE rating.
Turn Down the Thermostat—The biggest savings aren't always found by spending big bucks. Turn your thermostat down from 70 to 65 during the winter months, and you'll save 10 percent on your monthly utility bill.
Install Radiant Floor Heating for a Greener and More Comfortable Home
Cutting costs isn't the only reason to go green. In fact, one of the greenest heating systems around is the perfect fit for a boiler heated home. A radiant floor heating system produces some of the most energy-efficient, comfortable, and even heat in the industry. And while they're easiest to install if you're undergoing new construction, it is possible to install radiant floor heating as a later remodeling project.
Which Shade of Green is Right for You?
While thinking green when it comes to home heating is a smart choice for your pocketbook, your home, and the environment, it's not unusual for homeowners to feel a little overwhelmed when presented with the full scope of green remodeling options. If you're feeling unsure about how green you're willing to go with your home heating system, there's no need to worry. Going green is not an all-or-nothing proposition, making any step you take in a green direction a smart one, whether you simply turn your thermostat down a few degrees, or invest in a high-efficiency boiler, zoned radiant heating system, and radiant floor heating.
If you do think green is the right choice for you, talk with your contractor about adopting a green remodeling philosophy, find a contractor who specializes in green building and remodeling, or seek out the services of a green consulting firm so that you can be sure your home heating system ends up as green as they come.
Ready to start your
boiler or radiator

?Find Pros
No Comments Yet