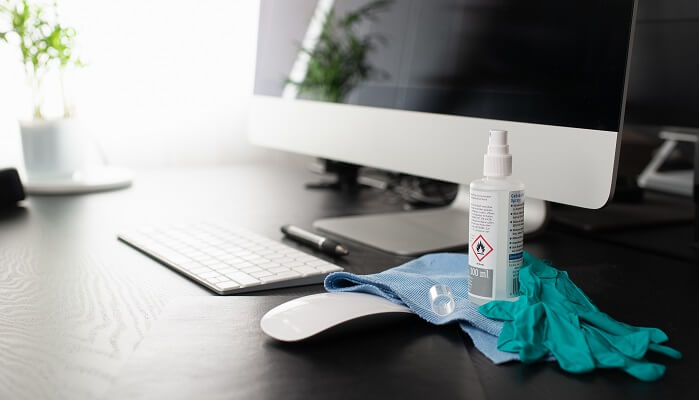 April 5, 2021
Reviewed by Asya Biddle, Cleaning Services Professional & Owner of The Dust Busters, Williamsport, PA
Written by HomeAdvisor.
How to Help Prevent COVID-19 Spread at Home
One of the most effective ways to help fight the spread of COVID-19, aside from social distancing and washing your hands, is cleaning and disinfecting frequently touched surfaces in your home on a daily basis, according to the Centers for Disease Control and Prevention. We've put together tips on how to clean, and a list of surfaces and items that you may use often enough to warrant a daily cleaning.
On This Page:
Routine Cleaning Tips
According to CDC guidelines for cleaning and disinfecting your home, it's important to use a two-step process for this project by first cleaning and then disinfecting surfaces.
Clean surfaces and items using soap or detergent and water. This will lift any impurities from the surface and remove germs.
Disinfect the clean surface with an EPA-registered disinfectant approved for use against COVID-19. Any bleach product is also an excellent disinfectant and has been shown to disinfect surfaces contaminated with COVID-19.
The CDC recommends wearing gloves during cleanings and using a fresh rag or towel. Dispose of gloves and launder rags between cleanings.
If you are unsure of your ability to disinfect effectively, especially after someone confirmed with the virus has been in contact with surfaces in our home, consider consulting a local deep cleaning service for help. Then read our guide on how to safety prepare when inviting a professional into your home.
Homemade Disinfectants
If you can't get hold of a brand-name disinfectant, the CDC says you can make an effective solution at home using either:
One-third cup of unexpired bleach per gallon of water
Alcohol solutions with at least 70% alcohol
Important note: Never mix household bleach with ammonia or any other cleanser.
Surfaces to Frequently Disinfect in the Home
Here is a list of surfaces you may come into frequent contact with throughout the day. Follow CDC guidelines to clean these areas daily, or as often as possible to prevent spreading germs.
Devices
Home phone
Cell phone
Laptop
Keyboard
Mouse
Headphones
Game console controllers
Buttons and switches
Chargers
The CDC says to consider using wipeable covers for electronics. If no manufacturer guidance is available, you may want to try alcohol-based wipes or a spray with at least 70% alcohol to disinfect touch screens. Be sure to completely dry electronic surfaces to avoid pooling liquids. Always follow manufacturer instructions for cleaning and disinfection products.
Appliances
Coffee machine and buttons
Blender
Microwave
Controls on laundry machine
Front of refrigerator
Inside of fridge and freezer
Buttons on dishwasher
Fixtures
Sinks
Faucets
Toilets
Toilet handles
Light switches
Lamp pulls
Shower
Window crank
Window blinds pull
Hard Surfaces
Kitchen counters
Bathroom countertops
Stove
Front of oven
Floors
Tabletops
Backs of chairs
Desks
Doorknobs
Cabinet handles
Drawer pulls
Inside drawers and cabinets
Shelves
Trash cans and lids
Soft Surfaces
Rugs
Drapes
Blankets
Furniture
Sheets and pillowcases
The CDC provides a list of EPA-approved cleaners for porous surfaces like fabric and carpet. You can also go to our guide for upholstery cleaning for additional tips. Be sure to check manufacturer instructions. If possible, launder items with the warmest appropriate water setting and dry them completely.
Additional Items to Consider
Salt and pepper shakers
Lighters
Toothbrush canisters
Hair and makeup brushes
Electric razors
Curling irons and hair dryers
Food and spice containers
Any other surface you interact with daily
No Comments Yet