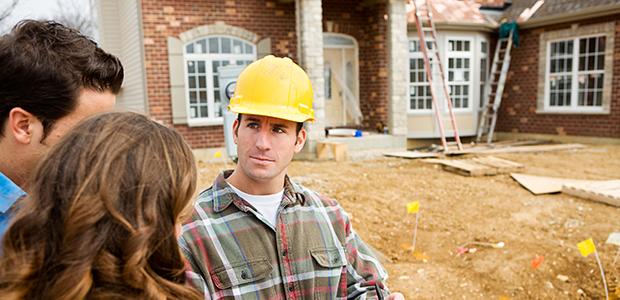 What are some common construction problems and how do I solve them?
The most common problems that homeowners experience on remodeling projects are cost overruns, missed deadlines, and results that don't match their expectations. And almost every time, such problems stem from miscommunication.
One of the best ways to avoid construction headaches is to get everything in writing. Chances are that you, as the homeowner, have not been through a major remodeling project. A good general contractor manages not only the process but your expectations. He will always have a paper trail, which includes project plans, specifications, a proposed schedule and a clearly defined change-order process. It's a good idea to date all documents so there's no confusion over which plans are the most current.
For projects three weeks or longer, an experienced general contractor will arrange weekly meetings with the homeowner to discuss progress and answer any questions. With this regular meeting, pressure never builds.
One common problem homeowners mention is that, while they may like a subcontractor's work, they don't care for the worker's attitude or interpersonal skills. If you do have a concern, do not confront the subcontractor; bring it to the general contractor. Remember, subcontractors work for the general contractor, not for you. Directly addressing these workers could alienate them and make matters even worse.
On the flip side, never underestimate the power of acknowledgement. Homeowners who view major home improvement projects as a partnership with the contractor will find the greatest success. For example, I oversaw one project where the homeowner would bring coffee and doughnuts to the lead carpenter. It was a simple way to say "thank you." In turn, that carpenter worked even harder. So, consider showing up unannounced with pizza and sodas. You'll be amazed at the goodwill that comes out of such a simple gesture.
Ready to start your
Construction Project

?Find Pros
Questions to Ask Your Contractor
The interview process for a contractor should occur in two parts.
Part One: The Preliminary Call
Have you completed a similar job?
Do you have a list of references?
When will you be able to start?
When could we meet in person to further discuss this?
Part Two: The First Face-to-Face Meeting
How long have you been in business?
What is your permanent business address?
What is your licensure and insurance status?
For longer projects, pose questions about crew supervision, weekly status meetings and the extent of the contractor's personal involvement.
Since 1985, David Lupberger has worked in residential remodeling with a focus on delivering the highest-quality service to his clients. His successes led to many speaking engagements as well as authoring a book and numerous articles.
What Are Some Hidden Remodeling Surprises to Think About?
It's impossible to anticipate every remodeling challenge, but you can avoid some common mistakes. Here are three remodel-delaying problems most homeowners face.
Forgetting About the Attachments
Most appliances and fixtures are attached to supply lines, drainage lines or ventilation shafts. Before you jump into a new kitchen design, be sure to include the necessary attachments in your new layout.
Missing Flooring
If your new cabinet and countertop layout doesn't match your original design, expect unfinished or missing flooring in your new kitchen. Avoid this project-delaying problem by including new flooring in your kitchen remodel. If a new kitchen floor is out of your price range, have a pro patch the damaged or missing portion.
Finding Hidden Problems
Digging into the interior of your home will almost always reveal unexpected problems. While tackling an extra chore during a remodel isn't ideal, it's important to the overall success of your project. Surprise issues are no problem for a good contractor. Hire a pro that can handle the technical and price-related aspects of additional repairs without compromising your remodel.
Every remodel comes with a surprise. Fortunately, with a little planning and a trusted pro, you'll have no problem converting your house into a magazine-quality home.
No Comments Yet