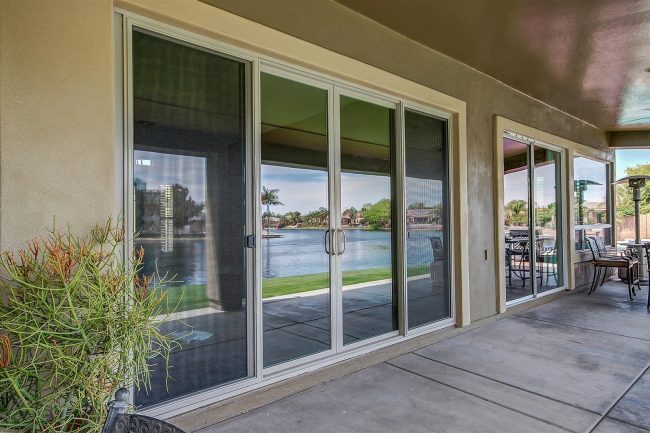 Replacing sliding glass doors is a home improvement project that comes up often, especially in older homes. Before energy efficiency became a priority, and before technology improved building materials, sliding glass doors were some of the most inefficient aspects of a home, bar none. In fact, an older sliding glass door that faced the wrong direction was almost like not having a barrier there at all. All that being said, replacing sliding glass doors can beautify your home and do wonders when it comes to improving your home's energy efficiency.
Your Replacement Options Are . . .
The thing about replacing sliding glass doors is that you're going to have to decide what to replace them with. Fortunately, there are a number of very attractive, and efficient, patio door options to choose from. However, don't be fooled into thinking that sliding glass door replacement is an easy process than any homeowner can tackle. Installing doors is tricky business, and you'll want a professional on your side.
French Doors—Double French doors are beautiful, and can be a wonderful addition when replacing sliding glass doors. There are a few drawbacks to a French door, however, the first of those has to do with space considerations. When you want to leave the doors open, they take up valuable living space, and they can also restrict areas where you might otherwise place furniture. Also, French doors do not generally have screens, which can be an issue if you like to leave your doors open to encourage air circulation in pleasant weather. The cost of french doors can vary depending on size and style.
Patio Doors—A great alternative to double French doors are center swing patio doors. They look exactly like two French doors sitting side by side, but one side is fixed and does not open. The other door swings open back against the fixed panel, saving valuable wall space. Not only do most brands of center swing doors come with a sliding screen, but they are also less expensive than double French doors when it comes to final cost.
Sliding Patio Doors—Finally, it might sound like a crazy suggestion if you're dead set on replacing sliding glass doors, but you may want to consider newer sliding glass doors, or sliding patio doors, for your door replacement. New sliding glass doors are made with the same energy efficient standards and options that are available with the most cutting edge windows, so that draft you're trying to get rid of will be a thing of the past. And if you like sliding doors, but don't like the cheaper appearance of sliding glass doors, think about replacing sliding glass doors with sliding patio doors, instead. Seems like a matter of semantics, but sliding patio doors, with wood frames, and all the craftsmanship and design possibilities of French and swinging doors, are some of the most beautiful, head turning door designs currently on the market.
Ready to start your
sliding door installation

?Find Pros
Talk to an Expert about Sliding Glass Door Replacement
If you're thinking about sliding glass door replacement and improving your home's energy efficiency, talk to a contractor about which door design is going to be best for your home design and personal needs.
16 Comments