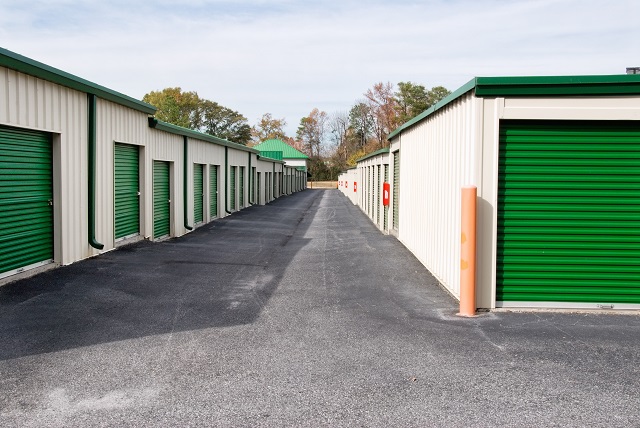 Storage units can be beneficial for a wide range of purposes. Whether you are cleaning out your attic and don't want to throw out memorabilia, or need a space for your RV between trips, you can probably benefit from affordable and convenient storage space.
The average storage unit costs $20 to $450 per month. For example, the cost to fill a 10×10 self storage unit will typically cost $80 to $160 per month. While the cost to store a car or RV can range anywhere between $45 and $450 per month, depending on the size. Climate controlled storage may cost an additional $50 per month.
Below are the various variables you should keep in mind. The exact price depends largely on your location and individual needs. From the type of storage you need to the size and purpose of your unit, you might be looking at very different price points.
Table of Contents:
How Much Does a Self Storage Unit Cost?
Self or mini storage is an independent storage solution in which you rent a unit that you can access at almost any time. The cost of self storage depends largely on two factors: the size you need, as well as your location. The average cost of a self storage unit can range from only $20 to as much as $450 per month. While renting a 5×5 storage unit in a rural area can cost you as little as $20 per month, a 10×30 unit in a large metropolitan area will run you closer to $300 per month.
How Much do Portable Storage Units Cost?
Increasingly, portable storage is becoming a convenient alternative for homeowners and businesses looking to keep their valuables without cluttering their homes or offices. As opposed to storage unit buildings, portable storage units can be placed on your property for easier access and greater convenience. The price to rent a portable unit for storage falls somewhere between $90 to $250 each month.
Portable storage units are typically containers, which either remain on your property or are hauled away to a storage facility until you need them again. You can also use portable storage to save costs when engaging in a long-distance move. Brands like PODS Storage, SMARTBOX, and Pack Rat Storage can all help you achieve your portable needs.
Like every other type of self storage, the rental cost of a storage container depends on size.
Average Costs to Rent Portable Units
Size of Unit
Cost to Rent (per mo.)
7-foot container
$90
12-foot container*
$110
16-foot container
$130 – $150
20-foot container
$170 – $250
*A 12 foot container will fit the average contents of a 1,200 square foot home.
In addition to the size of the container, your costs will also be impacted by the location in which you will keep the storage container, the length of time you anticipate renting it, and the distance it needs to be transported to get to your property. Keep in mind that the above prices do not necessarily include the cost to deliver the unit, which will cost you between $100 – $500.
Cost of a Storage Unit Based on Size
While the size of the unit makes only a small difference in portable storage options, the same is not necessarily true for self-storage units contained in external facilities. Here, the size you choose is the main influencing factor in the monthly price you end up paying.
Size of Unit
Monthly Price
Items You Can Store
5×5
$40 – $50
Drawers, file boxes, chairs
5×10
$35 – $60
Queen bed, dresser, TV
10×10
$80 – $160
Contents of 2 bedrooms
10×15
$100 – $200
Contents of 3 bedrooms, piano
10×20
$120 – $280
Contents of 2-3 bedroom house, car
5×5 units / small storage lockers
The smallest available self storage unit costs on average $40 to $50 per month. However, these prices can go as low as $20 monthly for some rural areas. Generally speaking, a 5×5 storage locker can fit a chest of drawers along with a few office file boxes, a chair, and a coat rack.
5×10 storage unit
The next size up typically adjusts upwards only slightly compared to 5×5 units. Prices range between $35 and $60 per month, depending on the area in which the unit is located. A 5×10 unit can fit the contents of a mid-sized bedroom, including a queen bed, dresser, TV, and several packing boxes.
10×10 storage unit
Able to store the contents of a one-bedroom apartment, a 10×10 unit will cost as little as $80 per month in rural areas. Renters in large metropolitan markets with a population size upwards of 1.5 million residents, on the other hand, can pay as much as $160 monthly. Choose this size for the contents of a family room or two bedrooms, as it's about half the size of a standard garage.
10×15 storage unit
The next standard size will cost between $100 and $200 per month, depending on your location. The contents of three full bedrooms can fit in this option comfortably, in addition to some larger items such as a piano or a couch.
10×20 storage unit
This is perhaps the most popular and standardized storage option available in most locations. A 10×20 storage unit will cost between $120 and $280 per month and can fit all furniture and appliances of a 2-3 bedroom residence. You can even store some full-size vehicles in a storage unit this size.
Calculating the quantity and volume of items you are looking to store matters in your storage unit selection process.
Extra Storage Features
It's important to note that all of the above price estimates are for basic storage options. For an additional charge, you can add a number of special storage features that increase the usability of your unit. The most common features renters ask about are climate control and the ability to store a car or RV.
Climate Controlled Storage Prices
For most vendors, adding climate control to your storage unit will raise your monthly price by $25 to $30 per month. However, be aware that the price difference can be more significant as the size of the unit increases. A climate-controlled 10 x 20 unit, for example, can cost up to $50 more per month compared to the regular alternative.
Controlling the climate and temperature within your storage unit can be immensely beneficial, depending on the items you plan on storing. A climate-controlled storage unit controls the inside temperature to stay below 90 degrees Fahrenheit in summer, and above 40 degrees in winter. In addition, it controls the humidity to stay below 65 percent, a crucial threshold for the preservation of a wide range of valuables like artwork, photographs, furniture, pianos and important documents.
Car & RV Storage Rates
Storing your vehicle can add additional considerations to your storage unit decision. For instance, you can find a number of dedicated car storage options, which range in price from $45 to $450 per month depending on whether you add climate control, the security of the unit, and the size of the vehicle you want to store.
Looking for dedicated vehicle storage becomes especially important for RVs, which tend to be too large to fit into traditional storage units. Fortunately, that dedicated storage exists in most urban, suburban, and even rural areas.
Other vehicles, on the other hand, may fit into the storage units above, particularly in sizes at and above 10×15 feet. When considering this self-storage option, be sure to check with the vendor you are considering to ensure that car storage is allowed, and what security measures exist to keep your vehicle safe.
Considering Potential Discounts
Depending on the storage unit and vendor you choose, you might be able to take advantage of some discounts that alleviate the monthly cost burden. Some companies, for instance, offer the first month of storage free for individuals looking to move or choosing self storage for the first time. Prices may also be lower depending on the season, and seniors may get a discounted rate compared to the general population.
Finding the Best Storage Solution For Your Needs
Ultimately, you will find a storage solution that fits your individual situation and needs. The key, then, is not only looking for vendors in your area but also making sure you know exactly what specifications are right for you.
With the above variables, you can more accurately determine which storage unit size, location, and type is right for your needs. With that information in hand, you can approach companies in your area who help to keep your belongings stored safely and securely.
No Comments Yet