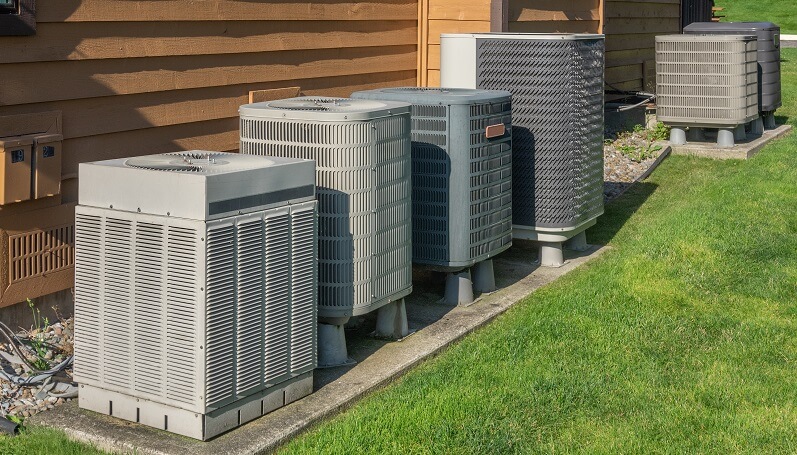 Home AC Condenser Repair & Replacement Cost
Repairing an air conditioner condenser costs an average of $150 to $1,000 or more. Replacing the entire coil runs $900 to $2,800. Labor alone makes up about half the fees. HVAC technicians charge anywhere from $50 to $150 per hour. Repairs typically involve replacing or fixing one or more parts that make up this complex component.
This guide covers the costs, repairs and other factors of a condenser coil. However, your HVAC system has several components, including a condenser, a compressor, an evaporator and an expansion valve. These each have their own prices, and we've created cost guides for heating and cooling projects including:
Below is an in-depth look at AC condensers and how to get them in shape.
Have questions about Condenser Coils?
Return to Top
AC Condenser Coil & AC System Explained
The AC condenser lives outside your home that plays an important role in heat transfer. It converts the refrigerant gasses into liquid form with the help of the compressor. The process cools the refrigerant, releasing all the heat it collected from inside the home. All an AC system parts work together seamlessly to make this complex machine function.
The compressor pressurizes the refrigerant into a gas, pushing it along the systems cooling loop.
The condenser converts it to a liquid. During this process it cools, giving up its stored heat.
The evaporator absorbs the heat from inside the house as the liquid "evaporates" into a gas in the evaporator coil.
It then moves back outside the home to the condenser to repeat the process.
A heat pump simply works in reverse. It takes heat from the exterior of the home and transfers it inside with the same process.
Have questions about Condenser Coils?
Return to Top
Residential AC Coil Replacement Costs
The average cost for an AC unit repair is about $200 to $600 per fix. Some homeowners spend as little as $100 for basic maintenance or a quick part swap, while others spend as much as $1,000 for more complex jobs and parts. Some jobs and parts, which we'll discuss in more detail in the following sections, include:
Coil: $400-$1,200
Motor: $350-$600
Control Circuit Board: $150-$400
Relay Switch or Capacitor: $150-$300
Blockage & Leaks: Recommend Total Replacement
Central Air Conditioning Condenser Coil Replacement Cost by Size
A coil replacement is one of the most significant AC condenser repairs. Not only is this a very expensive part, but some coils can also be hard to get, depending on the model.
| Size | Unit Price | Total* |
| --- | --- | --- |
| 1.5-2.0 ton | $500-$800 | $900-$1,500 |
| 2.5 ton | $600-$1,000 | $1,000-$2,200 |
| 3.0 ton | $700-$1,100 | $1,100-$2,300 |
| 3.5 ton | $750-$1,200 | $1,150-$2,400 |
| 4.0 ton | $800-$1,300 | $1,200-$2,500 |
| 5.0 ton | $1,000-$1,600 | $1,400-$2,800 |
AC Condenser Motor Repair
You can expect to pay at least $350 to $600 to replace a burned-out motor. You'll also need to replace the run capacitor for an extra $150 to $300. Because the condenser motor is a complicated and important part, it can be somewhat expensive to repair or reinstall. Also note that some motors are much more expensive than others. High-efficiency condensers might come with two-stage motors, which can be costly.
AC Evaporator Coil Replacement Costs
Replacing the evaporator coil costs $600 to $2,000 depending on the type, brand and how difficult it is to access. The evaporator does what the condenser does in reverse. It allows the liquid to evaporate into a gas and simultaneously collects heat.
AC Compressor Replacement Cost
AC compressor replacement costs $800 to $2,800. Because the condenser and the compressor sound similar, homeowners sometimes confuse these two components. They have very different functions, though. The compressor serves as the heart of the AC unit, pumping pressurized gaseous refrigerant to the unit's evaporator, located within the house.
Residential HVAC Condenser Unit Replacement Price by Brand
| Brand | Condenser Unit Price* |
| --- | --- |
| Goodman | $500-$2,500 |
| Trane | $700-$3,000 |
| Carrier | $500-$2,400 |
| Lennox | $800-$2,200 |
| Rheem / Ruud | $700-$2,500 |
*Does not include labor
Note: It's often cheaper to simply replace the entire condenser unit, coil, fan circuitry and all if the coil wears out.
Compare Quotes For AC Condensers
Return to Top
Air Conditioner Condenser Cost for Repairs
Repairing an AC condenser costs anywhere from $150 to $600 or more. It doesn't always mean replacing the entire coil. Sometimes parts fail or simply wear out. A fix might be as simple as a new circuit breaker or a thermostat.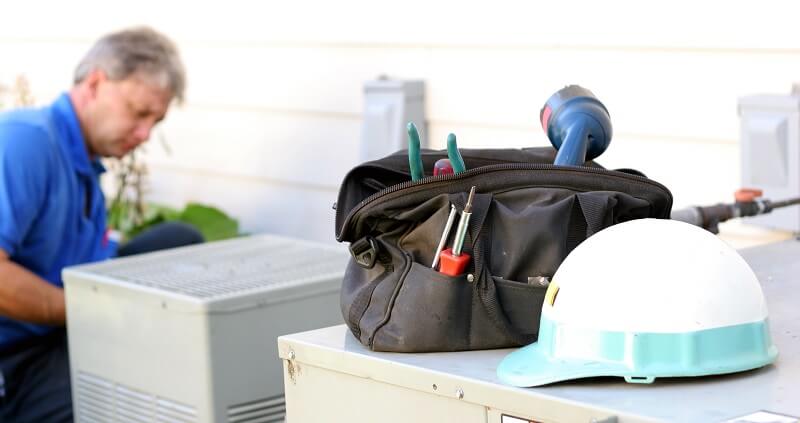 AC Condenser Price for Parts
| | | |
| --- | --- | --- |
| Part | Average Cost | Cost Range |
| Circuit breaker service | $100 | $50-$150 |
| Switches | $100 | $50-$150 |
| Yearly tune up & troubleshooting | $100 | $75-$200 |
| Condensate drain line flush | $125 | $50-$260 |
| Thermostat | $175 | $75-$300 |
| Condenser relay switch, fuses & circuit breaker | $175 | $175-$300 |
| Condensate pump | $175 | $100-$260 |
| Condensate unit fan motor | $200 | $125-$260 |
| Fan motor | $225 | $100-$350 |
| Refrigerant cost | $300 | $150-$450 |
| Condenser fan motor | $350 | $300-500 |
| Drain pan | $400 | $150-$600 |
| Power pack booster | $400 | $260-$525 |
Parts can run anywhere from $50 to $500 or more. You'll pay a minimum trip fee of $100, regardless of the repair.
Though the AC condenser is considered a single component, it's made up of several parts. The AC condenser's coil, motor, fans, tubes and circuit board can all fail individually or together. They can also fail suddenly or slowly over a long period.
Residential AC Condenser Coil Labor Cost
Replacing the coil also requires extensive labor. The condenser coil usually costs about $400 to $1,200 to replace. Most HVAC pros charge in the range of $50 to $150 per hour. Regional cost of living differences and the experience of the professional mean rates vary.
How to Replace AC Condenser Unit
Replacing an AC condenser unit costs anywhere from $1,000 to $3,000 or more. It's not a great job for a DIYer since you'll be messing with electrical and refrigerant lines. In most places, you need a license to handle freon. Also, check to make sure a repair of a single component within the unit can't fix the problem first.
If you're dead set on doing it yourself, follow these steps:
Disconnect the power supply. Cut the power at the breaker, then disconnect the electrical line from the unit.
Disconnect the coolant lines. Clamp and cut the lines.
Remove the entire unit. Remove the entire unit from the concrete pad.
Place the new unit in place. Make sure you have enough space around the new box and that electrical and refrigerant lines will reach.
Connect the refrigerant lines. This often means splicing the old lines with new ones. Make sure to check for leaks.
Connect the electrical lines. The old lines should reach the new unit if it's placed in the same location.
Turn the system on and test it. Make sure there are no leaks and that it cycles on and off correctly.
Compare Quotes For Repairs
Return to Top
Common AC Condenser Problems
Here are some of the most common problems you'll run into with an AC condenser and the solutions:
Dirty AC Components
If you notice that your AC unit isn't cooling your home like it should, first check the condenser's exterior condition to be sure it's reasonably clean. Because it lives outside, it gets dirty. It's common for grass, brush and other plant matter to grow around the unit, surrounding it and preventing proper air flow.
Solution: Clean and Repair.
Cost: DIY or $125-$175
Simply trim the grass or brush around the unit and continue to provide regular maintenance. If debris is on or around the condenser, clean the area and remove anything that's blocking or interfering with moving parts.
Condenser Coil Leak Repair
Leaks within faulty tubes and seals are common reasons for condenser failure. The component's tubes can rupture, get punctured or become brittle and break apart. The seals can wear and break down after extensive use. While these parts can fail as the result of an impact, they typically fail due to regular, ongoing wear.
Solution: Replace
Cost: $900-$2,800+
This might seem like a minor problem, but it's a major one. It's not possible to replace condenser tubes or seals, so when your condenser starts to leak, you'll need to replace the entire component.
Line & Radiator Blockage
Particles and debris can accumulate within the AC unit and lead to blockages, ultimately causing condenser failure. While some of this debris might be external, it's more often the result of metal particles that have flaked off the condenser itself. This essentially leads to the condenser self-destructing, and it's usually the result of age or poor maintenance.
Solution: Replace
Cost: $900-$2,800+
Unfortunately, depending on the damage, you'll also need to replace several other expensive parts, such as the ac compressor. Consider simply replacing the entire AC unit.
Bad Run Capacitor
The AC condenser's run capacitors energize the component's fan motors. A run capacitor that's gone bad will cause a jump but won't start the motor. Run capacitors can decline gradually or go out suddenly.
Solution: Replace
Cost: $150-$350
Once you've confirmed that the run capacitor is the cause of the problem, you can typically swap in a new part. Most of the cost comes from labor.
Bad Condenser Relay Switch
The condenser fan relay switch is the critical part of the condenser that switches the fan on and off when you turn the AC unit on and off. Without a functioning fan, the condenser and the larger AC unit won't work effectively.
Solution: Replace
Cost: $100-$300
This is also a simple repair and a relatively insignificant problem. Most of the price comes from the trip fee to your home.
Faulty Control Board
The condenser's control board is the circuit board that communicates between the various parts. When the control board is faulty, communication breaks down. Critical parts like the fan motor and the coil don't function or switch on or off like they should, which compromises the entire component.
Solution: Replace
Cost: $150-$650
Make sure that any new circuit board you introduce works well with the condenser's existing parts. Use the exact part if possible.
Damaged Coil
A damaged coil is one of the most severe problems an AC condenser can have. A variety of things, including debris, impact and corrosion, can damage a coil. Because this is such an integral part of the overall component, a damaged coil instantly compromises the entire AC unit.
Solution: Replace the entire unit
Cost: $1,000-$3,000+
If your condenser coil is out of warranty, it's best to consider just replacing the entire AC unit.
Burnt Motor
When the condenser's motor starts to go, it's often a gradual process. Instead of flaming out in a dramatic fashion, the fan motor will start to move more slowly, working much less effectively over time. Condenser motors typically fail as the result of stress and poor maintenance over a long period.
Solution: Replace
Cost: $300-$500
Swap it for an identical part if possible. Introducing different specifications into an AC unit usually causes problems. If the specs don't match, you might have to replace the entire unit.
Can't Identify Your AC Unit Issue?
Return to Top
When to Repair or Replace an AC Condenser Coil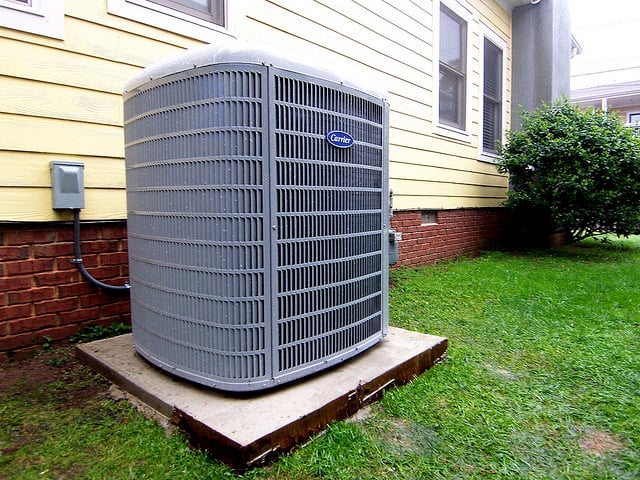 When you're determining whether to repair or replace your condenser, consider a few factors:
The systems age. Technological advances for AC units roll out every few years, so you might benefit from simply replacing the condenser or the entire unit if it's more than 10 to 15 years old.
Older r22 systems. R22 refrigerant is banned in the US as of 2020 and systems installed after 2010 only use the newer r410a refrigerant. You can't use r410a in an r22 system and upgrading means replacing the entire thing.
Other Solutions for an Efficient AC Unit
There's much more to an efficient and fully functional AC unit than just the condenser, compressor, evaporator or other primary components. You might notice that your home doesn't cool properly even when the AC unit runs smoothly. If this happens, consider other factors within the AC system.
Ductwork: If it's leaky, damaged or outdated, it'll compromise your AC unit's cooling capabilities.
Home Leaks: Typically found around foundations, windows and doors, a home leak means you're venting cooled (or heated) air outside. Get a home energy audit, seal your windows, or replace them completely.
Size Your AC Unit Correctly. If it's too small, then you're stress it and overuse it. However, oversized AC units tend to complete cooling cycles too quickly. This wears out the motor, and your condenser, quickly.
DIY or Hire an HVAC Professional Installer?
If you're a DIY enthusiast and familiar with the condenser's many parts, it might be worthwhile to take on basic cleaning as they arise. But consider the pros and cons of hiring a pro or doing it yourself before you begin. Because many condenser equipment failures require replacing parts or the complete unit, though, don't hesitate to call an HVAC technician near you.
No matter how extensive the work, make sure the AC contractor you hire offers:
A warranty for parts lasting 5-12 years.
A warranty on labor lasting at least one year.
AC Repairs You Can DIY
To keep your AC condenser running at top efficiency, perform routine and standard maintenance. Most AC condenser issues require professional help, but with a little know-how, the average homeowner can tackle basic condenser maintenance.
Clear debris: Clear plants and debris from the condenser fan area monthly.
Clean fan blades: Before you begin, switch off the power to your AC unit to avoid damage or injury. Gently clean the fan blades by vacuuming them with a soft brush, taking care not to bend or damage the blades.
Check fan blades: Examine the fan to make sure the blades don't strike anything.
Lubricate the motor: Do this once a year to make sure the motor runs smoothly. Use electric motor oil.
Test the condenser: Check by switching the power on and setting it to run. Watch for leaks or other signs of a problem. Call a professional if you detect any issues.
Need Help With Your AC Unit Condenser?
Return to Top
FAQs
What Is an AC Condenser Coil?
The AC condenser, a metal coil located outside your home, converts refrigerant gas into liquid form. As the gas cools to a liquid, it releases heat outside. To help, a high-powered fan passes air over a condensing coil. Once cooled, the liquid refrigerant moves, with the help of the compressor, through the AC system to collect heat from inside.
How Long Do AC Coils Last?
The AC coils should last the life of your system, or anywhere from 10 to 20 years.
What Can Cause A Condenser Coil to Leak?
Leaks within faulty tubes and seals are common reasons for condenser failure. The component's tubes can rupture, get punctured, or become brittle and break apart. The seals can wear and break down after heavy use. While these parts can fail as the result of an impact, they typically fail due to regular, ongoing wear.
Do Home Warranties Cover AC Coils?
Home warranties often cover AC coils but not always the labor you need to replace them. Check your insurance before hiring a professional.
How Do You Clean an AC Coil, And How Much Does A Cleaning Cost?
It'll cost you $125 to $175 to have a professional clean your AC coils. Basic AC maintenance and cleaning follows these steps:
Clear any debris and plant growth.
Use a garden hose and soft brush or broom to clear dirt from the radiator. Do not bend the radiator fins. Do not use a pressure washer.
Hire an AC Repair Professional Near You
Return to Top
17 Comments