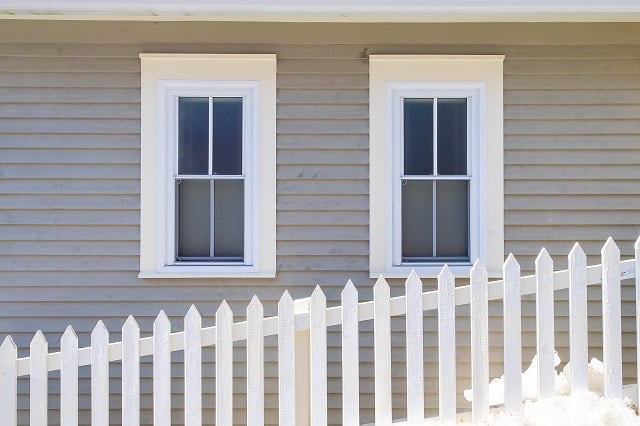 When looking for the best type of replacement windows, you should consider shopping for the best double hung windows. They offer a classic look, and both the lower and upper sashes are operable. Their designs allow for a seamless airflow to improve the air quality of your home.
Double-hung windows offer easy exterior cleaning from the inside. Here are the best types of replacement double-hung windows.
On This Page:
| Material | Cost | Advantages |
| --- | --- | --- |
| Vinyl | $125 – $1,750 | Inexpensive option |
| Aluminum | $300 – 1,200 | Durable and tough |
| Wood | $240 – $1,150 | Aesthetically appealing |
| Fiberglass | $180 – $1,050 | Weather-resistant |
1. Vinyl Double-Hung Windows
Vinyl windows are the most affordable if you want a cheaper window replacement option. They're also popular b they're gradually replacing aluminum options. They don't need staining or painting. The best vinyl double-hung windows are usually white, so it's wise to coordinate the color with your exterior paint. However, they have fewer hardware options.
Pros
Cons
· Least expensive options
· Painting isn't necessary
· Easily available
· Weaker structure than other materials
· Can't be painted
· Limited color options
2. Aluminum Double-Hung Windows
If you're looking for the best double hung windows for new construction, aluminum makes a great option. It's easy to maintain and long-lasting. Aluminum frames also offer a slim profile to your windows. Some options come with thermal breaks to ensure a higher level of insulation.
Pros
Cons
· Sleek and modern design
· Durable in a stormy area
· Quiet performance
· Not energy-efficient unless enhanced with thermal breaks
· Not very affordable
· Can rust
Ready to start your
Window Replacement

?Find Pros
3. Wooden Double-Hung Windows
Wooden windows cost more. Since wood is usually affected by climatic conditions, you'll find wooden frames covered in vinyl or aluminum. This helps to reduce maintenance because you'll not need to paint the frames.
Pros
Cons
· They're aesthetically pleasing
· Offer great insulation
· Maintain your home's value
· Slightly more expensive
· Requires more maintenance than aluminum and vinyl
4. Fiberglass Double-Hung Windows
Fiberglass material is weather-resistant and tough to withstand extreme heat and subzero temperatures. It's an ideal option if you want to keep your double-hung windows maintenance-free. Fiberglass windows have an outstanding level of energy-efficiency, and they can be fabricated to resemble wood.
Pros
Cons
· Sturdy construction
· Available in different color options
· Textured options available
· Costly option
· Needs professional installation
FAQs
What's the best material for double-hung windows?
Wooden windows are great if you want an aesthetically appealing option. They're also great insulators, but the only problem is that they're susceptible to wear. Vinyl is cheap and offers superior insulation qualities, while aluminum is durable and tough.
Your best choice will depend on the qualities you want, the budget, and your location. The bottom line is that most of the materials are great.
What's the replacement cost of double-hung windows?
The cost of the standard double-hung windows ranges from $150 to $650. The exact cost depends on your location and the material you want. Fiberglass windows are the most expensive, followed by wooden ones.
Other factors that affect the price are energy-efficiency and the size of the window. If you'll replace your entire home's windows, be sure to have a budget range of about $2,000 to $10,000, depending on your home's size.
What's the ideal size for replacement windows?
You'll need to measure the sill space to determine the right replacement window for your home. Measure from the front trim to the back trim to get the sill space. This space should have a minimum measurement of 3¼ inches for your replacement windows to fit.
Ready to start your
Window Replacement

?Find Pros
No Comments Yet