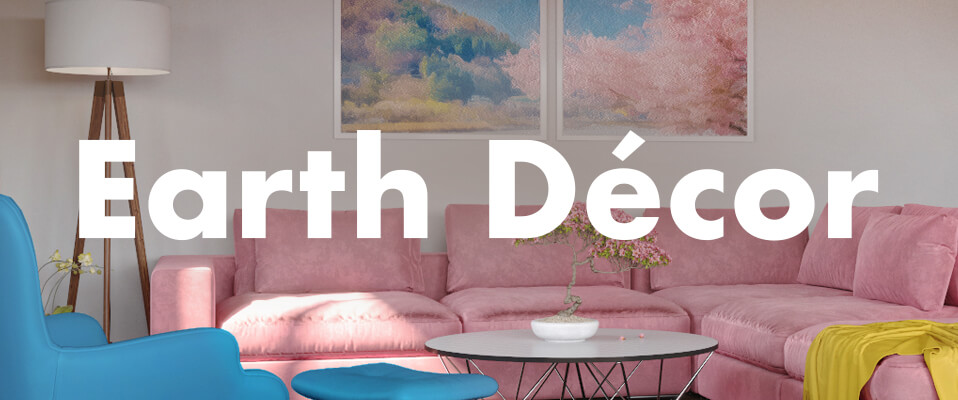 Nature doesn't censor its ideas. While homeowners pore over magazines looking for a tasteful color palette for their living room, the natural world is outdoors just yelling the colors it conjures up, well, naturally.
The wild color schemes you've witnessed in landscapes like Mount Fuji, the Grand Canyon, or the Serengeti might not be the most obvious choices for the sophisticated urban home designer. But natural palettes are the very definition of original. And while they change – imperceptibly – all the time, these color arrangements have become iconic. Why not borrow one for your next decorating project?
To prove our thesis, we have identified the color schemes of six areas of outstanding natural beauty around the world and used these palettes to digitally re-decorate an imaginary living room. Where will your home décor project take you next?
1. Grand Canyon (Arizona, USA)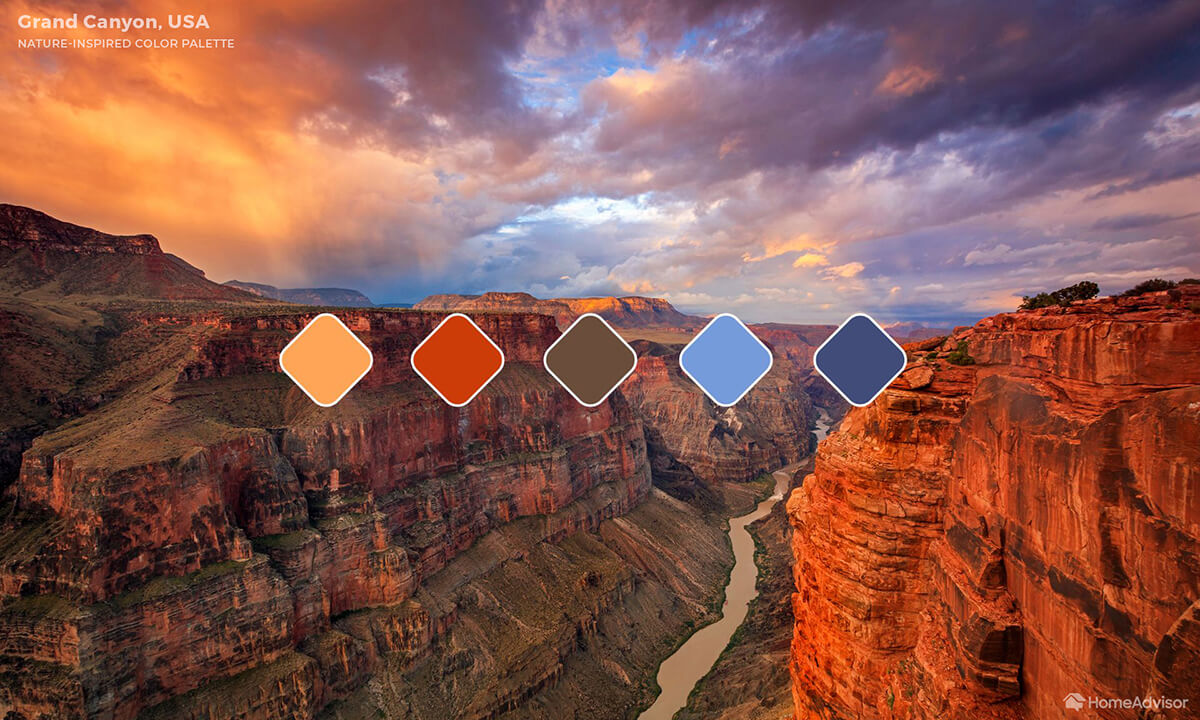 At a casual glance, the colors of the Grand Canyon are minimal: the ruddy yellows of the rock and the piercing blue of the sky. But between these shades exists an infinity of gradations, tinted shadows, shifting light, and varying saturation. In a word: drama.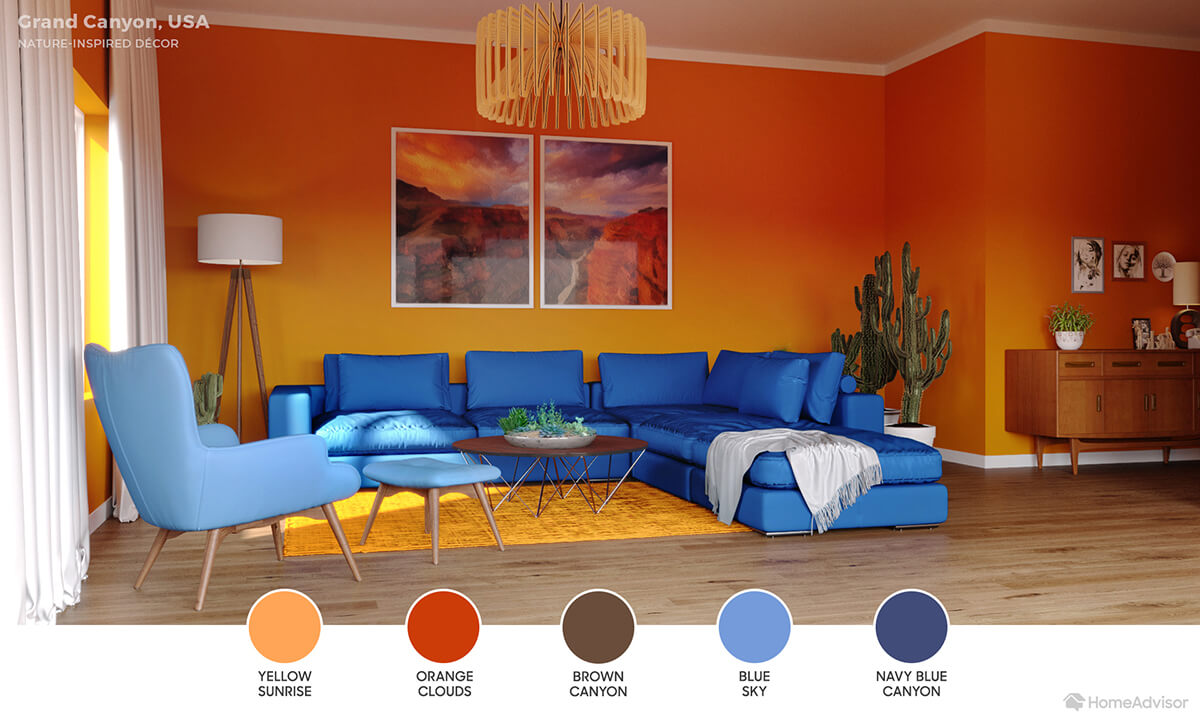 This invigorating sense of color could dominate a room, and it's true that our Grand Canyon lounge is not for the quietly reclusive. The warm, saturated orange walls are designed to invite guests in, while the cooler blue suite offers a refuge from the inferno. Notice, too, how we've complemented this baking-hot color scheme with houseplants to match – as we have with the other living rooms in our series.
For a lick of that Arizona heat, use Behr – Melon (270B-5) or Sherwin-Williams – Osage Orange (6890) paint for your walls.
2. Great Barrier Reef (Australia)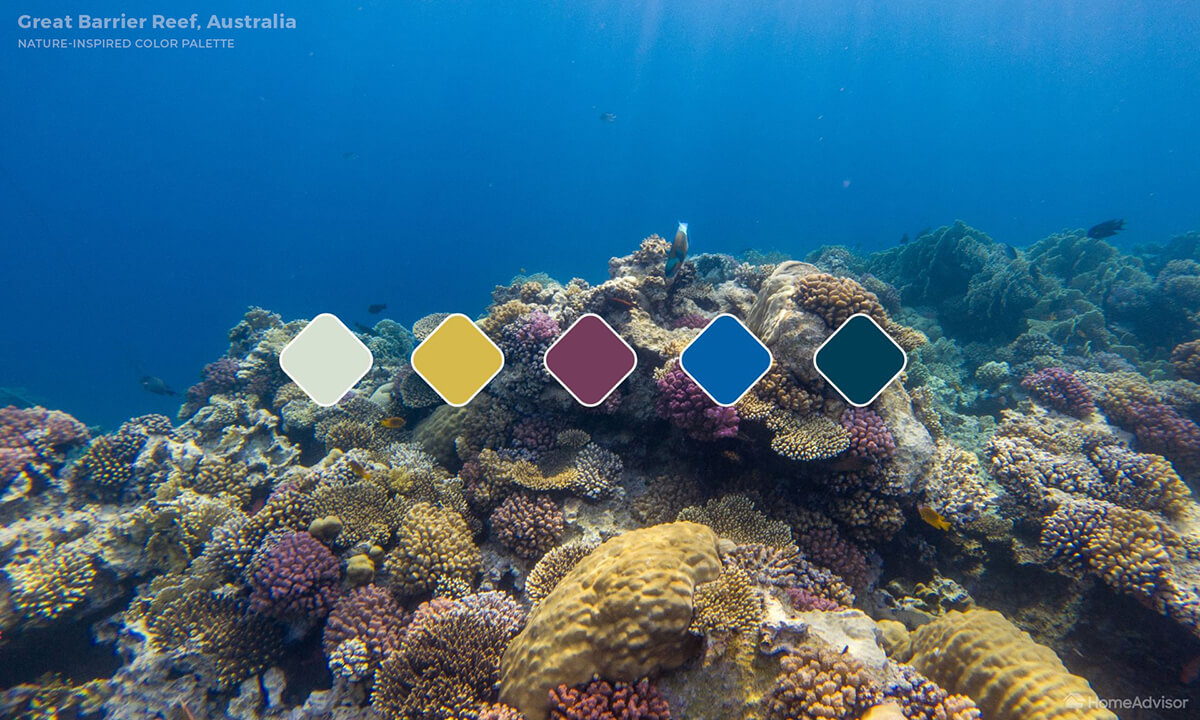 The world's largest coral reef has become a byword for color. Over 400 species of coral form the reef (to say nothing of the colorful abundance of fish, mollusks, and birds). Their coloring plays an essential role in survival. For example, colors such as pink, blue, and purple protect coral against high levels of UV rays. Because the color actually comes from beneficial organisms that live within the coral, faded colors are a sign of ill health. In other words, go bright for a healthy look.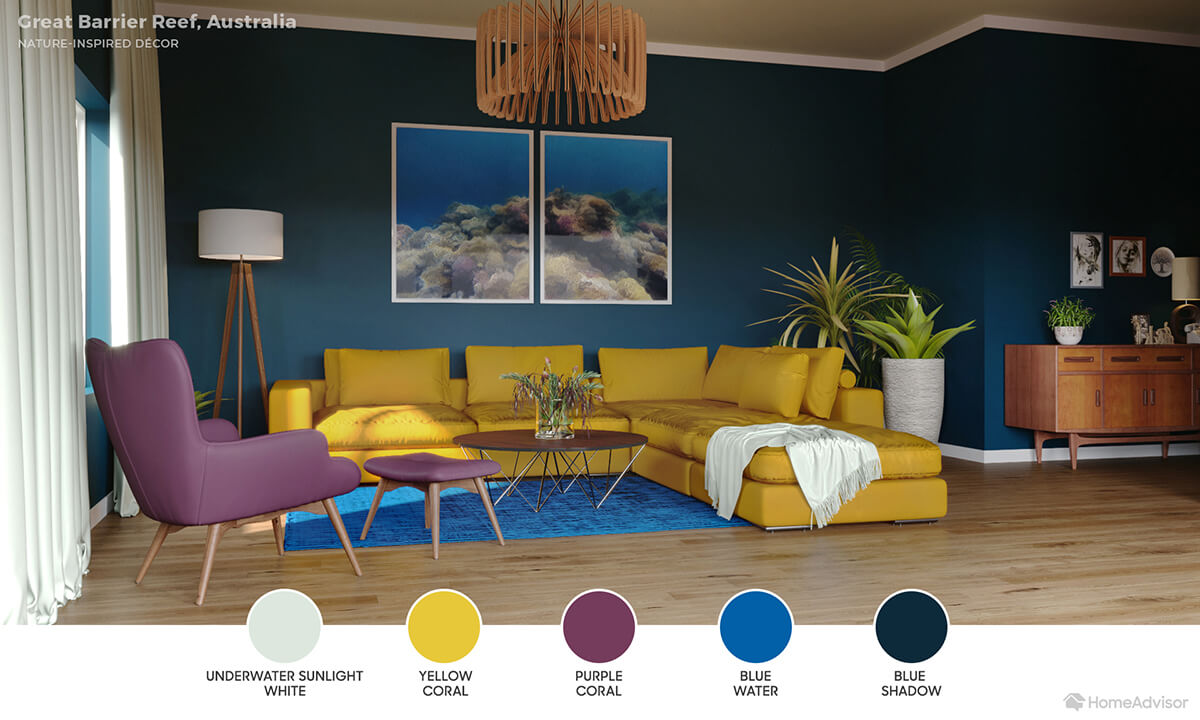 We chose some of the Great Barrier Reef's most iconic colors for our living room palette. The deep cyan walls evoke the sub-aquatic life. Just as you imagine the light shimmering and changing underwater, dark walls like this can actually maximize the dramatic effect of natural light in a room. The gold sofa and bright rug create a natural spotlight so that the room remains both bright and mysterious.
Want to get the look? Try a drop of Little Greene – Hicks' Blue or Colortrend – Inkwell on your walls.
3. Yellowstone Caldera (Wyoming, USA)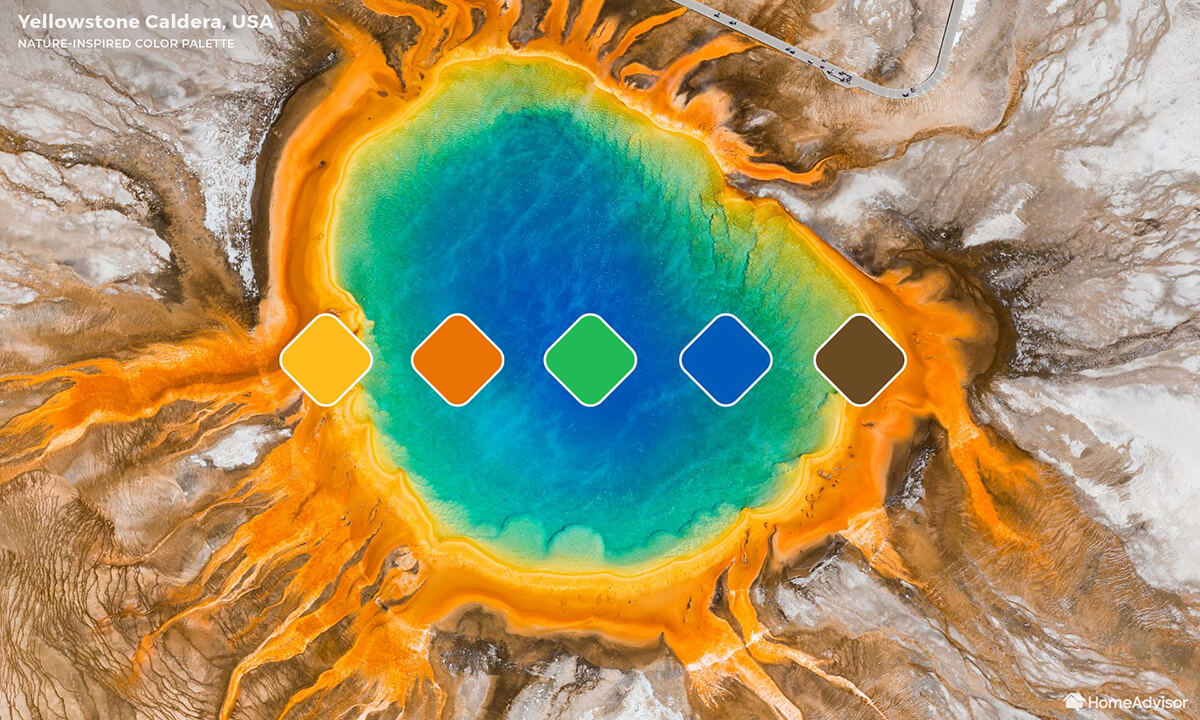 If you assume you know what colors you're getting with 'Yellow'-stone, you've never seen an aerial shot of the caldera – the 'cauldron' left in the mountain by volcanic super-eruptions. Billions of microscopic creatures live in the blistering spring waters of the cauldron, and these different microbes thrive in different circumstances – conjuring different hues as a response to their environment. Pretty!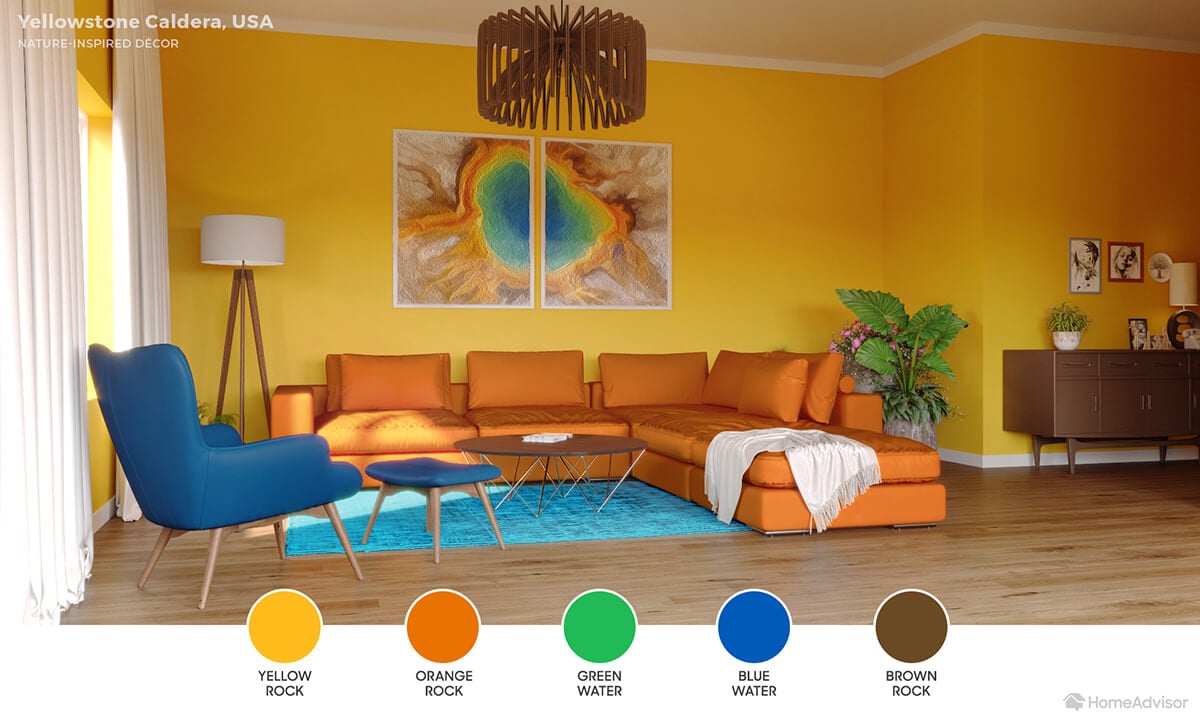 You don't need to be a microbiologist to harness the chromatic wonder of the Yellowstone Caldera. Like our Mount Fuji room, the Yellowstone lounge illustrates how to tame wild colors with the calming influence of a pale wall. The blues of the armchair and rug combine to 'zone' the living room, while that fabulous rubber plant echoes the overall exuberance of the space.
For that Yellowstone shade of yellow, use Behr – Laser Lemon (P290-7) or Dulux – 23YY (62/816)
4. Mount Fuji (Honshu Island, Japan)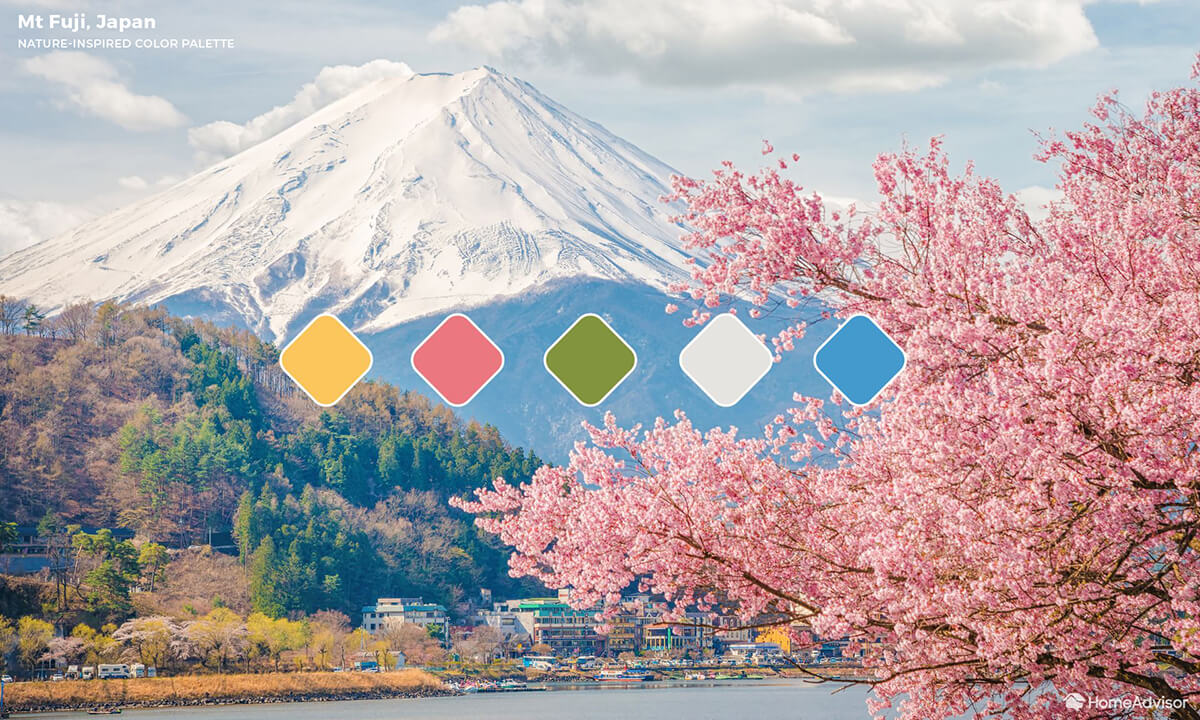 Japan's highest mountain is a dormant volcano and an object of worship and contemplation for the Japanese people. These include the ukiyo-e artist Hokusai, whose famous 19th-century print series, Thirty-six Views of Mount Fuji, continues to grace many walls today as a popular painting reproduction. Fuji's colors remain iconic even as they are celebrated for their mutability – their ever-changing quality as the seasons and blossoms come and go.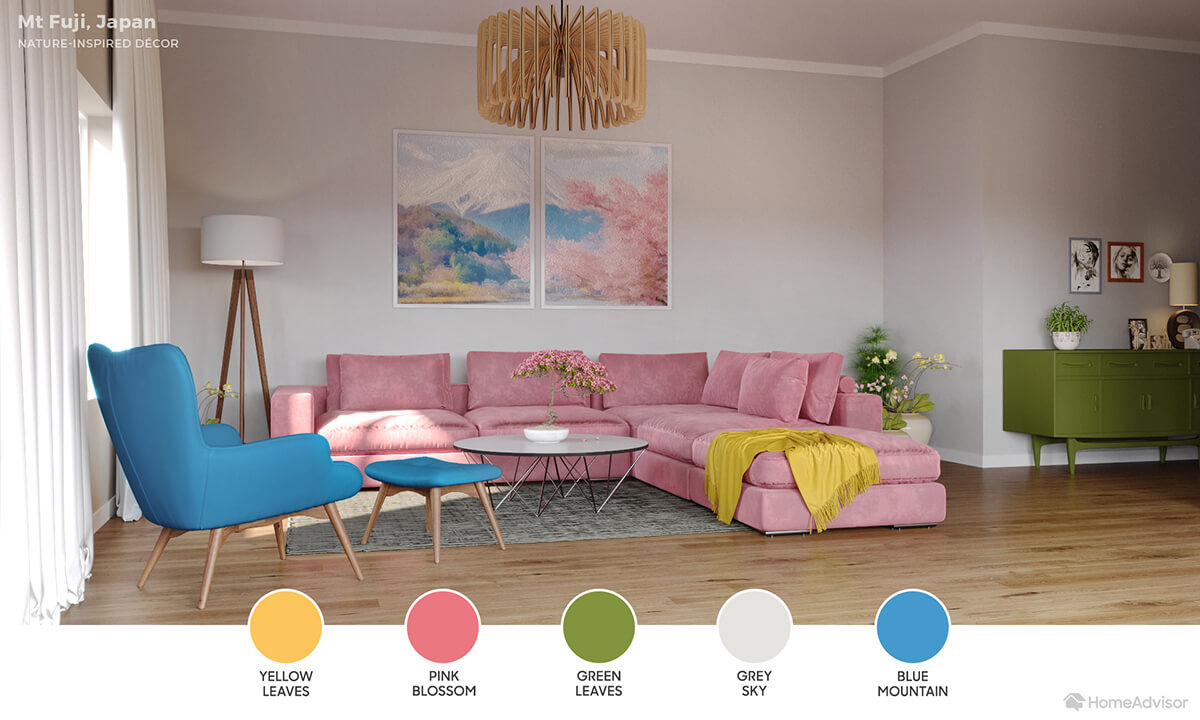 Those blossoms form the focal point of our Mount Fuji living room. The blossom-pink suite is a bold statement, tempered by the delicate highlights of the mountain-blue curtains and forest-hued sideboard. The snow-white walls allow these captivating colors to thrive without overwhelming. This is a room for quieting overactive minds.
To get that Mount Fuji feeling, paint your walls in Kelly-Moore – Shaded White (KM-103) or Dutch Boy – Point Pleasant.
5. Banff National Park (Alberta, Canada)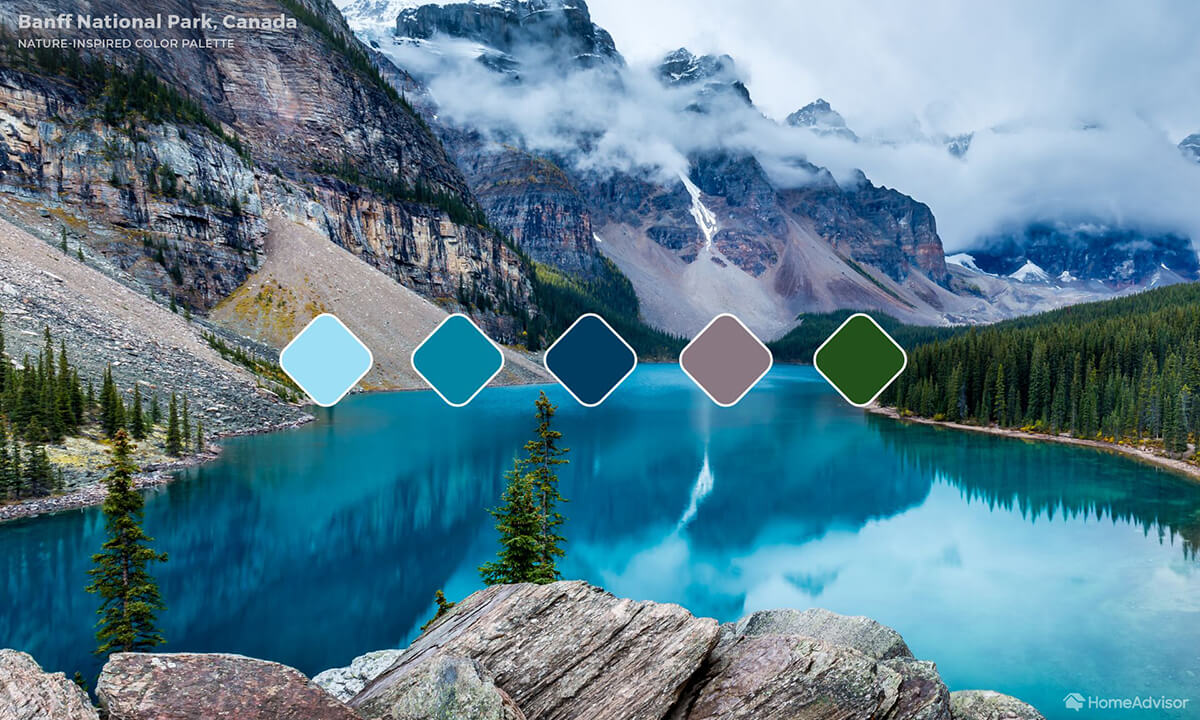 The shocking gold of Banff's fall look is well-celebrated, but we decided to sample the park in wintertime. Sometimes the simplest way to find harmony in your space is to keep to an area of the color wheel that you find touches you the most. Banff National Park is cool and epic when the sun is low.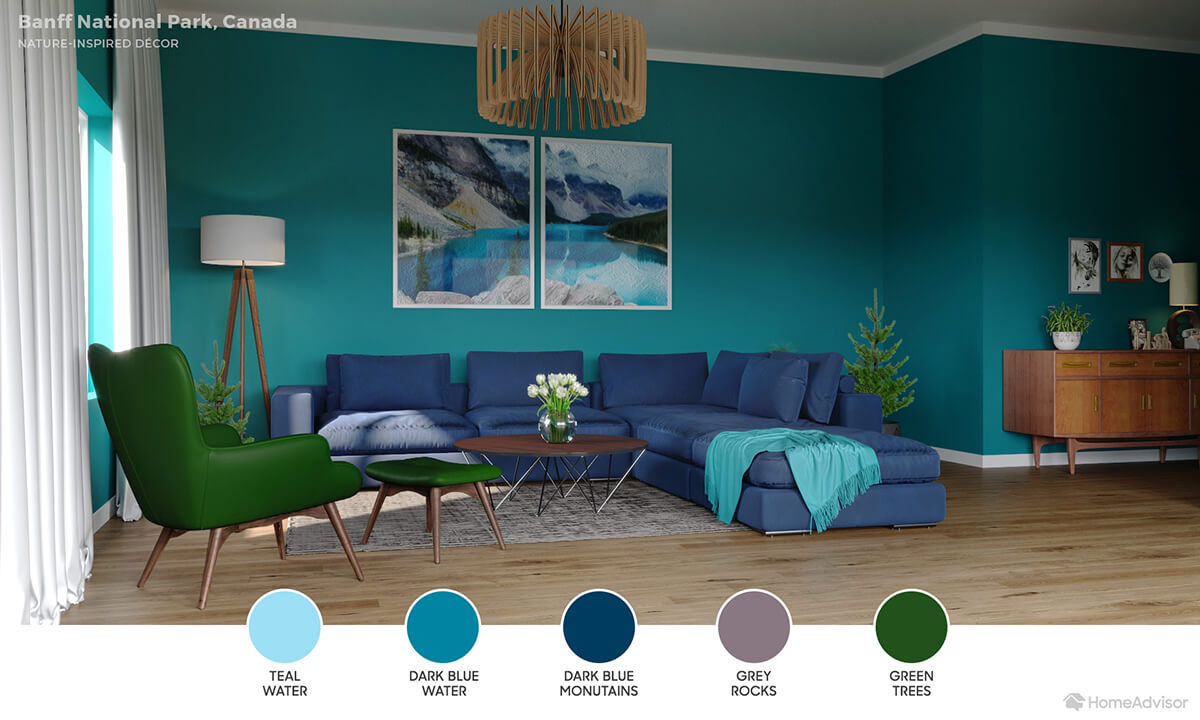 With quieter shades and a reigned-in range, you can afford to splash out on the walls. We borrowed this shade of teal from the waters of Banff National Park's glacial lakes, and it's a cold lake swim for the soul. As a final note, check back through our images above to see how we've brought together sometimes disparate palettes with a single piece of art on the walls. Stray colors make a lot more sense when given an anchoring context.
Looking for Banff blue paint for your walls? Try Sherwin-Williams – Blue Mosque (6789) or Pratt & Lambert – Nanking Blue (23-10).
6. Serengeti National Park (Northern Tanzania)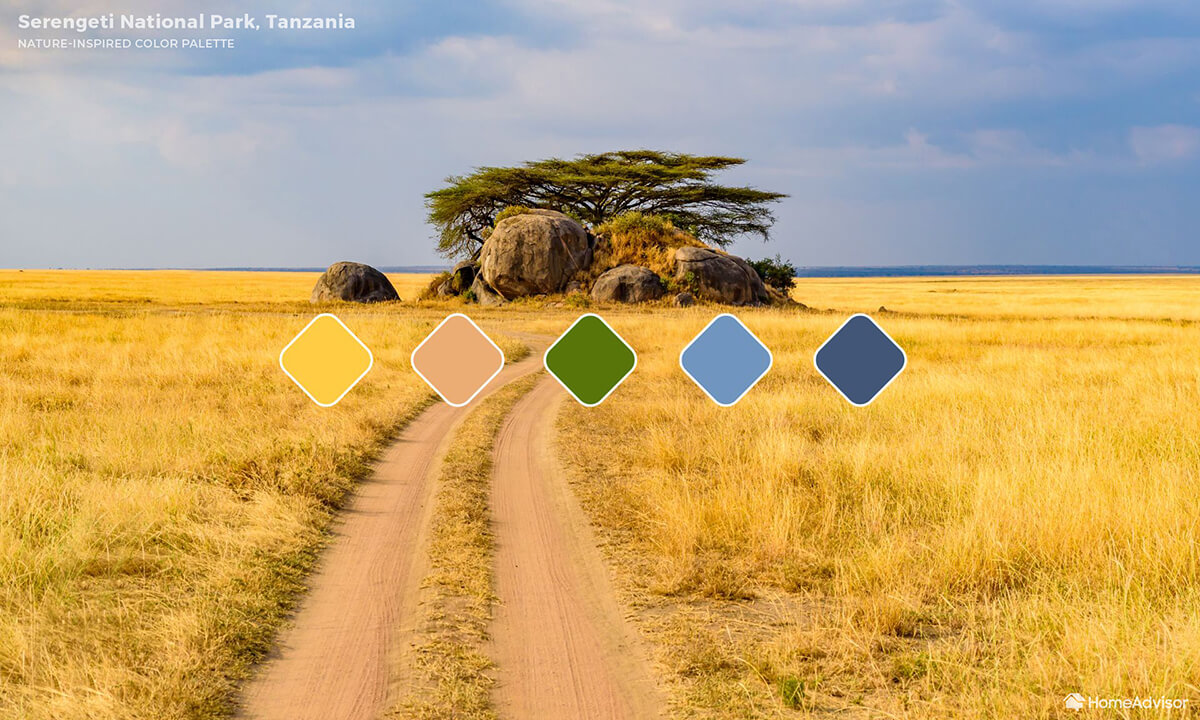 "The great migrating herds of wildebeests and zebras are probably the single most impressive sight," wrote Richard Leakey of his childhood explorations of the Serengeti. "Although the endless plains, fantastic clouds, and kaleidoscope of natural colors are pretty hard to best." From its signature golden sunsets to its rainbow of grass hues, the Serengeti palette is a bold and pungent world wonder.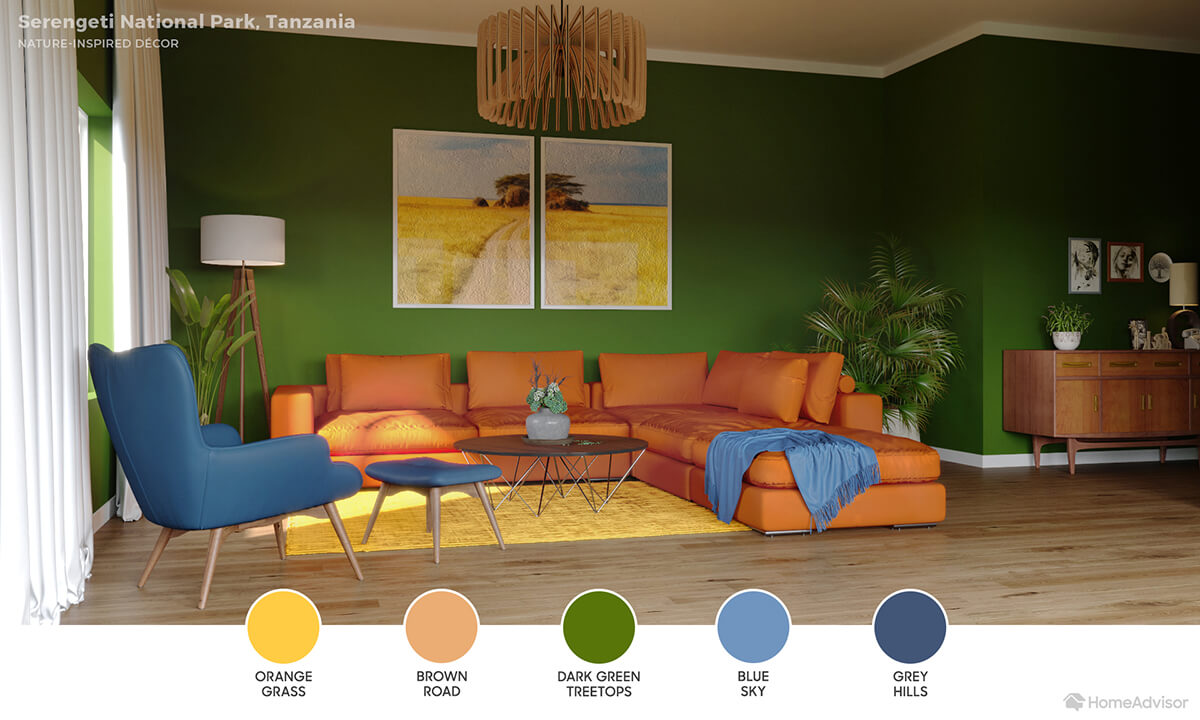 You needn't worry about being stalked by a lion in our Serengeti lounge. We've made a major feature of that verdant green, creating a room that is instantly calming. Green is timeless yet right in fashion at the moment: the paler 'Back To Nature'-green is Behr's Color of the Year. While the paint company imagined the hue as a fresh start to a new decade (oops!), green certainly chimes with the calm and creativity that we're learning to cultivate in our homes. And that sunset shade of gold is the color of optimism all the way down.
Our shade of Serengeti green is best replicated with Tollens (T2041-3) or Albany Paint – Forest
Inspiration from Life
Nature's colors are that bit more vivid, evocative, and sensual than those you typically find around yourself in city life. If you see a color in nature that makes you swoon, don't forget to check out the surrounding shades, too – sometimes it takes the whole palette to make your favorite color pop.
Did these colors inspire you to bring your favorite outdoor escape inside? Pick up some samples and a paintbrush or find painters near you to refresh your living room.
No Comments Yet