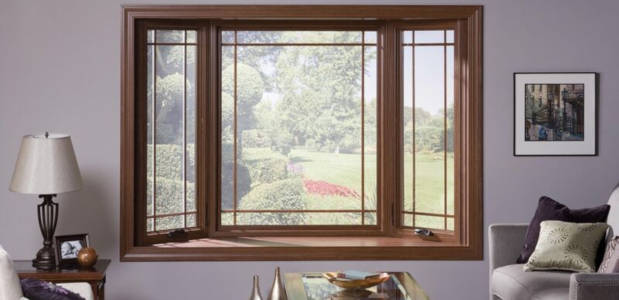 There many different configurations of custom windows. Here are the most common:
Fixed-non operable picture windows.
Single hung, a window where the bottom sash slides up.
Double hung, a window where the bottom sash slides up and the top sash slides down.
Horizontal slider, which slides open to the side.
Picture slider, which has 3 sections; a fixed part in the center and two end vents that slide open to the middle.
Casement, a window that cranks open and is hinged on the side.
Awning, a window that cranks open and is hinged on top.
The type of operation for your windows depends on a variety of factors including the type of look you want for your home, fire codes, and cost or design constraints. You will want to discuss your options with a knowledgeable consultant who can advise you on what will work best for your circumstance.
There are three types of frames used for windows. They are vinyl, thermally broken aluminum and wood.
Vinyl Frames
Some of the early vinyl windows did not perform very well. As a result, vinyl windows have a negative connotation in many people's minds. However, all of that has changed now. In fact, vinyl frames are actually more efficient than thermally broken aluminum, and in some cases, even more efficient than wood.
Here are some other advantages:
Vinyl never needs painting and is guaranteed not to peel, chip or warp.
Because vinyl is the same color throughout, scratches are virtually unnoticeable.
Good quality vinyl windows are welded together, not held together with screws.
Because screws tend to pull out of vinyl, good quality vinyl windows will have metal reinforcements in the parts of the windows where hardware (such as a lock) is screwed in.
Ready to start your
Window Installation

?Find Pros
Thermal Break Aluminum Frames
Good quality aluminum windows have a thermal barrier that prevents the frame from conducting heat or cold; however, even with the thermal barrier, these windows are not as efficient as vinyl or wood. It's important to make sure that windows in aluminum frames are "marine glazed". This is a process that helps to ensure that there is no direct contact between the glass and the metal frame, thus prolonging the life of the insulated glass unit. Thermal break aluminum windows are generally available in two colors: dark bronze and white.
Other important things to look for in a aluminum window are:
Air space between the panes of glass should be at least 1/2 inch.
Interlocking sashes.
Good quality roller systems on sliding windows.
Double locks on windows over 30 inches.
Variety of glass options.
Wood Frames
If you choose to use wood windows for your home, you'll want to look for the following features:
Airspace between the panes of glass of at least 1/2 inch.
Metal or vinyl exterior to reduce maintenance and eliminate painting.
High quality hardware and locks.
Good quality wood that won't warp or twist.
You also need to consider the type of glass in your windows.
Insulated glass is made up of two pieces of glass that have been sealed together to keep out dust and moisture. There are a number of different types of spacers that separate these two pieces of glass from each other.
Tinted glass is used primarily to reduce the heat gain from windows with a southern or western exposure. Tinted glass can also be combined with a Low E coating where there is a major problem with heat generated by the sun. Because tinted glass reduces the amount of light allowed into your home, you should insist on actually seeing the tinted glass that will be used in your home. In this way, you can determine whether it is transmitting enough light and whether you are comfortable with the appearance of the glass.
Tempered glass is glass that has been heated and then quickly cooled. This procedure not only strengthens the glass but it also creates surface tension so that the glass cannot shatter into large jagged pieces. Instead, it will break into small pieces that are less dangerous. This type of glass is also called "safety glass."
No Comments Yet