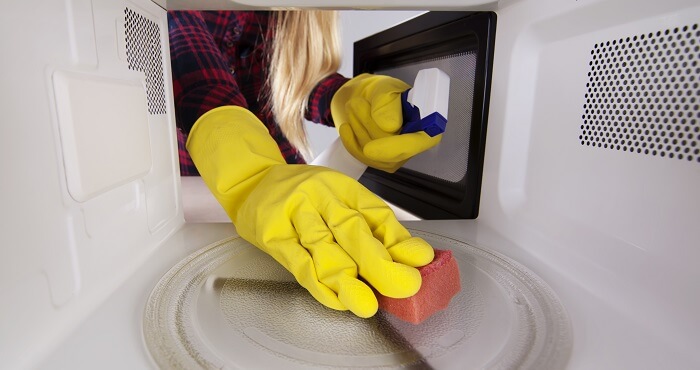 While most homeowners clean their kitchens on a regular basis, the microwave is one appliance that is often forgotten about. Thankfully, it doesn't have to be a time-consuming or difficult task. Food and liquids that are stuck to the interior can be removed faster than you might expect thanks to a few tricks and tips. Discover some of the fastest, easiest and most effective ways to get your microwave looking and smelling like new.
Cleaning a Microwave With Vinegar
One of the simplest ways to get your microwave clean with as little work as possible is with some white wine vinegar. Pour two tablespoons of vinegar into a microwaveable bowl and add a cup or two of water. Then, microwave the bowl full of liquid for three minutes. After that time, the stuck-on food and grime on the inside of the microwave should be softer, and you can easily wipe down the appliance's interior and enjoy a clean look. The smell of vinegar might be strong at first, but it dissipates as soon as the microwave is dry.
Cleaning a Microwave With Lemon
This cleaning tip starts by cutting a lemon in half and placing the cut side of both halves on a microwavable plate. Add a teaspoon of water to the plate to ensure that the lemon won't stick. Then, microwave for up to two minutes to create a steamy, lemon-fresh environment. Using a rag, a paper towel or a sponge, you should be able to wipe down the interior of the microwave without much elbow grease.
Cleaning a Microwave With Dish Detergent
If you want to disinfect your microwave, or you don't have either of the two ingredients listed above, then using dish detergent is a great option. Simply squirt a tablespoon or two into a microwaveable bowl full of water and then microwave for two minutes. The steam created will help you to remove buildup on the interior of the microwave with a wet sponge.
Cleaning The Various Parts of the Microwave
One of the keys to getting your microwave clean is removing the spinning turntable plate at the base. Wash this plate separately by hand, or pop it into the dishwasher to ensure that it gets completely clean. Don't forget to clean the door on the inside of the microwave, which is something that often gets skipped over. If it is made of glass and begins to smudge, spray some window-cleaning solution on it to help.
Extra Tips and Suggestions
If you opt for the lemon cleaning method, don't just throw away the used lemon halves. Instead, deposit them in your garbage disposal for a fresh scent throughout the kitchen. Also, sponges can be full of bacteria after cleaning the microwave, so running them through the dishwasher is a great idea.
No Comments Yet